Beautiful Blood on Your Lip
Successors to GWG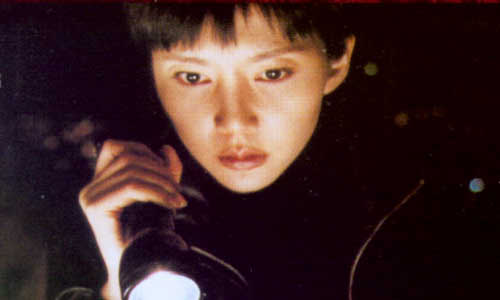 ---
Korean Titles: Despair and Escape
"Shall we go someplace warm? You can fulfill your dreams there"
(Ri-soo Ha, "Yellow Hair 2")
"Tell Me Something" (1999). The story of this serial homicide investigation unfolds in a series of misdirected revelations, much as the clues to an actual crime. Eun-ha Shim plays an isolated and seemingly vulnerable stalking victim whose male acquaintances die in a mysterious sequence. Her duplicity and ruthlessness are only appreciated in the very closing moments of this drama. This forces a re-evaluation of all that has gone before.
"Yellow Hair 2" (2001). Three strangers' lives unexpectedly collide in the banal setting of a convenience store during which a single act of violence binds them in a mutual conspiracy. Ri-soo Ha plays a bisexual male-to-female transgender person who violently retaliates against rejection and discrimination. She unites with a naive victim of sexual exploitation (Yi Shin) to exact revenge on their respective tormentors.
"H: Murmurs" (2002). Jung-ah Yum proves yet again that she may have the coldest screen presence in contemporary Korean cinema. Her homicide investigator character is brave, intelligent and resourceful, yet emotionally crippled. Her pursuit of a serial killer leads through a charnel house of victims as well as evoking a barely controlled rage that has as much to do with her past as the present.
"No Blood No Tears" (2002). Hye-young Lee plays a washed-up petty criminal turned cab driver. Hounded by loan sharks, she is persuaded to become the accomplice to a dangerous robbery of illegal gambling proceeds staged by the battered girlfriend (Do-yeon Jun) of an ex-boxer mobster. The action sequences during the women's struggle to execute the crime and keep the money are as bleak and unsparing as the title, which is a Korean expression meaning "no mercy." The acting is superior.
"Resurrection Of The Little Match Girl" (2002). Viewing this film only as a postmodern parody of action film conventions diverts attention from an engaging cast of characters and a number of brutal set-piece action sequences. The film's protagonists and setting within a video game effectively numb the viewer to the appalling acts on display, as Eun-kyeong Lim as the eponymous Match Girl and Xing Jin as a transgendered female action hero machine-gun their way through ordinary citizens and the agents of an all-too-real totalitarian security state.
"My Wife Is A Gangster 2" (2003). Eun-Kyung Shin gives another exceptional, engagingly eccentric performance as an amnesic former gangster now embroiled in the petty rivalries of neighborhood disputes while working in a local restaurant. As her memories leak back, she must reconcile why she has tattoos with what she currently does. This action comedy takes an unflattering look at gender roles and everyday discrimination as it builds toward a flamboyant action climax.

---
Two Korean titles, "Tell Me Something" and "H: Murmurs" represent variants on the contest between the patriarchal powers of law enforcement and the mysterious powers and oppositional motives of serial killers. "H" invites comparison with "Nude Fear" as Jung-ah Yum and Kathy Chow each bring intense, driven performances to their respective roles as police investigators who ultimately also step outside the bounds of patriarchal power. Other aspects of retaliation or rebellion against abusive personal and cultural controls are evident in "Tell Me Something," "Yellow Hair 2," "Resurrection of the Little Match Girl" and "No Blood No Tears." The leading characters in these four titles reject the conventional roles assigned to them in favor of a defiant and ultimately criminalized stance. Eun-Kyung Shin delivers another excellent performance as an amnesic criminal in the bittersweet action comedy "My Wife Is A Gangster 2." She has "gone straight" because she has forgotten how to be bad. Ultimately, however, habit overrides conventions.

The Korean films included here appear to bridge the narrative contrasts offered by the HK and Japanese titles. Two ("No Blood No Tears," "Resurrection of the Little Match Girl") provide a double ending. Both involve explicit fantasies. Hidden cash offers a new beginning to "Gyung-sun" and "Soo-jin" in "No Blood No Tears," while the ending of "Resurrection" is an explicitly articulated fantasy of familial bliss and ironically realized desire. The other four titles are not so readily categorized, since their endings tend to be transforming.

Many of these Korean films present life as hard. Faced with exploitation or prejudice ("Yellow Hair 2," "My Wife is a Gangster 2"), abuse ("No Blood No Tears," "H," "Tell Me Something") or simply the unattainable ("Resurrection of the Little Match Girl"), people struggle to simply meet everyday demands. Opportunities appear fleeting. What is gained by good fortune or effort can just as easily be snatched away. The female characters in these films struggle against a combination of real physical threats and social constraints. The counterpoint of such pervasively frustrating experiences is anger. When this boils over, the female protagonists in these films strike back at their tormentors – real or symbolic. The resulting portraits are of wrecked, alienated individuals who have all, in different forms, lost their way in the prevailing culture.
---