Love in Tokyo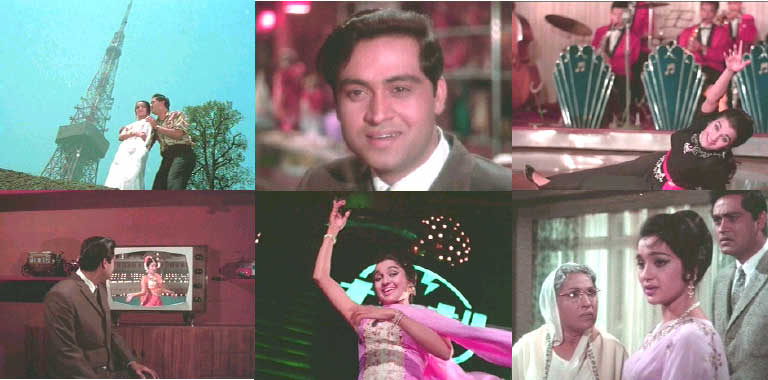 ---
Director: Pramod Chakravorty
Music: Shanker-Jaikishan; Lyrics: Hasrat Jaipuri & Shailendra
Year: 1966
Running Time: 2 hours and 50 minutes
"Love in Tokyo" takes us on a delightful romantic stroll through the streets, parks, department stores and cherry blossoms of Tokyo into the hearts of two Indians abroad. As one of the songs goes "Step gracefully into my heart through my eyes" and this film with its lovely palette of colors and sweet candy striped mood certainly does this with the viewer. In the various readings I have done on Indian cinema this is the sort of film never mentioned – light-hearted, youthful, full of energy and enthusiasm and with a basket full of infectious songs – but it breaks no cinematic ground nor addresses any deep social issues – it is simply a pop gem that has lost none of its charm some thirty-five years later.

It begins in India where Joy Mukerjee is doing his best to avoid the entanglements of an engagement to a woman he doesn't feel anything for. It is almost a relief when he learns that he has to travel to Japan to pick up his 8-year-old nephew Chicko and bring him back to India. It seems that his now deceased brother had married a Japanese woman – settled down there – and been disinherited from the family for doing so. The stern narrow-minded mother unflinchingly refused to have anything to do with him or initially the boy after the mother died. But she relents and sends Joy to bring him back.
While taking Chicko (who has declared that Japan is best and why should he go to India) for a shopping expedition, he spots Asha Parekh on television performing a lavish musical number and is enchanted with her. And who wouldn't be? Asha is a small bundle of ever changing expressions who will cast a spell on your affections. She is a lovely dancer with big galooping eyes, a snub nose and a large mouth that can switch from giggly delight to pouty dejection faster than a speeding bullet train. Though she was a huge star back in the 1960s it seems unlikely that she would have much opportunity in today's film climate to be a leading actress with her small stature, large hips and non-Western features, but she is a fanciful pleasure to watch on the screen. Joy comments about her while she walks ahead and he eyes her posterior – "You don't find women like this anymore. It's swirling like a river". How true. At one point amusingly Joy tries to carry her across the street and can't hold on and drops her with a bang on the pavement and one senses that this was not planned but kept in.

Her unscrupulous uncle has promised her and her inherited wealth to his friend, Pran, who snakes across the screen with an ever present cigarette – pulled underhanded to his lips as if a juicy snail to suck on – a sneer written across his face in big bold neon – immaculately neat but stained with a lack of morals like an oily rag. Both men are in desperate need of funds and marrying Asha is the solution. She jettisons this plan though by running away and hiding on the streets of Tokyo. There she meets up with the similarly escaped nephew who rescues her from Pran with some nifty judo moves.

To avoid further detection, Asha disguises herself as a Sikh man and the film goes through some amusing gender confusions. Both Asha and Chicko end up back with Joy – she still in Sikh mode – and they get along swell though he keeps affectionately touching her/him much to Asha's consternation. She also finds a need to pretend to be Chicko's Japanese aunt and disguises herself as a Japanese maiden right out of a Gilbert and Sullivan operetta and sings the capricious "Sayonara Sayonara" with playback singer Lata hitting some high notes that may crack your light bulbs. He now finds himself falling for this woman and turns to Asha as the Sikh for wooing advice. She gladly gives him some.

The film introduces some notes of melodrama but they are there more for form sake than anything because there isn't a doubt how this one will end. One mildly tiresome thing about the film is a comic subplot that many of these romantic comedies seem to have from that period. This part has Mehmood (famous comic actor and the servant in Gumnaam) chasing after his love and though a few of the bits are amusing – dressed up as a geisha and then becoming a human rubber ball and bouncing high above Tokyo – much of it becomes tiresome and just detracts from the main story.

The main strength of the film though is the lovely score from the fabulous team of Shanker-Jaikishan (Gumnaam, Janwaar, An Evening in Paris) who deliver an eclectic set of songs from traditional Indian film music, to one tinged heavily with a Japanese influence to ones that reflect their love for Western pop sounds. Two songs in particular are a total delight and have been played repeatedly by me. "Japan, Love in Tokyo" - stretch out the Jaaaapan – had me singing it on the subway – at least the one phrase in English. This song plays of course when the two realize that they are in love with each other – and they sort of dance around Tokyo with total abandonment. I say sort of dance because Joy can't dance a lick – his inability is almost endearing as he skips and bounces – and at one point rolls on the ground for no reason – but Asha is wonderful in her dance steps. The other classic is Aaja Re Aa Zara. It is one of the most romantic songs/scenes I have seen – drenched in repressed sexual passions. It plays out beautifully – the two of them come upon an outdoor dance floor where a number of Westerners are dancing cheek to cheek – and Asha looks at them and marvels wide eyed at their physical intimacy with envy – good Indian girls don't snuggle up in public – Joy quietly begins reciting poetry to her:
Alone with each other, amidst the celebration of life
A touch of the lips, a toss of the hair
Come to me
Then they play out a shadow game of nearly coming together but always pulling away among the dancing couples. Then the rain comes down – the couples desert the floor leaving the two of them staring at one another across the floor with unmitigated desire – her sari soaking wet – biting her finger to stop her need – then hesitantly she approaches – his arms outstretched – she enters his embrace and as they go for a kiss the camera pulls away and they are left completely alone. It's fabulous.

My rating for this film: 7.5
---