Hare Rama Hare Krishna (Praise Rama Praise Krishna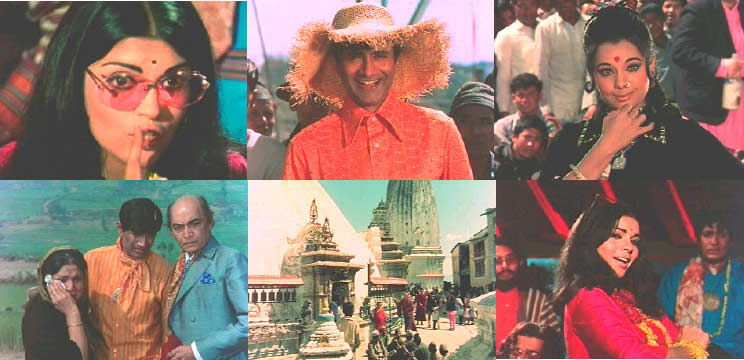 ---
Director: Dev Anand
Music: R.D. Burman; Lyrics: Anand Bakshi
Year: 1971
Running Time: 2 hours 22 minutes
Hashish smoke slowly wafts through the air as a raggedy bunch of youths take long hits from their pipes when suddenly a "shush" breaks through the chatter and sharp guitar notes start up and a fuzzy bass line follows like an avenging shadow. Chills ran up my body as Zeenat Aman (well, Asha Bhosle really) hypnotically intones "Dum Maro Dum" (take another puff) and stands up and begins to dance with a look of ecstasy on her face – partly fuelled by the intake of drugs and partly by the bass beat driving through her head. In the short two minute running time a legend was born and a song was burnt into the collective memory of a nation. Strongly resembling a young more voluptuous Ali McGraw, Zeenie Baby (as she was to be called) broke down all preconceptions of an Indian heroine as well as managing to break the hearts of the movie going audience with her portrayal of a drug addicted lost soul looking for some meaning in life.

Dev Anand had been one of the major directors/actors of the 1950's and 60's and as he moved into the new decade of the 70's he was looking to do something new – to keep pushing the boundaries of Indian film a bit. In this one he took on the subject of drug use and the lifestyle of this new phenomenon called hippies. By this time the subject had certainly been covered in Hollywood, but it was still fertile territory in Bollywood. Very few films that explored the drug culture in that period have escaped the test of time as they now feel a bit creaky and at times laughable – and this is certainly true to some extent with this film. Anand is clearly attempting to paint a negative portrait of these hippies and to differentiate between them and good Indian values (his character in the film) and much of this social chastising feels outdated and patronizing now. Strangely, even though the hippies appear to be Anand's target in the film – it is really the conventional figures that come off worse – cruel parents, corrupt businessmen, gullible towns people – as the hippies really harm no one but themselves. The film does still hold up as enjoyable entertainment even if the message does not – the tragic arc of the story, the beatific and beautiful Zeenat, the classic score from R.D. Burman, the playful smile of Mumtaz and the exotic setting makes for a strange and loopy trip. It is really only Anand himself and his heavy-handed acting that weighs down the film at times.

It begins with an Indian family in Montreal that falls far outside the typical portrayal of a warm Bollywood family. The parents can't stand each other and the father wanders off into an affair. This leads to a divorce in which the two children – a boy and a girl – are split up – the boy returns to India with the mother and his sister remains in Montreal with dear old dad. Dad wins the Father of the Year Award by telling his daughter that both her bother and mother are dead and then marries his paramour. This plays havoc with the psyche of the girl and as we jump sixteen years into the future she is clearly a messed up kid – but has at least turned into the sumptuous Zeenat as she sways to the music in a trance. She skips off to Katmandu in Nepal where she joins a hippie commune and keeps her pipe at close quarters. Her brother (Dev Anand) learns of this and makes it his mission to go there and reunite the two of them.

This is a bit of a chronological disaster though because Dev was in his late forties at the time (and looks it) and one has to wonder how the boy aged forty years and the girl about the correct sixteen. This bugs me throughout the entire movie perhaps more than it should have because this is fairly common in Bollywood films. Popular male actors tend to have long shelf lives in India and its not uncommon to have actors clearly in their thirties or forties playing college boys – its just one of those things you have to accept. Not only does Dev look much too old for his character, but this actor who had been compared in looks to Gregory Peck earlier on, had begun to develop his "dirty old man smile". I came across this smile in full regalia in his 2002 film Love In Time Square and it was rather scary especially as he was surrounded by some fairly young voluptuous women – one being his supposed daughter that he spent a lot of time rubbing up against in a "fatherly" way. It hadn't quite reached that "hide your daughter" stage in Hare Rama, but one can see it developing.

Dev wanders the streets of Katmandu looking for his wayward sister and thinks that Zeenat must be her – but she has changed her name and refuses to admit who she is – of course she thinks her brother is long dead. In fact, she thinks he is a voyeuristic creep and gets some of her free love boyfriends to give him a beating. In his search Dev still finds time for love when he comes across local lovely Mumtaz dancing in the town square and he puts his smile to work and she is soon swooning – I guess anything to get out of Katmandu. There is a local thug (Prem Chopra) who has his beady eyes on Mumtaz and he has his boys also give Dev a thrashing. Looking a lot worse for wear, Dev is next framed for a theft of a holy relic and has the entire town wanting to beat him up – by this time I would be booking a ticket home but not our hero. The film doesn't necessarily go where one might imagine and Anand as director makes an interesting choice in the end.
Mumtaz – who was a star in her own right – is the theoretical heroine of this film but Zeenat – who was Anand's choice only after two other actresses turned him down – was the one everyone was talking about afterwards. Stunning westernised looks, a flair for style, ample cleavage (displayed more in future films than here) and a willingness to take on controversial roles made a statement of a different kind of Indian actress. She wasn't the typical vamp but she certainly wasn't a traditional heroine – instead she successfully treads on the edges of both and created an entirely new kind of character in Bollywood cinema – a tough independent woman with the eyes and heart of a femme fatale – someone you want to sleep with and then take home to mom.

The score from the legendary R.D. Burman is considered one of his best. It has two classic songs – both picturized by Zeenat – the aforementioned Dum Maro Dum and the equally drug induced Pyaar Kushi Ka Ghaam (with the English line "Can we go a little faster man"). In total there are six songs – all strong and the final tune – Phoolon Ka Taron Ki – is a lovely ballad that Dev sings and that Zeenat recognizes from childhood through her daze as a song her brother use to sing to her – it makes for a touching and sad scene.
As a point of perhaps little interest - Zeenat once again sings and dances to Dum Maro Dum in the 2003 film Boom.
My rating for this film: 7.5
---