1989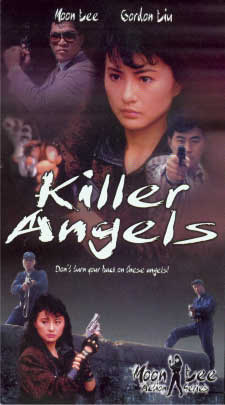 ---
"Angel Enforcers" (1989)
(Grandwell Film Production; Dir. Ho Chi-mou)
An elite undercover police squad led by "Zhou" (Sharon Yeung) crosses paths with a money counterfeiting operation headed by a memorably cross-dressed Ha Chi-chun. Slapping a riding crop, she bullies everyone in contact with her while running a nightclub as a front business.

The film's focus narrows when one of Ha's contract operatives, played by Philip Ko, is killed by the police squad. His loyal partner (Dick Wei) swears vengeance, defying Ha's orders to let the matter drop. After kidnapping one of the female police officers as bait to lure Zhou, his action brings down the entire operation in a final fight with guns, feet and other objects.

Other than Ha's excellent but brief part and some Heroic Bloodshed elements, there is little to distinguish this from many other martial arts vengeance titles. But Yeung is always worth watching, and delivers her outstanding martial proficiency with enthusiasm. The action choreography is also well up to standard.

---
"Killer Angels" (1989)
(Jia's Motion Picture Co. H.K.; Dir. Lu Chin-ku)
"Yau Li" (Moon Lee) is sent to work undercover in a nightclub while investigating slave trafficking controlled by its owner "Chu" (Leung Kar-yan). His bodyguard "Michael" (Gordon Lau) watches her sing and becomes infatuated. His attitude to Yau Li understandably enrages his girl friend (Nadeki Fujimi) who also happens to be the boss's daughter. Both Lee's nightclub costume and Fujimi's leather-clad "bad girl" outfit are noteworthy.

Fujimi has an entertaining martial arts confrontation with Lee, as well as serving as the villain of the piece – riding a motorcycle and leading the gang in pursuit of an informer who is sheltered by Yau Li's partners. An additional plot twist involves his past role in the death of the child of one of Yau Li's partners. Needless to say, he is not a welcome guest at the safe house.

Although Fujimi's character succeeds in springing a trap for Yau Li, she is again betrayed by Michael. The climax features an extended, dramatic GWG shootout in which Yau Li and her two female partners assault the gang compound armed with automatic weapons. This sequence helps define the genre – an exaggerated battle against a numerically overwhelming enemy. As the bad guys go down in spectacular style, Lau's infatuated bodyguard makes one more sacrifice for Yau Li.

Sentimental, implausible, yet utterly compelling, this film is one of the genre's best. Although Lau is less than convincing as a romantic figure, Lee is quite simply excellent. In all her action roles she could be counted on to deliver a solid, enthusiastic performance. Here she takes relatively lean material and yet creates an impression of apparent gravity. This may also be the only action film in which she sings.
---
"Princess Madam" (1989)
(Grandwell Film Production; Dir. Godfrey Ho Chi-keung)
Perhaps the only "cut and paste" title to merit serious consideration, "Princess Madam" is essentially two distinct films joined back to back. The first, and most interesting thread, is a vengeance plot in which Michiko Nishiwaki, playing a femme fatale dressed, appropriately enough, in black, who seeks to exact revenge on Moon Lee's police officer by seducing her husband. There are a number of striking moments – Nishiwaki in a lovemaking scene, extracting a bullet from a woman's breast, throwing darts at a picture of Moon Lee, biting to leave marks, Lee waiting disconsolately with a spoiling meal. Flushed with hollow triumph, Nishiwaki's character "Lily" has Lee strung up while she drunkenly torments her husband – tipsy and slightly unsteady, but still lethal.

Sharon Yeung, playing Lee's police partner, arrives in time to save the situation, then takes a leading role in the second half of the film. Here, she has a rare opportunity to forge a screen relationship, but ultimately goes outside the law to confront gang members in a Heroic Bloodshed finale. Mark Houghton is encountered along the way. Yeung's martial arts skills are impressive, and she is able to act in a role offering greater dramatic range that she was typically afforded. It's essentially two movies for the price of one.

---
"Thunder Cops II" (1989)
(Golden Flare Films Co.; Dir. Jeff Lau Chun-wai)
A film of occasionally surreal violence, "Thunder Cops II" delivers with a grim intensity and sophistication that distinguishes it as possibly the best police drama of this genre. Sandra Ng – who is far better known for her comic roles – portrays a policewoman who is transformed from rube to a violently abusive undercover detective by the murder of her police officer father (Eddie Ko). The Mandarin title ("Hoodlum Police Woman") seems more descriptive than the English. Although the film adheres to some police drama conventions, it defies others in spectacular fashion. In her single-minded quest for vengeance, Ng's character "Fong Ngoinam" lurches out of control – visiting brutality, cynical manipulation and sentimentality in equal measure on the hapless addicts whom she controls as informants. As she is grubbing for a lead on her father's killer she is unaware that her supervisor (played to the hilt by Jeff Lau) is out to frame her in retaliation for her father's earlier testimony against him to ICAC.

In this film everyone betrays everyone else. People die along the way – including completely unrelated bystanders – or are beaten bloody. Wounded people fall and lie twitching. Her own partner, disgusted by Fong's beating of a female drug addict (Ann Bridgewater), attempts to restrain her – only to have Fong turn on her too. In flagrant defiance of orders Fong crashes a stakeout in pursuit of "Feitsat" (Shing Fui-on) who can lead her to her quarry. When she's arrested it's Fong's turn to be beaten and framed. The cynical view of police procedure and violence is breathtaking. When Fong escapes with the help of a colleague, she becomes essentially a criminal.

Uniformly superior and occasionally superb cinematography captures the special essence of HK action cinema at its best. After Sui Yien (Stephen Chiau Sing-chi) is unexpectedly shot during questioning by a criminal gang also searching for his brother Feitstat, the camera follows a facial close-up as he falls backward in slow motion – registering the shock and confusion of wounding. Rotating 180 degrees, the camera tracks his dazed lateral eye movements. From the floor we see Fong enter from one direction in slow motion, white topcoat flaring as she aims two automatic pistols into the room. Framed by slow motion sparks from a damaged neon fixture, she fires. The camera tracks an ejected shell case. Still in slow motion, Sui glances the other way, glimpsing a dead or dying man staring at him underneath the sofa. Like the fearful curiosity of a child the camera rises, still in slow motion, peeping over the edge of the furniture to briefly record bodies twisting and falling. As Fong scoops the wounded Sui from the floor, they sway back and forth – a parody dance. Fong carries Sui over her shoulder. Once again, the camera follows him full-face as the pair retreat. Helpless, his face registers alarm over what is developing off camera. As Fong turns, the camera position follows Sui. Now he cannot see at all, until Fong turns around once again. His final view in the scene is a glimpse of more mayhem. This entire scene, shot in continuous slow motion with "heroic" lighting from below as well as superior effects, choreography and score, should give the viewer gooseflesh. A similarly effective slow motion action sequence on a flight of steps appears directly inspired by de Palma's "The Untouchables" and may have itself served as a model for the wedding sequence in "Queen's High."

The acting, direction and technical aspects of this film all stand out. There is symmetry and balance as well as unexpected elements in the plot. None of the characters is especially sympathetic, and Ng's portrayal of Fong is literally as the least of quite extreme evils. Her performance is superb and she is afforded ample screen time to develop the role. Despite its abundance, the violence is neither gratuitous nor poorly staged. Superior makeup effects and acting convey considerable suffering. The language is similarly brutal. Be prepared.
---