---
Rothrock, Cynthia
This well-known American martial arts champion bequeathed not only her style but also her name to HK police action films. She appeared with Michelle Yeoh in "Yes, Madam" (1985) and with Yuen Biao in "Righting Wrongs" (1986) – both of which were showcases for her excellent skills. Her fight scene against three men in a restaurant may be considered a classic. Rothrock also appeared in "Millionaire's Express" (1986), "Blonde Fury" (1989), "The Inspector Wears Skirts" (1988) and "City Cops" (1990).

In the last film she fights with Michiko Nishiwaki. Rothrock's filmography includes other HK produced titles as well as a number of American martial arts films. Still active in the martial arts world, Rothrock may be considered to have been a pioneer for a new breed of contemporary action film.
---
To Kwai-fa
This Taiwanese martial arts performer has appeared in numerous supporting roles and action cameos. Noteworthy screen partnerships were with Nadeki Fujimi in three Taiwanese films ("Lady Killer," 1992; "Wonderful Killer," 1993; "Pink Panther," 1993) and Ellen Chan in "All-Mighty Gambler" (1991).

She also appeared in "Lethal Extortion" (1992), "Big Circle Blues" (1992), "Ghost's Love" (1993), "Pretty Women at War" (1990) and "Angel of Vengeance" (1993) – in which she briefly spars with Oshima.

---
Wong Siu-fung, Pauline
Canadian-born Pauline Wong's film debut was in 1983. Over the next ten years she appeared in more than 30 films that included supporting action roles (e.g., "Tragic Hero," 1987), earned a Best Actress award, and produced the film "Right Here Waiting" (1994). Although many of Wong's parts were in relationship or ghost films, including a fine dramatic role in "Split of the Spirit" (1987), she delivered two particularly intense performances as vengeance-motivated killers in "Night Caller" (1985) and "Her Vengeance" (1988). The latter film must be considered among the most dramatic performances of the genre.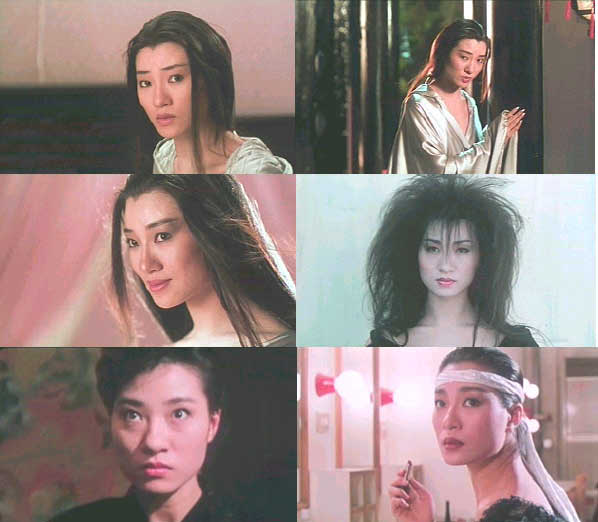 ---
Yang Li-ching (aka Cynthia Khan)
Yang Li-ching apparently studied modern dance from childhood. After winning a television talent award, she entered an arts institute in Taipei as a young adult. Her first movie part in 1987 was followed by the opportunity to fill Michelle Yeoh's shoes in D&B's "In the Line of Duty" series (1988 – 1992). Yang, renamed Cynthia Khan for international markets, would make the part her own. She would also star in "The Inspector Wears Skirts IV" (1992). Most of her approximately 30 roles over the decade were in action films – either as the star or in prominent supporting parts. Often these were reprises of her dutiful police inspector character.

By the early 1990s Khan had placed among the top female earners in the industry. She continues to make action films, although more recent productions ("Ultimate Revenge," 1995; "Tough Beauty and the Sloppy Slop," 1996; "Yes Madam 5," 1996; "Super Cops," 1997; "Tiger Angels," 1997) have been relatively undistinguished. It is arguable that many of Khan's films – although well crafted action entertainment – tend to be somewhat bland, with reliance on constructive editing and martial artists in supporting roles. One outstanding exception, "Queen's High" (1991) unleashed her in a rare criminal role.

She apparently relished the opportunity, delivering a combination of elegance, suffering and mayhem – with interesting costuming as well. This film also provided one of the single defining images of HK action cinema for the decade – Khan blasting away with a machine pistol while wearing a wedding dress! "Madam City Hunter" (1993) is another excellent departure for Khan from the typical policewoman formula.
---
Yau Suk-ching, Chingmy
Chingmy Yau has been active in the industry since 1988, amassing a filmography of approximately 50 parts to date. She appears to be particularly favored by Wong Jing. Although most of Yau's parts have been in non-action roles, she has appeared in several action titles, including "They Came to Rob Hong Kong" (1989), "Naked Killer" (1992), "Deadly Dream Woman" (1992), "City Hunter" (1993) and "Legendary Couple" (1995).

Most of these have comic or romantic elements, for which Yau displays considerable talent. Despite its cult status (in some non-HK markets), Clarence Fok's "Naked Killer" was an unusual role for Yau, whose part benefited from outstanding performances by Kelly Yiu Wai and Carrie Ng.

---
Yeoh Choo Kheng, Michelle
Michelle Yeoh – one of the few female HK actors to approach true international superstardom – was raised in Malaysia where she studied a variety of sports as well as winning the Miss Malaysia beauty pageant. Yeoh's career ambition was as a classical dancer, and to this end she trained in England. An injury ended her aspirations prematurely, and she returned to Asia where, through contacts, she was able to experiment with acting. When D&B's Dickson Poon was looking for a female lead for a police action drama, he gambled on Yeoh – a relative unknown – to parlay her athletic flexibility and expressive physical skill into an action hero. Despite some significant adjustment difficulties and injuries, Yeoh persevered through intensive training with the stunt teams. The result, "Yes, Madam" (1985), was a hit, paving the way for the even more successful "Royal Warriors" (1986).

Yeoh also appeared in a number of period action roles, but went into retirement following her marriage to Dickson Poon. After several years she would return to movie making, having laid plans with her friend Stanley Tong who directed her spectacular comeback role in "Police Story III: Supercop" (1992) in the Jackie Chan film that made her an international star. Yeoh would reprise her role as a tough Mainland security official in the sequel "Project S" (1993).
Another police action role was in "Wonder Seven" (1994). Yeoh's commercial success placed her far ahead of other female actors in the HK movie industry, as well as gaining a wide international fan base. Any sampling of Yeoh's film roles shows her to be a committed, courageous and athletic performer who can deliver a compelling combination of good acting and physical skill. She was reportedly almost killed during the filming of "Ah Kam" (1996).

---
Yeung Pan-pan, Sharon
Sharon Yeung reportedly began Chinese Opera training at the age of four, learning both acrobatics and kung fu. She apparently expanded her skills to include Northern styles, jeet kun-do and karate. An outstanding martial artist, Yeung appeared in more than 15 films between 1978 and 1996. Many of her earlier parts were in costumed period productions. She also worked as a stunt player in television productions. Yeung's last films were predominantly contemporary police action roles, in which she was typically paired with other female action actors, including Kara Hui, Moon Lee, Sibelle Hu, Nadeki Fujimi and Yukari Oshima ("Angel Enforcers," 1989; "Princess Madam," 1989; "Angel Terminators," 1990; "Way of the Lady Boxers," 1992; "Erotic Passion," 1993; "Deadly Target," 1994).

She also seems to have a brief fight sequence in "Yes Madam 5" (1996). Yeung has subsequently retired from filmmaking. Her roles deliver excellent martial arts, frequently against proficient opponents. In general, as with other martial artists, her screen time tends to be too brief, despite adequate dramatic range.

---
Unidentified Taiwanese actor
This Taiwanese action actor has appeared in "Beauty's Evil Roses" (1992), "Pink Panther" (1993) "Lethal Extortion," (1994), and "Guardian Angel" (1996). In these films she displays proficient martial arts and gymnastic abilities, and fights Alex Fong in "Beauty's Evil Roses" (1992). She has some good screen time in "Guardian Angel" (1996). If anyone knows her name, please let me know.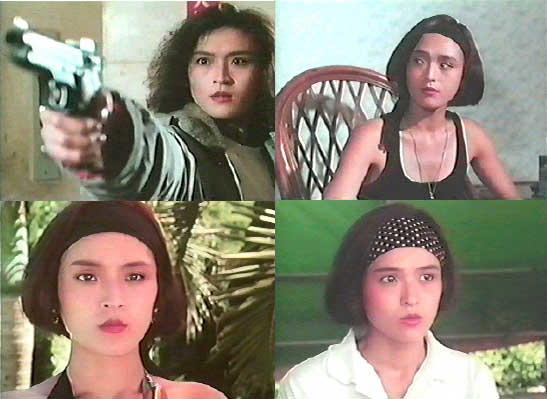 ---