The Mysterious Sword/The Magic Sword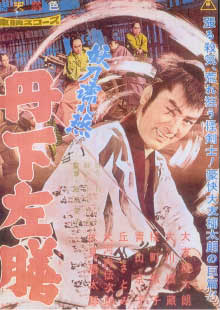 ---
Director: Sadatsugu Matsuda
Year: 1960
Production Company: Toei
Running Time: 79 minutes
By 1960 this series of films starring Otomo Ryutaro as Tange Sazen was at least in its fifth episode and many of the basic characters, their traits and their relationships had already been set in previous films like "The Swordsman's Trouble with Women" (1958), "Ketti Ban" (1958), "Secret of the Bronze Dragon" (1959) and "The One-Eyed Wolf" (1959). Thus beginning with "The Mysterious Sword" is a bit like coming into a conversation halfway through and trying to catch up. The four main characters that seem to be in most of the Tange Sazen films all make their presence felt – Tange Sazen of course, his female companion Ofuji, her pickpocket brother Yokichi and the orphan Chobiyasu. The relationship between Tange and Ofuji seems to often differ in the various takes on these characters – Gosha depicted them as hungry lovers, the most recent version had them almost as an old married couple while here it appears that they are only good friends with Ofuji clearly wanting it to go further.

With an angry scar slashing downward over his right eye, Otomo plays Tazen with great swashbuckling bravado and vigor. Otomo was a very popular actor at the time and was involved in three different series of films at the same time. Born in 1916 in Iwakuni City, he first joined a theatrical troupe in Osaka and didn't make his film debut until 1937. He later joined up with Daiei for a few years before moving to Toei in 1952 where he performed in numerous period films over the years. He acted right up until his death in 1985 and was the noodle maker in "Tampopo". He brings some poignant depth to his characterization of Tange – part beast, part poet – and has one touching scene in which he stares at a beautiful sleeping woman he admires and his face becomes overwhelmingly melancholic in his awareness that she is now too good for him.

Sazen is in need of money to buy clothes for a ragtag group of children so that they can celebrate the Sanja Festival. A liking for children seems to be his one emotional soft spot and so he goes about earning money the only way he knows how – by fighting. He goes up and down the streets challenging the fighters in various dojo's and after beating them all senseless he asks for an amount of money to leave. In one such dojo though he finds himself face to face with Hagino (Oka Satomi), the daughter of the sensei, and he allows her to defeat him as he is so in awe of her spunk and beauty. He soon finds an opportunity to make some real money though and tells his sword "You will be drinking a lot of blood soon".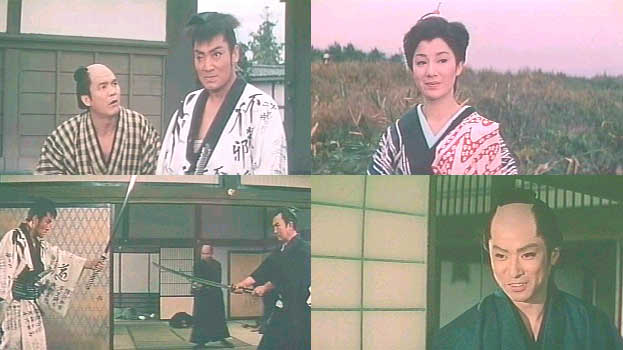 A councilor from the Soma Clan comes to Sazen to request a favor, but this being the clan that he once belonged to until they betrayed him he refuses – unless he is well paid. The councilor explains that a branch of the clan has broken away and has designs on a shipment of gold that the clan needs to use to curry favor in Edo. Sazen agrees to protect the shipment and goes in search of it and the many men who want to steal it. Unaware of it, Sazen is being followed by Ofuji (Sakuramachi Hiroko), who wants to know what he is up to and to be there in case he needs her, and also by the orphan Chobiyasu and his pack of young friends. Into this unruly mix comes Hagino who has learned that some men in her father's dojo are among the thieves and wants to stop them before they bring dishonor to her family. She is accompanied by her mild-mannered servant, Gennsuke (Okawa Hashizo) who eventually reveals that there is much more to him than meets the eye. There is a fair amount of swordplay as Sazen constantly challenges and harasses the large group of men who have set out to steal the gold and he slowly kills them a bit at a time. It is all quite enjoyable and becomes fairly engrossing as it goes along.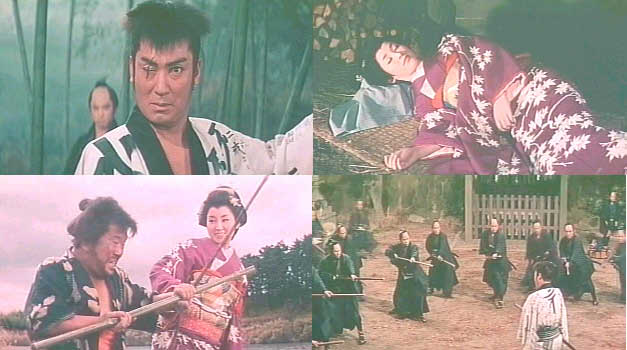 Oka Satomi who plays Hagino made over 150 films in her career. She was born Yamamoto Mieko in 1935 and joined Toei under her stage name in 1955. She quickly became very popular and was referred to as one of "Toei Castles Three Daughters". Hashizo Okawa was born in 1929 in Tokyo and was actually a kabuki actor for almost twenty years (generally playing female roles) before joining Toei in 1955 and becoming a film actor. He later was to turn to TV and acted in the series "Zenigata Heiji" from 1966 to his death in 1984. He appears in a number of the Sazen films.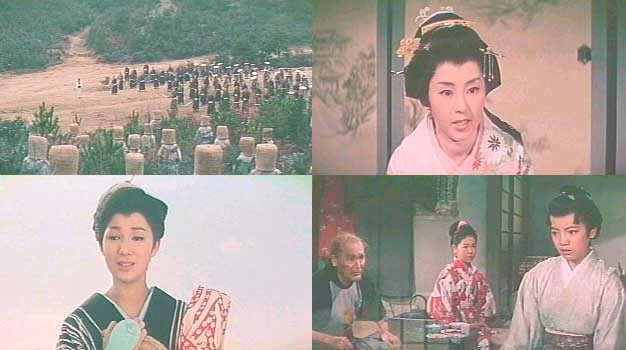 My rating for this film: 7.5

---