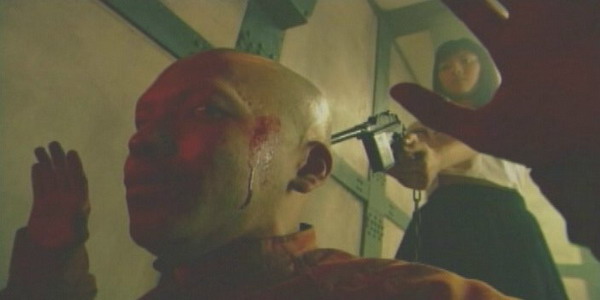 ---
A Place of Rage
"Man is such a worthless animal" (Miho Kanno, "Tomie")
Hideyuki Hirayama's "Out" (2002) illustrates how mise-en-scene – perhaps even more than narrative – establishes genre. Natsuo Kirino's angry feminist crime novel, on which the film is based, depicts four women who are spiritually broken on the wheel of patriarchal power and indifference. They work the night shift in a run-down boxed lunch factory in a blighted industrial neighborhood. These women work nights both for the shift differential and to escape their families. Their shabby residences reflect their social marginalization as the victims of gender and age discrimination or downsizing. The shadow figures of Kirino's novel come to life through the radical and horrifying acts of participation in murder, dismemberment and abandonment of family – blatant violations of fundamental social norms. A faithful cinematic realization of this narrative would involve darkness, poverty, aging, exhaustion, exploitation and cruel disappointment, in addition to the gory symbolism of the dismembered body.

But Hirayama's film transforms these desperately secret lives into a series of encounters between smiling, well dressed women who inhabit bright, airy homes and work in a spotlessly gleaming high-tech factory – far removed from the stifling tatami rooms of the novel. The film's cinematic emphasis on brilliant skies and well-lit spaces suggests anything but horror. The business of cutting up bodies – ankle deep in blood and steaming intestines – is virtually excised from the film. Instead it is conducted largely off-camera by the protagonists wearing white plastic protective gear that both reassuringly suggests surgical garb and makes them seem anonymous. The merest hint of blood connotes surgery rather than butchery, and the film discreetly avoids lingering on images that might otherwise code its female protagonists as monstrous – such as the lead character "Masako Katori" (Mieko Harada) cutting off people's heads. Yet this betrays the narrative power of the novel that invites identification with "Masako" strong enough to sustain sympathy for her monstrous acts. The film also transforms her friend "Yayoi Yamamoto" (Naomi Nishida) into the heavily pregnant wife of a partner abuser who kills her husband in self-defense – rather than because she's had enough of him as in the book. Her character's pregnancy in the film seems a device to garner sympathy. It may be acceptable to kill in defense of one's unborn child, and her character's demeanor seems to convey regret. But this misses the dark heart of Kirino's novel where "Yayoi" wasn't pregnant, and had simply had enough of her husband. She actually found it thrilling and liberating to kill him, and when "Masako" kills another man it becomes evident that the "beast" they have awoken is in themselves.

By constructing the murder of "Yayoi's" husband as self-defense and avoiding giving the female protagonists an active cinematic gaze, key cinematic signifiers are aligned with other elements such as bright, spacious surroundings and clinical, white garb to collectively soften and deflect the impact of these women's acts. While the novel can easily be read as horror, Hirayama's film adaptation adopts the gentler mantle of drama. Such divergence offers an opportunity to note certain conventions of genre cinema. Drama – as a "higher" genre than horror – is positioned to offer social commentary but is simultaneously constrained by conventions of taste. The "lower" genre of horror may actually be better equipped to bluntly confront the troubling themes of gender, power and desire that are often deeply buried in other texts.

Hiroki Yamaguchi's "Gusha no bindume" ("Hellevator: The Bottled Fools," 2004) is everything "Out" should have been. Yamaguchi's film blends elements of horror with science fiction set in a parallel society, culminating in a narrative resolution comparable to that of "Avalon." Luchino Fujisaki plays an eponymous 17-year-old schoolgirl attired in the classic sailor suit and loose leg warmers so frequently fetishized in Japanese cinema. Her blankly beautiful appearance and insouciant manner are a thin veneer over casual violence and rage of psychotic intensity. While her appearance may seem markedly incongruous in the dark urban dystopia of the claustrophobic, vertical mega-city of Yamaguchi's imaginings, "Fujisaki" shocks even its twisted denizens with her brutality as she causes an explosion that kills 113 people with a casually discarded cigarette, empties the clip of a Mauser automatic pistol into a convicted murderer in gratuitously bloody slow motion, and eviscerates a male microbiologist.

The driving force, seen in flashbacks whose repetition captures their unending influence, is her legacy of physical and sexual abuse by her father – ultimately butchered by "Luchino" with a pair of shears. Although initially presented within the text as psychic, "Fujisaki" actually appears psychotic. Her mind reading and mental transparency result in classic paranoid imaginings of plots and secret surveillance. "Fujisaki" slays the microbiologist under influence of perceived mind control by a punk kid slumped on the floor of the massive elevator where most of the film is set. In her imaginings he is an undercover agent for the ubiquitous surveillance bureau, while the microbiologist is about to unleash a viral weapon contained in a jar with a genetically altered fetus. As she kills him, the jar rolls away spilling its actual content of heart medications. Earlier, she suggestively imagines that the woman with a baby carriage who is in the elevator has actually killed her own infant by placing it in a locker.

At the film's close, "Fujisaki" is literally saturated with other people's blood. Far from saving the people whose lives briefly come together in the elevator that travels between hundreds of city levels, she is a heinous criminal. The film's ultimate irony is that she is sentenced to "disposal" and is duly delivered to the mysterious "Level 0" in the orange jumpsuit of those so convicted. Instead of dying, however, "Fujisaki" has her memories erased and emerges into the nighttime in central Tokyo, on her own. Having started at the very bottom, in a community for the mentally ill, "Fujisaki" rides the elevator all the way to the top.

This provocative work can be interpreted on several levels. Following a tradition traceable through Ridley Scott's "Blade Runner" to Fritz Lang's "Metropolis" it presents a compelling vision of urban dystopia that can easily be read as a metaphor for the woes of contemporary society. People shuffle endlessly through a claustrophobic transportation network that seems to have become their primary activity. The vertical city-state is organized into occupational strata, physically separating and stigmatizing its citizens. The gulf between a phalanx of identical salarymen and others – a mother, young people – is unbridgeable. Surveillance and order are oppressive. Officialdom is sadistic and arbitrary. The elevator operators – beautiful young women with highly stylized costumes and gestures reminiscent of mannequins – epitomize the occupational plight of so many Japanese women.
This system – itself hellish enough – begins to break down with the arrival in the transport elevator of two convicted convicts – a murderer and a rapist-cannibal. With the explosion of a terrorist bomb they break loose and begin to prey on the occupants of the elevator. Only three people fight back – "Fujisaki" who is tipped over the edge by any male advance, the microbiologist who is concerned to save his money and career, and the female elevator operator who announces she has been trained to deal with these types of emergencies. The young man who is present remains alienated even from an existential threat. These elements starkly present the crushing forces of patriarchal power that privileges masculinity, rules, money and the subjection of women.

But this order is ultimately overturned by circumstances that elicit the most basic of human passions – fear, lust, greed, rage – the "beasts" of Kirino's literary "Out." Although they are the catalysts, it is not the two convicted murderers who ultimately wreak mayhem. Instead it is "Luchino Fujisaki" who achieves a blood-drenched climax involving evisceration every bit as horrible as the crimes of those officially designated as monstrous. This is social criticism of the most savagely primal sort. Salarymen, scientists, elevator women, housewives, disaffected youth and schoolgirls are quickly stripped down to those attributes imposed on them by roles. Ultimately, all breaks down under the pressure of extraordinary circumstances. Even the icy elevator lady loses her composure. "Hellevator" makes no secret of its dystopian vision or how it stands in relation to contemporary Japanese society, both metaphorically and literally underneath it.

"Hellevator" seems relatively unusual for a contemporary Japanese horror film. Its gritty reliance on both emotional and physical violence and claustrophobic mise-en-scene, seem more reminiscent of the elemental violations at the finale of "Audition" or cyberpunk excess than of "Ring's" legacy of spirits and truth-seekers. "Fujisaki" may inadvertently find truth – but she's certainly not looking for it. She's come to destroy, not to discover. Positioned in this fashion, "Hellevator" invites reading as a "post-slasher" text in which violence becomes less a means of reaffirming essentialist, patriarchal myths about power and gender, and more a direct social critique.

It may be instructive to make brief comparison with another cinematically impressive, well-acted, modestly budgeted production that is unabashedly a contemporary slasher – the 2004 French film "Haute Tension" ("High Tension"). This brutal film has many comparable elements to "Hellevator," including a female protagonist pushed to violence, small cast, enclosed spaces, abject suffering and bloodletting, foreshadowing and playfulness with time. Although the main protagonist in "High Tension" is presented as delusional – as is "Fujisaki" – this is conflated with her sexual orientation in a manner that codes her as inherently and inexplicably monstrous. By contrast, although "Fujisaki's" actions may be monstrous, they are given context by presentation of a backstory. "Hellevator" presents its female protagonist's insanity and violence as the product of patriarchal violence and oppression, whereas "High Tension" treats its female protagonist as a decontextualized, incomprehensible threat.

This may illustrate an apparent point of divergence between Western and Japanese horror narratives. Whereas many Western horror films use narrative and subtextual codes to re-inscribe women into a remarkably resilient patriarchal order, Japanese horror seems increasingly dichotomized into egregious extremes of monstrous male behavior, and unexpectedly brutal counter-violence by women. Even the ghosts that are Okiku's legatees crave vengeance. These films critique and subvert patriarchal assumptions by speaking aloud when their Western counterparts remain discreetly silent. In the end, when the monster is finally revealed, he may well be a man dragging a pipe to batter one with as in Masayuki Ochiai's "Saimin" ("The Hypnotist," 1999), or seeking to cut one's heart out in Ryuhei Kitamura's "Sky High" (2003) – a metaphor for inevitable abuse and betrayal. No matter how superficially charming, his power is ultimately backed up by brute force, and must be equally violently confronted.
---