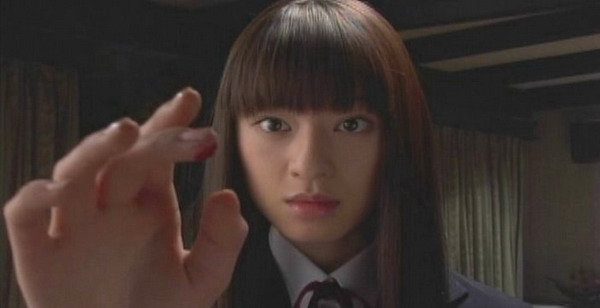 ---
J-Horror Science and Superstition
"One who kills, however, falls into Hell . . ." (Eihi Shiina, "Sky High")
Somewhat more traditional horror themes have involved further instances of the breakdown of normal personal boundaries, perhaps suggesting the prominence of concern with social definitions of role and adjustment. In Toshiyuki Mizutani's "Isola: Tajuu jinkaku shôjo" ("Isola: Multiple Personality Girl," 2000), one of a girl's multiple personalities' murderous impulses are caused by scientific experimentation and must be confronted by a female protagonist with psychic powers. The psychic powers of "Junko" (Akiko Yada) in Shusuke Kaneko's "Kurosufaia" ("Pyrokenesis," 2000) both redress injustice but also fatally estrange her from others. Kiyoshi Kurosawa's "Korei" ("Séance," 2000) puts supposed female intuition into lethal collaboration with personal ambition. Science fiction elements involving genetics, computers and re-animation are present in titles such as Miike's "Andromedeia" (1998) and Masayuki Ochiai's "Parasaito Ivu" ("Parasite Eve," 1997) in which a scientist's attempt to revive his deceased wife unleashes a beautiful but monstrous female incarnation embodying mitochondrial DNA. Ghosts and uncanny places supply suspense in titles such as Norio Tsuruta's "Kakashi" ("Scarecrow", 2001) that stars Maho Nonami, Grace Yip and Kou Shibasaki, and Shunichi Nagasaki's "Shikoku" (1999) starring Yui Natsukawa ("Gonin 2") and Chiaki Kuriyama in a film whose title could represent a word play on "land of the dead." Both these narratives revisit the familiar horror theme of tension that results from the visits of outsiders to remote rural communities. Chiaki Kuriyama also plays a ghost in Iwao Takahashi's "Mail" (2004), albeit as a positive and supportive presence.

Reminiscent of Kaneto Shindô's 1964 classic "Onibaba," Takashi Komatsu's "Kamen gakuen" ("Persona," 2000) examines both the attractive and destructive influences of porcelain masks, this time in a high school setting. Maya Kurosu's character mounts a spirited investigation. Hideyuki Kobayashi explores uncanny dolls, victimization of women and conversion of women into dolls in "Marronier" (2004) that involves elements reminiscent of the classic Hollywood title "House of Wax."

The "Injû kyôshi" ("Angel of Darkness") series and "La Blue Girl" live action films feature softcore themes in a horror context, while "Chi no sû uchû" ("Gore from Outer Space, 2001) directed by Hirohisa Sasaki continues the bizarre blend of horror, black humor and bad taste established in "Hakkyousuru kuchibiru" ("Crazy Lips," 2000), but with Aimi Nakamura playing "Satomi" instead of Hitomi Miwa. Meanwhile, Hitomi Miwa has also appeared in the "Youki kaidan zenshu kaidan" films of 2002 that are re-makes of classic horror stories. Numerous other collections of horror shorts have been released in the past several years such as the "Junji inagawa no shinjitsu no horror" ("Kadokawa Horror Cinema," 2003) featuring Risa Goto. Hideshi Hino's "Theater of Horror" ("Hino Hideshi no za hora: kaiki gekijo," 2004) is a collection of relatively familiar contemporary horror themes involving reanimation of corpses, unusual birth, or uncanny places.
---