1990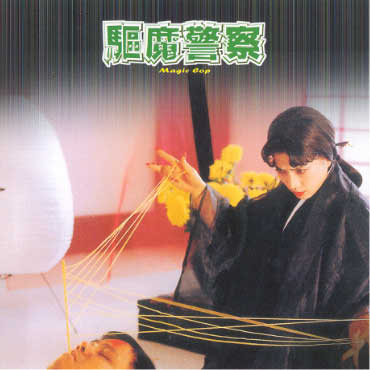 ---
"Angel Terminators" (1990)
(Grandwell Film Productions, Dir. Wai Lit)
This excellent GWG movie pits a fine dramatic and martial arts performance by Sharon Yeung Pan-Pan as an HK policewoman against an equally robust Japanese femme fatale played by Michiko in a supporting role. Other fine supporting actors include Kara Hui Ying-Hung as Pan-Pan's partner, and an array of HK screen "heavies" on the other side – including Mark Houghton and Dick Wei.
The competing forces collide in a series of brutally well directed fight sequences. Sharon Yeung Pan-Pan and Kara Hui Ying-Hung are well matched as a pair of lethally effective detectives, pitting both brains and outstanding martial arts skills against various criminals. Their screen chemistry throughout this action-filled movie is excellent. As an additional treat Kara Hui delivers not only her martial arts ability but also her magnificent range of facial expressions.

Michiko arrives at the airport wearing a kimono – one of a number of reinforcements for a gang takeover war. She quickly changes into skin-tight leather or vinyl, and simply looks great. Other elements of costume fetishism are provided by Carrie Ng and other female supporting actors who appear in smart frocks or cocktail dresses, contrasting with Pan-Pan's rather butch slacks and jacket.
The gang ambushes a big drug deal during which Michiko totes a sub-machine gun while kicking strongly. Later she appears coldly predatory at a confrontation between rival gang members, like an obedient attack dog. Immobile yet vigilant, she suddenly "de-fangs the snake," crippling her boss's rival with an inverted tanto blade sliced across his forearm as he tries to draw a weapon, then cutting his throat. It's a chillingly well-filmed moment, as his body is dragged away. There are plenty of narrowed eyes and menacing looks.

As the police close in on the gang, Michiko's male partner (Chui Chung San) is killed by Pan-Pan. Michiko's character cuts off her little finger and swears revenge. This opportunity comes in the form of a trap set for Carrie Ng's husband – a police officer corrupted by gambling debt. When he is trailed by Pan-Pan, Michiko springs the trap. He is killed and Pan-Pan is captured, then blamed for his murder. After Carrie Ng's character unsuccessfully attempts revenge, both women are held by Michiko in a private dungeon. Carrie Ng's character endures a horrific assault by Michiko's boss (Kenneth Tsang), then is stabbed to death in the neck by Michiko. Pan-Pan's policewoman has been reduced to a drug-addled wreck by forcible injection.

Michiko's evil character eventually meets her end in a brief fight with a recovered Pan-Pan who has eventually been found by her partner, Kara. The two then set their sights on the gang boss. Although a supporting role, Michiko's character acting in this film is truly chilling, conveying a twisted mix of propriety and criminal menace. The rest of the action and acting is just as good. Darkly vicious, this film is not compromised by comic elements.
A2.5, B3, C4, D3, E4, F4 (20.5). Highly Recommended

---
"Dragon Fighter, The" (aka "Hard To Die," 1990)
(Jia's Motion Picture HK Co., Dir. Jimmy Wong)
The agendas of three women intersect bloodily as they set their sights on Mr. David Lung's (Eddy Ko Hung) criminal organization. Sibelle Hu ("Julie") in yet another policewoman role is seeking redress for the drug addiction, then murder of her father. Carrie Ng plays "Jessica," an undercover agent who poses as "Bill's" (Francis Ng) girlfriend, while Michiko is a Japanese seeking revenge for the murder of her father.
Their paths cross those of the male leads. Alex Man ("Andy") overacts as a petty drug dealer who rescues then falls for Michiko, after tangling repeatedly with his nemesis Sibelle Hu. Alex Fong plays a contract killer from the USA who becomes a rival to Bill for Jessica.
From the opening scene in which a demented looking Michiko lets fly with a sub-machine gun while yelling "Bastard" in a crowded restaurant, the action is plentiful, albeit not particularly sophisticated. Mark Houghton is killed off early as a visiting racketeer. Michiko later practices with a rocket launcher, taking on Lung's gang and destroying a valuable shipment. She displays some powerful kicking and punching, but gains height by climbing on objects and seems to follow relatively basic fight routines. As always, a close-up of her brief look of satisfaction, framed by wet, slicked back hair, is rewarding.

After Michiko is rescued from the sexual harassment of two punks by Andy (Alex Man), she later seeks his assistance after she is shot by the gang. Although referred to as "Jap girl," sympathy for Michiko's character is developed when she cries while describing the murder of her father by Lung's gang.

After Sibelle Hu's father is killed when she refuses a bribe, and Carrie Ng is discovered and shot – rescued by Alex Fong, the stage is set for a final confrontation. The evidence Jessica (Carrie Ng) has gathered is betrayed by Police corruption, and both Michiko and Carrie Ng's characters are killed in battle with the gang. Jessica is impaled, while Michiko sacrifices herself to save Alex Man and Sibelle Hu – finishing off her attackers with the last burst from an AK-47. Following this, the final shootout at a container yard follows a predictable course, and ends in an unconvincing car chase.
A2, B3.5, C3, D2.5, E3.5, F2 (16.5). Recommended

---
"Magic Cop" (aka "Mr. Vampire 5," 1990)
(Movie Impact, Dir. Lai Da Wei, aka David Lai)
In an entertaining blend of sorcery, police action comedy and good-natured repartee, "Fung Zee" (Lam Ching Ying) is a Taoist cop called in to assist two HK detectives (Wilson Lam and Miu Kiu Wai) solve an unusual case. A drug stakeout in a restaurant is nearly derailed by a female zombie who drags one of the police into a nearly fatal traffic accident. The investigation leads to a health club where a male associate of the deceased, "Eddy" (Frankie Chan Chi Leung) unwittingly leads the cops to the origin of this black magic.

Michiko is a distinctively Japanese sorceress who can use ice crystals implanted in her victims' skulls to control their bodies. She swiftly dispatches the muscular but naïve Eddy – by symbolically choking a cat. He then becomes a zombie sent to hunt down the pursuing cops. In a scene reminiscent of "The Terminator" he bursts into a morgue. Along the way there are good-natured low-key comic exchanges between Fung, the two investigating officers, Fung's attractive niece "Lin," and the senior police officer "Ma" (Wu Ma). Further tensions that enrich the plot include the friction between Taoism and science, modernity and traditionalism, and old-fashioned romantic interest.

Additional zest is added by Michiko's strikingly formal, ice-cold sorceress. Beautiful flowers are turned into lethal weapons by her magic, slow-motion cascades of petals unleashing violent forces. At one point Michiko slices through a sake jug with a single hair plucked from her head. Despite her fanatical bodyguard (Billy Chow), Michiko's sorcery is ultimately no match for a Taoist mirror used by Fung. In a rooftop duel in which he dodges magically flying tiles, Fung causes the sorceress to look into the mirror. This instantly strips away her beauty to reveal her true ugliness. The final confrontation appears tongue-in-cheek. The demon is first blinded, then set on fire. It can still hear, and the heroes must endure pain and indignity in silence to avoid being detected.
This part certainly expanded Michiko's range of casting, and hinted at potential in a popular genre beyond simple actioners. Once again, being cast as a Japanese may have been limiting.

A2, B1, C3.5, D3, E3, F3 (15.5). Recommended
---
"Outlaw Brothers, The" (1990)
(Gordon's Film & Co. Ltd., Dir. Frankie Chan)
How frustrating it must have been for Michiko to literally stand passively on the set and watch fellow Japanese Yukari Oshima deliver a virtuoso martial arts performance, demolishing Michiko's gang of gwailos – including Jeff Falcon, Mark Houghton and Vincent Lyn. Michiko's role is very much an expanded cameo as a scheming drug smuggler seeking to conceal a shipment of drugs in a racecar. As insurance she kidnaps and holds hostage the wife of the car's driver (Sheila Chan), who is also the sister of Frankie Chan's car thief character. He, in turn, is being investigated by Yukari Oshima's undercover policewoman character who is trailing exotic car thefts. She has evidently also attempted to arrest Michiko's drug smuggler. When the two of them interact, the hostility flares.

Michiko appears at the end of this actioner, strikingly clad in a black dress and broad brimmed hat. Once again, she slaps her men (Mark Houghton), as well as menacing her rivals with an M-16 with grenade launcher attachment. At one point she appears to jump over a speeding Porsche – a highly risky stunt if actually performed as it appears. Michiko's role is particularly constricted and mean. She is required to stand relatively still or simply direct her men – a stereotypic villainess. She ends up experiencing the indignity of being hog-tied. But, when given a brief opportunity to kick Yukari, it looks real enough.

A2, B2.5, C2.5, D3, E4, F3 (17). Recommended
---
"Widow Warriors" (1989)
(Maverick Film Ltd., Dir. Wang Lung-Wai)
Relentlessly downbeat, this movie plunges into a heart of darkness. Everyone fights. Almost everyone dies. The action proceeds through three distinct phases, each yielding messages about roles, expectations and loyalty. This is the kind of film in which the heroine's husband is shot, execution-style, on his knees by one of his female in-laws. Other protagonists – women as well as men – are shot, dropping into muddy pools or flopping, broken-backed, across a traffic barrier. The heroes die or are maimed. Michiko (playing a Japanese relative "Chieko") is unceremoniously shot, her body dragged away. Later her pale corpse is viewed in the morgue. Kara Hui lies in hospital, bloody and paralyzed with a tube up her nose, vainly trying to signal with her eyes. But no one understands the message.

The plot initially tracks that of "The Godfather." An aging patriarch (Shek Kin) gathers his family while celebrating the newfound legitimacy of his Triad business ventures. The threat of rivals is fatally underestimated as he and his sons(Ken Lo, Phillip Chan, Michael Chan) are gunned down in the first of three well-executed action sequences. As in "The Godfather," the grace and symbolism of Peking Opera provide a jarring prelude to the imminent violence.

The survivors are all widows. To preserve the family's business and honor they strike back. Impulsive vengeance leads Michiko, Kara and one of their sisters to their deaths. There are some excellent martial arts sequences, during which Michiko – wielding a shoto with an inverted grip – slices through a hapless (and innocent) receptionist as well as several security personnel, then fights with the principal assassin's wife (Ha Chi-chun) in a private gymnasium. After seeming victory, she and her sister-in-law are gunned down when they confront the rival gang. It's sudden and shockingly final. Kara witnesses this and has a magnificent fight sequence, but she too is shot and paralyzed. In the end, as the martial artists fail, it's up to the least martial of the surviving women (Elizabeth Lee) to orchestrate a bloodily brutal GWG finale. This ends with one of them screaming while emptying a machine gun clip into the leading bad guy - who's wearing a white suit and lying on the ground already wounded.

The former "chop-socky" martial arts star, director Wang Lung-Wei serves up a plate of pain. The images fly as fast as the bullets. The symbolism is subtle, yet powerful, as the least martial women of the family clan use intelligence and cunning to prevail where both martial arts and masculine bravura had failed. Once again Michiko is explicitly cast as a Japanese – an outsider. Significantly, she's the one who, unthinking, recklessly drags her sisters-in-law into a virtual suicide mission.

Michiko is very dressily attired for the family reunion, displaying Japanese formality and "tatemae" (outward behavior). The contrast between her formality and sudden recklessness is an interesting counterpoint to the other, more expressive family members.
A2, B 4, C3, D3.5, E4, F4 (20.5). Highly Recommended

---