The Dead and the Deadly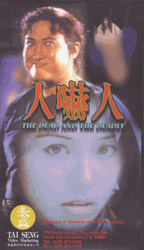 ---
Reviewed by Yves Gendron
THE DEAD AND THE DEADLY is one of three kung fu ghost comedy classics made by Sammo Hung back in the early eighties. The first was the watershed CLOSE ENCOUNTER OF THE SPOOKY KIND (1980) in which he starred and was the director, while the last was the equally seminal MR VAMPIRE (85) starring Lam Ching Ying that Sammo produced. As for the second, made in 1982, DEAD could be considered as the most obscure and least appreciated of the trio.

"Fatboy" (Sammo of course) is the great-nephew as well as the main assistant of an elderly Taoist priest (Lam Ching Ying) who also runs a funeral artifact manufacturing shop. One day a funeral party comes into town carrying the corpse of the long missing prodigal son (Lucho) of a rich local family with his very pregnant widow following in tow. That sounds odd to Fatboy however who as Lucho's best buddy, knew that the man despite his name (which means "Fucking Big Dick") was utterly impotent. Suspecting foul play, he therefore disguises himself as one of the big paper dummies set in the funeral parlor, and when left alone, inspects the body with the intent to even open it up to prove his suspicions. Actually though, Lucho (Wu Ma) is very much alive, part of a scam to appropriate some valuable family antiques. To keep Fatboy at bay he fakes being a ghost and scares him into leaving him alone. At this point however, Lucho's accomplices decide to really kill him and so the charade becomes reality as Lucho is murdered and really becomes a ghost. In order to revenge himself against his killers, he obtains the help of Fatboy by possessing his body so as to use it as a lethal tool. The problem is, if anything goes wrong, it will be Fatboy's turn to become dead and ghostly.

DEAD AND DEADLY brought Sammo and Wu Ma together in a classic big and small buddy pairing. While Wu Ma actually directed the film it's Sammo who co-wrote it, making the film as much his as Wu's. Like Sammo's two other kung fu ghost comedies, DEAD AND DEADLY combines kung fu action along with folklore horror, ghosts, supernatural schtick and much broad burlesque all placed in a period setting (here the Qin dynasty year of 1864). The kung fu action/stunt/acrobatic element however has been seriously reduced in favour of very inventive and colorful burlesque routines involving among other things - body probing, ghost mischief and of course zany Taoist magic rituals. They do tend to be a bit longish and some contemporary viewers might find them too slow as well as too broad and old for their taste. Action wise, the film actually limits itself to two relatively brief scenes. Wu Ma (or actually an acrobatic double - probably Yuen Biao) fighting back his would be assassins before being killed by them. And later on a scene with a possessed Sammo getting revenge on the killers, (one of them a Sammo regular Chung Fat) is a superb action sequence showing Sammo at his acrobatic, fighting and mimicking best (remember he's suppose to be possessed by Wu Ma's character). All too short but thunderous nonetheless.

As with its two companion pieces DEAD AND DEADLY is very informative on colourful Taoist rituals and Chinese supernatural lore. Advice to the merry widow, do not meet your lover in front of your late husband's funeral tablet. Advice to ghosts, watch out for women's underwear, as they're lethal for your kind. In DEAD AND DEADLY you can see Lam Ching Ying for the first time take on the part of a cool but caring Taoist priest. Unlike the version he would create three years later with MR VAMPIRE, in DEAD AND THE DEADLY his character is quite elderly and the difficulty he has performing some of the rituals given his frailty as well as the help he receives from his assistants as a result are very much a part of the film's slapstick. Seeing him you would never suspect the man is just barely thirty. Besides been a nice showcase of the Chinese colorful lore, DEAD AND DEADLY is an equally laudable showcase of Chinese theatre. Indeed this reviewer has long sustained that kung fu cinema's foundation was Chinese Opera itself. That is never more obvious than with kung fu comedy, as DEAD shows all too well. Thus besides some of the acrobatics occasionally done by the performers, the film also displays theatricality with the characters being introduced with written script on the screen. In addition to this is the featuring of typical comic routines as well as archetypical comic characters (such as the perpetually drunk family scholar or the funny head-monk), which are taken right out of Chinese burlesque and irreverent theatre. So in a way that many Westerners don't even suspect, DEAD AND DEADLY is quite instructive about Chinese theatre tradition.

One important character not mentioned in the synopsis is Yuen, Fatboy's sweet fiancée played by the lovely comedienne Cherie Chung. She appears only briefly at the beginning but the last fifteen minutes of the film belongs totally to her as she makes a heroic effort to save Fatboy from a dreadful fate. It's a superb portrayal of female valour, resolution and love that contrasts sharply with the way women had been depicted up till then in the film. The thing is that the vast majority of kung fu comedy gives a rather unflattering if not downright misogynistic portrayal of woman. Bitchy prostitute, duplicitous scheming vixen or horrible shrew is far more prevalent than the nearly non-existent sweet girlfriend. While Hong Kong martial art/action cinema by in large does indeed glorify the image of the woman warrior, in the case of kung fu comedy a brand of "by the boys for the boys" comic sensibility is playing here which all too evidently subscribes to some feudal (old), puerile and chauvinistic ideas about women. Which is why in such a context Cherie Cheung's Yuen character feels so exceptional.

There are a couple of other interesting details on the film: its actual Chinese title is "PEOPLE SCARING PEOPLE which is a bit odd, and rather unimpressive. As usual in a Sammo driven film, it features most of his usual troupe of character actor/ stuntmen like Lam Ching Ying of course, Chung Fat, Chan Lung and others. Amusingly, those actors who had played bad characters in Sammo's earlier CLOSE ENCOUNTER OF THE SPOOKY KIND now play good guys in DEAD AND THE DEADLY and vice versa with Chung Fat who originally portrayed a good sorcerer but was cast as an evil one here

The DEAD AND DEADLY co star/director Wu Ma is better known to the casual Hong Kong western movie viewer as the fierce Taoist swordsman of the CHINESE GHOST STORY series fame, as well as for his cameo turns in countless Sammo Hung movies starting with the big man's directorial debut THE IRON-FISTED MONK (77) up until Sammo's thus far last of his personal movies, DON'T GIVE A DAMN (95), Besides a rich career as a character actor, Wu Ma was also a seasoned director of his own right starting in the late sixties. His output was somewhat uneven however with the sorry habit of often making second rate versions of trend setting movies such as CHINESE GHOST STORY and ONCE UPON A TIME IN CHINA which he redid to some degree as PICTURE OF A NYMPH (88) and KICKBOXER (92). Some of his movies are worthy efforts however; THE DEAF AND MUTE HEROINE (71), WITS TO WITS (74) and DEAD AND DEADLY have been deemed his best works. Strong women characters tends to shine especially in some of his movies like the aforementioned Cherie Chung in DEAD, Helen Ma in DEAF AND MUTE and the entire female ensemble cast of his STAGE DOOR JOHNNY (90).

DEAD AND DEADLY might not be quite as action packed as it's companion pieces, so some viewers might find the film a little slower or even duller by comparison, but in it's own peculiar way it is more precious and haunting. The film also got one of the more emblematic of Sammo performance as we see him go from the earthly earth bound Fat-boy, a paper dummy to an acrobatic lethal human weapon, then a hysterical ghost and finally a dead body. That last appearance reminds us that behind Sammo's action and laughs there is always an undercurrent of tragedy and melancholia in his film. In the final analysis DEAD And DEADLY's last quote is "life is short might as well enjoy it when we can". When we consider that Barry Wong who helped Sammo write this script as well as many others (like PRODIGAL SON (82) HEART OF DRAGON (85) EASTERN CONDOR (87) and PEDICAP DRIVER (89) died in his forties, nine years after DEAD AND THE DEADLY' s making, this is wise advice indeed.

My Rating for this film: 7.5

---