Beast Cops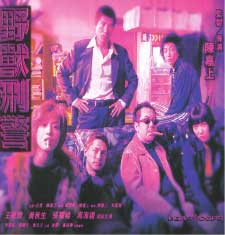 ---
Reviewed by YTSL
This powerful crime drama that Gordon Chan co-directed (along with Dante Lam), -scripted (together with Chan Hing Kar) and -produced (with John Chong) is the sort of offering that some people might dismissively describe as a genre movie. By handing out Best Picture, Director, Actor (to Anthony Wong -- for a second and arguably more deserved time), Supporting Actor (to Patrick Tam -- who would claim that title once more three years later, this time for "Born Wild") and Screenplay accolades to that whose collection of stories take place in one of those sections of the "Fragrant Harbour" where the Triads look to be firmly in control of most things -- and people, including more than one policeman -- though, the folks in charge of handing out the Hong Kong Film Awards made official their valuation of the 1998 work as a cut above the bulk of the HKSAR's cinematic efforts that were released in the same post Hand-over year as it.

A single viewing of BEAST COPS got me believing that its critical acclaim was well deserved, and I doubt that I'll change my opinion on this matter any time soon. For starters, the performances produced in the "no holds barred" offering -- a significant percentage of whose personalities, not incidentally, actually get shown mulling over affairs and musing much more than one might expect to see those who one might expect to very much subscribe to the theory that "action speaks louder than words' -- by HKFA honorees Anthony Wong (as a plain clothes police officer whom some Triads addressed as "Big Brother" Tung) and Patrick Tam (as the peculiarly monikered Pushy Pin) really do impress.

Furthermore, those turned out in BEAST COPS by Kathy Chow (playing a veritable cross between a hare brained Geena Davis, fluffy Goldy Hawn and Gigi Leung in major ditzy mode named YoYo), Roy Cheung (as a "good Triad" known as "Big Brother" Fai), Sam Lee (improbable looking but still convincing as a sex magnet named...(Ah) Sam), plus HKFA Best Supporting Actress nominee Stephanie Che (as the woman who Tung appears to truly love) really did feel "just right" for this colorful -- in terms of characters as well as visuals and so much else -- film. And, if truth be told, Michael Fitzgerald Wong proved to be a surprisingly good foil for the wilder Mr. Wong and the other more exuberant members of this pulsating movie's cast as the straight arrow and possibly too inflexible Mike.

It is an additional tribute to the cast of BEAST COPS -- and this offering as a whole -- that, according to Stefan Hammond, the good work of its on-screen representatives was not restricted to that which took place in front of the cameras. Instead, as he reported in his "Hollywood East: Hong Kong Movies and the People who Make Them", Gordon Chan's ad hoc approach to filming allowed him to make use of "input from the actors to craft [the] realistic dialogue [that helped] add depth to this unusual and worthwhile film" (2000:65-66). At the same time, this collaborative type method suggests that those same performers were undoubtedly aided in turn by some equally high quality behind-the-scenes effort from this production's crew (Some of whom, incidentally, took on bit acting parts in the effort; as did certain of their colleagues, notably the respected cinematographer, Arthur Wong, who appeared in this movie as the two-faced Triad elder named "Custard Tai").

Reading some of the comments that Gordon Chan himself has made about the movie (in pgs. 74 to 76 of the 1998 HKIFF's "Hong Kong Panorama 97-98"), it becomes all the more evident that he -- who had described himself as "the last person to do anything on the triads" -- had put a considerable amount of thought into the development plus making of this often pretty intense offering. Consider, for example, the assertion from he who, as it so happens, characterizes BEAST COPS as "a comedy" as well as "character film" (as opposed to, say, a Triad and/or police drama -- like I would -- plus an actioneer) that: "comedy doesn't mean farce. I have made many comedies before and I know that audiences become irrational when they are laughing their heads off. I don't want my audience to stop using their brains, but I also want them to have a good time . . . Life is not always smooth sailing, you can't always laugh it off. I thought about this a lot during the writing. How much comedy? How much serious stuff? It was a tough process."

Another group of remarks by the urban geologist turned cinematic auteur that this (re)viewer found no less thoughtful plus thought-provoking is that: "There are many Hong Kong films on the triad, but is there anyone who would try to deconstruct it? Or to deconstruct the triad and the police? Between triad and society? What is the triad anyway? . . . Researching this film, I got really depressed, I got really depressed that there's so much more injustice than I imagined. But you can't really blame anyone. Every society deserves its people." Including, it would seem (and when they exist), those BEAST COPS who occupy that large, pretty variegated "gray" area between the delineated "white" and "black" ones.
My rating for this film: 9.

---
Reviewed by Brian
This is definitely one of the better and more mature cop/triad films to emerge from this genre over the past five years in Hong Kong. It is such a relief to see a serious exploration of this murky world and not one the many idol driven films about this subject - i.e. the Young and Dangerous series that I continue find offensive if at the same time entertaining. The name Beast Cops may be a bit misleading though - it's not an over the top action driven film though there are some shocking moments of in your face violence interspersed throughout. It is much more a character study of two cops and their relationships with each other, the Triads and the women who inhabit this world.

Anthony Wong in a wonderfully real performance plays a cop who is all too friendly with a triad head, Roy Cheung. He has long crossed that fine line, but he is not totally corrupt and still maintains certain codes of honor. Michael Wong partners up with him as the by the book cop and they are responsible for keeping an eye on triad activity for a few neon lit blocks in Tsimshatsui. Even Michael Wong is not too bad - in fact this could easily be his best performance - though his Cantonese still elicited laughs from the audience in the theater I saw it in.

The plot is slow moving but that's not really important as the film delves deeper into the characters and relationships of all involved, but eventually everything comes to a dramatic head. It has great photography as it creates a real street sense of HK . The final explosion of violence is as intense and as well staged as anything I have seen for a while and leaves the viewer completely drained.

My rating for this film: 8.5

---