The Magic Amethyst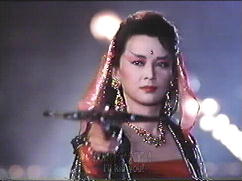 ---
With the exception of Sibelle Hui dressed up beautifully as a Hindi princess and much of the story taking place in India, this movie is quite awful. It does have a huge amount of gunplay and hundreds of people are gunned down, but the action is just abysmally done.
It begins on the streets of HK with two Indians being murdered by Sibelle, but not before they give a Buddha statue to a passing couple. The couple are told that if they deliver it to a priest in India they will be rewarded with $100,000. Lots of bad guys who belong to this religious cult chase after them. The statue is the key to a huge treasure.
Before long they depart to Madras and then Banglagore. It was kind of fun seeing HK action on the streets of India. There is this one-pitched gun battle that takes place on the steps of an Indian temple that was pretty good. In India the couple meets the priest who looks like Yanni and I assume is a star in India perhaps. Extras must be very cheap in India because there are a number of action scenes in which the falling bodies are uncountable! Perhaps this was a big smash in Bombay, but is very sub-par for a HK film.
According to Asian Cult Cinema, Kent Cheng directed this fairly dreadful film.

---