Blue Jean Monster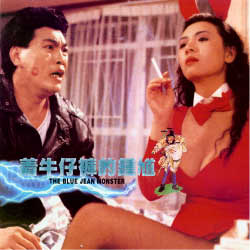 ---
This is a sentimental and touching story in a very peculiar sort of way. Shing Fui-On, who almost always plays a bad guy (as in The Killer) for a good reason - he is very big and very ugly, gets a chance to portray a good guy cop. Unfortunately, early in the film he gets killed while chasing after some robbers, but an electrical storm brings him back to life. His body and brain are able to keep moving with the help of occasional electro-shocks and it takes him a while to realize that he is in fact dead. Clues like his food coming out of a bullet hole in his stomach help him figure it out eventually!
Amy Yip makes a short amazing cameo as Death Ray a prostitute that is hired by the cop's wife (Pauline Wong) to stop him from going the gay way (too long to explain). In a classic scene, Amy attired in a red bunny costume has her breasts burst and saline flies hither and thither. Another Yipster - Gloria Yip - is also on hand to add to the chaos.

Shing only wants to see his baby born before he really dies for good. In one bizarre but astonishing scene, his wife has to give birth quickly in order to fit through a window before a bomb goes off. This is a really crazy, strange and wonderful film.
My rating for this film: 8.0
For some pictures of Amy's classic cameo click here
---
Reviewed by YTSL
Early on in our friendship, this site's webmaster sent me a VHS tape of this Ivan Lai helmed offering along with the injunction that "You can't really call yourself a Hong Kong movie fan until you've seen it!" Despite the pressure heaped on me, I resisted doing so for some years. Although Brian might chalk this down to my being a stubborn so and so, it actually was this then neophyte reviewer's fear that she would not be able to handle the weirdness openly hinted at by the effort's peculiar titled plus premise that put her off checking it out for as long as she did.

In any case, it was only after I had viewed some five or six hundred other Hong Kong films that I finally felt able to give THE BLUE JEAN MONSTER a fair whirl and consequently enjoy viewing this often truly bizarre movie as much as I ended up doing. Furthermore, as another Asian filmophile friend of mine had suggested, some bonus entertainment points really can be derived from seeing the immensely recognizable Shing Fui-On and the versatile Pauline Wong portraying a caring married couple in this 1991 effort post previously witnessing their acting much less loving towards each other in the earlier plus much grimmer "Her Vengeance". Additionally, there's this often absurdist work's presenting veteran viewers with the atypical spectacle of character actor Shing -- whose "Big Silly-Head" nickname attests to his having far from standard movie star looks -- in a leading role, plus playing a heroic cop and generally good natured soul who's prone to "whither before [his] wife" to boot.

All in all, one of the few regrets I have with regards to this entertaining offering is that Pauline Wong ended up once more without as much screen time as an actress of her caliber deserves. For, instead of choosing to focus for the most part on Shing Fui-On's sometimes quite henpecked Tsu character and his heavily pregnant wife, Chu (who Ms. Wong essays), the movie's makers also devoted considerable space in their work to two younger individuals who they perhaps presumed that viewers would find to be on the cute side. The actually somewhat annoying Power Steering (who is played by Tse Wai-Kit) is the orphaned son of a friend of Tsu who lives with the film's main pair of adults. The apt to be too independent minded Gucci (portrayed by Gloria Yip) is the girlfriend of this lad who, fairly early on into THE BLUE JEAN MONSTER, finds herself being held hostage by a group of violence prone bank robbers (one of whom comes in the form of Sunny Chan) and then turns out to be the person who has hold of their valuable stash for the bulk of this offering.

On one level, the eccentrically monikered Power Steering's primary reason for being in the picture seems to be to provide extra amounts of light relief to an effort that actually has a surprising amount of serious emotional moments along with farcical plus other just plain head-scratching ones, not to mention action and gross out scenes galore. For plot purposes though, his main role appears to be that of the fellow responsible for ensuring that the man who a series of fateful -- and, frankly, unlikely in real life! -- events caused to turn into THE BLUE JEAN MONSTER and Gucci end up crossing paths, and more than once.

Albeit indirectly, Power Steering also caused the entrance into THE BLUE JEAN MONSTER of an infamous individual. The legendary busty Amy Yip's "Death Rays" character was reputed to be irresistible to heterosexual men. In one of those "only in Hong Kong movies" types of developments, this femme fatale is requested by a desperate Chu to seduce her husband after she -- who had refused to have sex with him during the entire length of her pregnancy -- had walked into a room and witnessed what she interpreted as her husband and their home's other male occupant engaging in homosexual acts. In this rightfully renowned effort's probably most well known scene however, the (now) uncommonly strong Tsu not only effectively proceeds to provide evidence of his inability to get sexually aroused -- and thus provide an answer of sorts to his own question of "Am I human or a ghost?" -- but also ensured that "Death Rays" prized assets hitherto would never be looked at in, as well as look, quite the same way again... ;D

My rating for the film: 7.5

---