Tricky King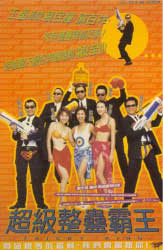 ---
The idea of being trapped in a movie with Eric Kot and Natalis Chan for ninety minutes is headache inducing. Their comedy is as subtle as a pie in the face or a kick in the groin. But strangely enough, it was not as painful an experience as I would have thought. Three lovely co-stars may have had something to do with that, but there were actually some chuckles generated by their bizarre antics.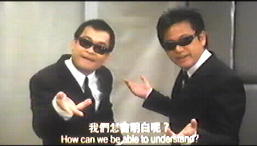 Eric Kot - kind of a Jerry Lewis on drugs - has a crush on Athena Chu who he sees everyday at the train station. He thinks her name is Dkny because those initials are on her handbag. He annoys someone at work and the wrath of the Tricky King is brought down upon him.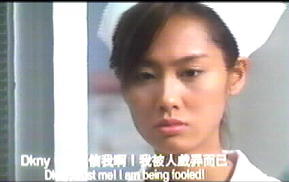 I donít know if these tricksters really exist in HK, but the Stephen Chow film ďTricky BrainsĒ also revolved around such a character. They are hired basically to destroy peopleís lives and reputations and they use an assortment of tricks and schemes to do so. In this case Ericís hand is poisoned by a substance that allows him to have no control over it. It goes wild chasing after girls, squeezing the bossís private parts and eventually delivering a baby!. He gets fired and is unable to find a job.
Finally, he finds employment with Natalis Chan who is also a trickster. They get hired to ruin the reputation of the very beautiful Lee Ann d'Alexandry d'Orengiani who is the daughter of a very rich guy. I wish I knew what her background is, but she is a knockout. She was also in another film I saw Love Generation HK. Needless to say the boys (and a girl) canít bring themselves to hurt this sweetie and so her evil step-brother brings in the Tricky King and it is war ! Some of the weapons used are the fake swimming pool, magnetic sugar, photo illusion, horny smoke and of course the honest chicken wing.
A Preston Sturges comedy this isnít, but some of the routines are amusing and underlying it is a fairly sweet nature.
---