Your Place or Mine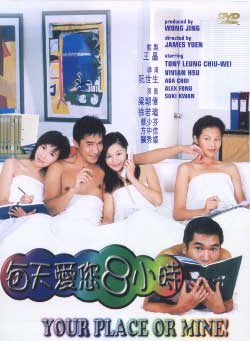 ---
This amusing film follows the relationships of two single thirty-something men in the advertising world who can't come to terms with the concept of commitment. Tony Leung Chiu-Wai wakes up one morning and stares mournfully at what he calls the "tombstones" in his apartment. These "tombstones" are boxes filled with the belongings of all his broken affairs. He longs for something more, but can't quite define it. His friend Patrick (Alex Fong) has a steady girl, but spends most of his time chasing after women and taking them to love motels in Kowloon Tong.

Into their lives come three women - Ada Choi the new boss who everyone is sure is a lesbian, Vivian Hsu a young model that Tony discovers and Suki Kwan the buxom secretary. All three are easy on the eyes and though perhaps Vivian does a slight overkill on being "perky", their performances are excellent. In particular, Ada Choi creates an intriguing grown up character and there are some lovely close ups of her fabulous face.

The film though rests on the shoulders of Tony and his very laid back yet personable performance makes this film enjoyable. The humor here is not the slug you in the gut throw everything at the viewer type, but is rather low keyed and good natured. An enjoyable way to pass some time.

My rating for this film: 7.0

---
Reviewed by YTSL
Not too long ago, a Hong Kong movie fan could have a pretty good idea what she was getting herself in for when selecting a film that was, say, a Milkyway Image or United Filmmakers Organization (UFO) production. These days though, with Johnnie To's company having produced a period comedy like "Wu Yen", a socio-realistic work in "Spacked Out" and the UFO-like breezy romantic work that was "Needing You..." (and Peter Chan, Eric Tsang and their partners having conversely and disastrously gotten Wilson Yip to direct "Skyline Cruisers"), that no longer seems to be the case. Although there are reasons for regretting these changes, an argument -- especially in light of watching some late 1990s UFO efforts like "Anna Magdalena" and "City of Glass" -- could have been made that this may have been for the best.

That which James Yuen -- the director and scriptwriter for YOUR PLACE OR MINE -- served up here is much more akin to a UFO presentation of gender and other personal relationships than any other Wong Jing production. In any case, the two bachelor men (Wai and Patrick are respectively portrayed by Tony Leung Chiu Wai and Alex Fong) in this light 1998 offering remind me of ones I had previously seen in such as "Tom, Dick and Hairy" and "Whatever You Want" who have trouble understanding as well as committing to monogamous and long-term relations with women (And only in part because Little Tony also appeared in the former film and the main characters in the latter movie also worked for an advertising company). I also couldn't help thinking that the combination of childlike naiveté and enthusiastic perkiness exhibited by the character of Ah Yu (the young model played by Vivian Hsu) was what people might get if they blended together the screen personae of Anita Yuen and Hsu Chi.

Some welcome novelty was added to the movie's mix though in the persons of Ada Choi (playing Vivian Ng, Wai and Patrick's new "super cold blooded woman", "female killer" boss) and Suki Kwan (as Mei Mei, a department secretary who has been Patrick's good friend since primary school). Spencer Lam's Simon character (who is Wai's father) and his soccer metaphors also contribute a few interesting plot twists as well as lines of dialogue to YOUR PLACE OR MINE. Additionally, although Eileen Tung's Fanny part was the least developed of the non one night stands in Patrick's life, it was interesting to see what was the line in their relationship that she was not prepared to see crossed. The chorus made up of Wai's past girlfriends that are given to suddenly getting conjured up to admonish and/or advice him is one other nice touch to the generally pleasant but otherwise rather formulaic romantic comedic proceedings (which nevertheless is not very Hollywood-like with regards to its depictions of what life proves to have in store for luckless-in-love Wai, the "natural-born satyr" that Patrick believed he was, the Mainland Chinese immigrant made good who is Ah Yu et al.).

For a while there, it looked like UFO could do no wrong. These days, I feel like many of the folks -- including James Yuen but also Ivy Ho, Aubrey Lam and Peter Chan -- who one integrally associated with it may have lost some of their magic touch(es). How else can I account for my not being as excited as I thought I would be over a movie helmed by a man who helmed "The Golden Girls" and wrote the script of such as "Who's the Woman, Who's the Man?" plus stars two of my favorite Hong Kong actors (one of whom, Alex Fong, doesn't appear in near as many good quality efforts as many female fans would like). On a brighter note, YOUR PLACE OR MINE may well be the Wong Jing production that contained the least mean spirited humor that I've seen thus far. Still, some might take the view that this rather mild mannered effort may have benefited quite a bit from having the kind of boisterous edge and uninhibted feeling possessed by some of the best of those.

My rating for the film: 6.5

---
DVD Information:
Distributed by Universe
The transfer is fine - clean and sharp but not exceptional.
Letterboxed
Cantonese and Mandarin language tracks.
8 Chapters
The subtitles are Chinese or English.
There is a trailer for this film - but no others.
There are star files on Tony Leung, Alex Fong, Ada Choi, Suki Kwan, Vivian Hsu and James Yuen.
There are a few minutes of outtakes which are very rare for a HK DVD and quite enjoyable. Most of them center on Tony's scene with Ada's toes and Ada flubbing lots of lines!

---