Killing Me Tenderly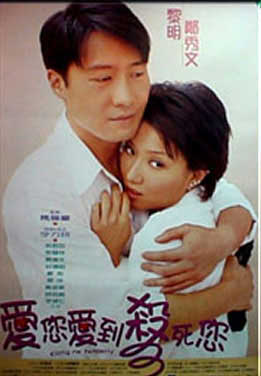 ---
A fairly lightweight but charming story about Leon Lai as an innocent rural policeman assigned to bodyguard a singer, Sammi Cheng, who has had threatening letters sent to her. Hmmm, sound familiar?

Well, this one is played primarily for laughs and romance because Sammi's manager wants to keep her in the dark about the threats and so Leon has to go undercover. Thus he joins her entourage; the problem is her entourage is gay - so Leon has to pretend to be gay as well. A fair amount of humor is derived from this situation.
Nothing very unexpected happens - in fact absolutely nothing unexpected - but it is worth watching for the very enjoyable and sweet performances from Leon and the three gay entouragers, but in particular from Sammi Cheng. She just lights up the screen with a very winning lovable natural performance. I have seen her in a few other fluffy roles, but this is the first that really impressed me. She has good chemistry with everyone around her. And as an added plus - she sings a few songs as well.

My rating for the film: 7.0

---
Reviewed by YTSL
It is hard to expect too much from a movie which has been described as the SECOND -- with the 1994 "Bodyguard from Beijing", starring Jet Li and Christy Chung, being the first -- Hong Kong adaptation of the Whitney Houston and Kevin Costner star vehicle known as "The Bodyguard". This is even more so when thinking that its makers' bid to be more imaginative led them to borrow such characters as the geeky fan and the gay "Auntie" figure from "He's a Woman, She's a Man" and copy a particular messy love-making scene from "The Tall Guy". IMHO, these actions not only show up how much this 1997 effort is devoid of genuine novelty but also make for the film's ending up as a somewhat uncomfortable, half-baked hodgepodge. The fact of director-scriptwriter Lee Lik-Chi and producer Joe Ma opting for the safer routes than the originals with regards to those concepts further weakens this uninspired production.

This is a pity because although the female lead of KILLING ME TENDERLY is no Emma Thompson in terms of her thespian abilities, Sammi Cheng did manage to attractively come across as sweeter than Whitney Houston and gentler than either Carina Lau or Anita Yuen. Not only that but she plays a big part in making this unambitious and not all that eventful offering into something which is watchable. It still often majorly amazes me that so many Cantopop stars -- notably Leslie Cheung but also Jordan Chan, Sally Yeh and Karen Mok -- can actually act as well as they do. That Cheng and Leon Lai (the movie's main man) can convince this (re)viewer of their enjoyment of humble pleasures such as eating freshly plucked sour mangos is a truly pleasant surprise; this being so even while I cannot help but see them as who they really are (i.e., a Cantopop Diva and King) rather than the characters -- a singer who is still not yet a major star and a village chief cum policeman respectively -- they are supposed to be playing.

Wyman Wong -- in his role as the extrovert manager of Cindy (Sammi Cheng) and the leader of her gay entourage (which also includes a character played by Vincent Kok) -- definitely fares best of the rest of the cast who seem unsure re whether the movie is meant to be a comedy, parody or thriller as well as -- principally -- a romance. Bobbie Yip puts in an amusing cameo as a pirate CD seller and it was nice to see Spencer Lam as something other than a priest (after seeing him as such in "Prince Charming" as well as the "Young and Dangerous" series). However, Sandra Ng is wasted as the cousin who spends most of her screen time pining for Leon Lai's character and faithfully serving him and his elderly mother; and Ruby Wong seems miscast as a rival Cantopop singer named Ada. Worst of all is the actor who plays the fan named Jelly; whose character I could never be certain whether we were supposed to feel sorry for, laugh at or fear.

It probably doesn't matter too much for the many fans of Sammi Cheng and Leon Lai that KILLING ME TENDERLY suffers from quite a few deficiencies as a motion picture. One would have thought though that personalities who are as popular as these two plus do not make as frequent forays into the movie world as, say, Andy Lau or Anita Mui, would be able to command better cinematic roles than that which they were given here. Surely two individuals who can actually charm by one's revealing his wearing a T-shirt bearing the image of the other -- as occurs at some point in this offering that possesses way too few whimsical and heartwarming, never mind innovative or thrilling, portions -- deserve better.
My rating for the film: 6.

---
DVD Information
Distributed by Mei Ah
The transfer is OK - a bit more speckling than one might expect at certain times and not as sharp an image as could be - but this isn't really a film in which the cinematography and colors were all that exciting in the first place.
Letterbox
20 Chapters
No trailers/previews
Subtitles in Chinese, English and none

---