Raped by an Angel:The Uniform Fan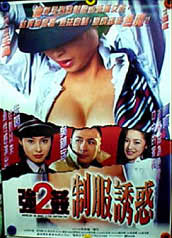 ---
Unfortunately, this film does not reach the high sleaze level that the title implies and that I had hopes for. It actually has a few known names associated with it - Cheung Man directs it and Francis Ng and Athena Chu have large parts.
A serial killer is on the loose. He learned how to tie knots in the boy scouts and learned sexual perversity from his baby sitter but his fetish for girls in uniforms is all his own. His story intersects with that of Francis Ngís who plays a not very bright triad member just released from prison. In an early funny scene that had my hopes up for this film, Ng discovers one of the killerís victims under his car and he has to move it - finally in frustration leaving it standing up against a wall on a very public street.
Ng becomes attracted to a female cop - Athena - whose younger sister in her school uniform has captured the lustful attention of the serial killer. But Ng is such an idiot, that Athena wants nothing to do with him. Not a very memorable film - if you are going to do sleaze - you have to do it with commitment - this film just wonít go over the top enough to accomplish that. There are a few nude scenes included and one ridiculous toast "congratulations on your sperm!" to enliven matters.

---