Angel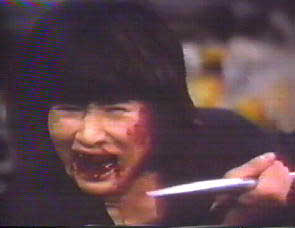 ---
One of the first girls with guns flicks that kick started the careers of both Moon Lee and Yukari Oshima. Yukari has the more memorable role as that of the sadistic villainess, but this movie pushed both of them into many more similar films. Not a great film, but it has lots of action and some good moments. Such as Yukari in a torture scene (ala Reservoir Dogs) and Moon getting smooched (all in the line of duty of course !). Lots of G/W/Guns films that followed were better, but this one helped start it all. Also stars Elaine Lui as one of the Angels.

The final fight between Moon/Elaine against Yukari is a gem - filled with exploding buttons and earrings along with acid sprayed from a wrist watch. Moon is splendid as she acrobatically holds off a gang of killers with a pole and Yukari is as always deadly and serious.
My rating for this film: 7.0

---
Reviewed by YTSL
In their introduction to their chapter entitled "Nail-Polished Fists", the authors of ""Sex and Zen" & "A Bullet in the Head"" wrote that: "Those gentlemen whose nascent longings were fueled by "The Avengers"' Diana Rigg...will be left slack-jawed at the sight of Moon Lee or Yukari Oshima being all lightning-quick and unapologetic. We still are." (Stefan Hammond and Mike Wilkins, 1996:49). Anyone who doubts their words ought to see these two women in bruising action in the pioneering "Girls with Guns" work that shot them to fame (at least among a certain segment of the Western Hong Kong movie-loving population. It is one of the sadder and more inexplicable things that they never really were a major hit in Hong Kong). The climactic battle that takes place in this 1987 film between yet another of those trained ballerinas and the bona fide karate expert is particularly intense, ferocious, spectacular and awe-inspiring.

ANGEL quite clearly borrows some ideas from the same 1970s American TV series that Hollywood is in the process of making into a movie. For example, the boss of the crack investigative agency whose work is at the center of this film is a suave older man (portrayed by Shaw Brothers favorite, David Chiang). But since it is a product of the same film industry that gave Michelle Yeoh the Steve MacQueen (now also Pierce Brosnan) role in their version of "The Thomas Crowne Affair" and remade "Lethal Weapon" into a "Girls with Guns" movie starring Jade Leung and Anita Lee, one should not be too surprised to find that there is a male Angel (who comes in the form of "the Japanese Bryan Ferry"(!), Hideki Saijo) as well as female ones (played by Moon Lee and Elaine Lui) in this East Asian setup. An American (CIA) operative (Alex Fong has this role) additionally figures in this Hong Kong film as both a fellow fighter as well as the person who hires the Angels to check out and track down a whole bunch of crimes -- ranging from the killing and abduction of policemen to international drug-smuggling to the stealing of a vanload of gold bars -- which end up being traced to a sadistic villainess named Madam Yeung (who is played with obvious relish by Yukari Oshima).

As with the equally trailblazing "Yes Madam!", ANGEL seems to hedge its bets as to whether the audience would be satisfied with primarily watching women in gritty action mode. Frankly, this is a real pity. This is not to say that the fight sequences involving Hideki Saijo and Alex Fong are bad. Rather, viewed from my admittedly retrospective perspective, it is the non-action -- particularly the (broad) comedic ones that make Elaine Lui's character less attractive and more annoying -- segments which are the film's weakest sections. It also is very incongruous to watch a wounded Moon (Ms. Lee portrays someone named Moon; ditto re the other female Angel having the same first name as the actress who plays her) fluttering her eyelids at (the late arriving) men after she thinks that she has settled a fight and before checking to see whether Elaine is actually alright.

Fortunately, there is enough opportunity in this obviously not at all big budget production for the capable likes of Moon Lee and Yukari Oshima to show what they can do and how much they can thrill. Viewed in the context of its being a somewhat experimental endeavor by people who never made the Hong Kong movie industry A list, it is quite the achievement that ANGEL is as watchable as it is and inspired that many other "Girls with Guns" efforts (many of which have the word "Angel" in their title and star the cute but also feisty Moon, the charismatic Yukari or both of these under-rated actresses). May the day come when Hong Kong returns to creating Fighting Femme offerings of at least this caliber.
My rating for the film: 7.
---