Beauty Investigators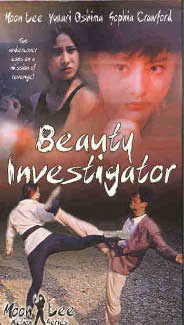 ---
A very enjoyable mix of humor and action in this entree into the Girls with Guns genre. Moon Lee and Kim Je Xee are two inexperienced female cops that go undercover at a hostess bar to catch a psycho killer of women. While there - when not fending of the male patrons - they accidentally learn about the club owner who is killing other higher up members of his gang in order to capture the top position. He has brought in a Japanese killer to do this - none other than . . . Yukari Oshima who proves to be very proficient with a blow gun and a garrote.

Much of the humor revolves around Moon and her partner who though the best of friends argue constantly and are really not very good cops. In one shoot out while in a moving car, Moon blows up just about everything but the motorcycle that Yukari is driving. One scene of Moon looking very forlorn and soused while sitting at a bar with cigarette in mouth surrounded by drink is a classic moment.

Thrown in for no apparent reason is a nude shower scene with Sophia Crawford who is the bad guy's girl (this scene was only in the dubbed version as far as I know from Tai Seng - unfortunately the dvd quality is atrocious). Though a bit silly and low budget, this film has some great scenes with Moon and Yukari. The final fight is fun with Moon shooting off rockets with a wrist rocket launcher ! Also in the film are small parts for Billy Chow, Tai Bo, Melvin Wong and Chung Fat.

---