How to Meet the Lucky Stars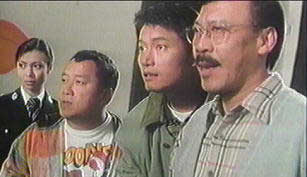 ---
A little rusty and a little creaky, the boys are called back into service one more time in this the last of the Lucky Star series. The first in the series – Winners and Sinners – came out in 1983 and the series is certainly showing it's age here. The film was made for good purposes though – the proceeds were to go to the old time director – Lo Wei – but he actually died before the film was completed.
The film just has very little energy and very few laughs going for it. In the first three films in the series even if the humor was at times questionable, the action always more than made up for it. In this one though without Jackie Chan, Yuen Biao and only a few cameos from Sammo, the action falls flat as well. What it still does have going for it though is some of the old chemistry and the presence of a few old war horses – Stanley Fung, Richard Ng, Eric Tsang and Walter Cho – and some new blood in the presence of the very sexy Francoise Yip.

Police Chief Walter Cho calls the boys together – Sammo plays two roles – one as a cop, the other as the old character in the hospital with a broken leg – to get revenge on the Gambling Flower. During a professional gambling tournament, she cheated and destroyed the life of Cho's brother who went bankrupt and killed himself. The boys along with Yip spend the first half of the film in training for the big gambling match – but as usual they spend as much time chasing after Yip. This strain of lechery was silly thirteen years ago – now it has gone into the realm of the absurd. What's a bit amusing though is that the boys think that Yip is the daughter of the dead brother – but is in fact Miss China City – a high class prostitute – but the boys can't even get lucky with her!

The Gambling Flower has one weakness – a liking for tomboys – and they use the real daughter as bait. That all gets a bit serious for a film like this as she is caught (after sleeping with Flower!) and injected with heroin. Finally the big gambling showdown takes place and the pace of the film picks up a bit.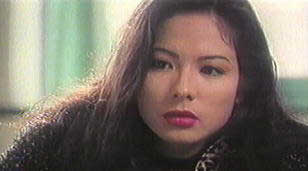 The film just wanders all over the place – with little pace and little interest. Sammo does have a few small action scenes in his cameos – a real tough one with his nurse Diana Pang Dang ! – but nothing like in the older films.
My rating for this film: 5.5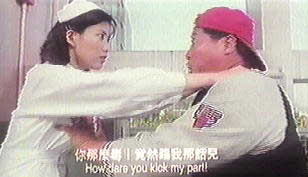 ---