Police Story III - Supercop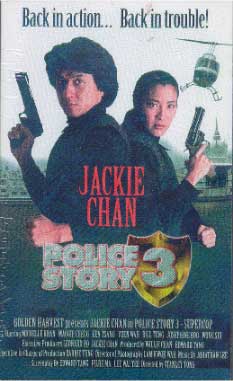 ---
The male and female action gods of HK action – Jackie Chan and Michelle Yeoh - team up to create simply one of the best and most entertaining action films ever to grace the silver screen. In a film that goes from HK to China to Thailand to Malaysia, there is a near non-stop torrent of action and stunts.
This film has a much bigger feel to it and a more international flavor than any of Jackie's previous films do. One almost senses that Jackie was trying to send a message to Hollywood – I can do a Hollywood styled film too – but do it the right way. Even though the film is fast and furious it never loses its sense of fun and it never gets so big that the actors get lost. The wonderful chemistry between Jackie and Michelle is in fact what really drives this film.
This was Michelle's comeback film. She had retired in 1987 to marry Dickson Poon, but after divorcing him she was looking for the right vehicle to come back with. Stanley Tong the director and a good friend of hers and Jackie Chan invited her aboard. Chan is known for not giving women a lot to do in his films besides looking helpless much of the time, but that was certainly not going to be the case here. Considering the fact that this is a Jackie Chan film, he is amazingly generous in allowing Michelle lots of opportunities to display her astounding skills. I don't know if it was his intention, but in many ways she actually overshadows him in this film. Her stunts are palpitating and her action fight scenes are beautifully choreographed and remarkably graceful. Not that Jackie is sitting around watching Michelle – he does some pretty amazing stuff as well. It's incredible though that after five years in retirement, Michelle looks better than ever. More graceful, stronger, more mature as an actress, lovelier and a real charisma about her that was not nearly so evident in her earlier films.

Jackie – playing of course the same character as in the two previous films – gets assigned to help the Mainland police track down a drug gang. His partner – looking very spiffy in her military uniform is Michelle Yeoh. Their plan is to go undercover and break the brother – Yuen Wah – of the head of the gang (Kenneth Tsang) out of jail.

They succeed in this and later have to escape from the Chinese security. This scene was Michelle's big – hello I'm back – as she frees Jackie and Yuen with a beautiful display of leg kicks and punches.

Soon they are on there way to HK and then on to Thailand where there is a great shoot out.

This has all been tame though compared to what happens in Kuala Lumpur where the action goes into hyperdrive. First Jackie, Michelle and the bad guys run into Jackie's girlfriend, Maggie Cheung, who accidentally blows their cover. In the next twenty-minute blur of action there are three amazing stunts that have you holding your breath.

In the first Michelle leaps onto a moving truck and holds on to the sides as it goes whizzing through traffic. She eventually is able to flip on to the top of the truck upon which the bad guys inside start machine gunning the roof. This forces her to leap backwards – falling off the truck and on to the top of the car driven by Jackie behind her. There is a great outtake of this at the end.

Next it is Jackie's turn – and he admits that he had to come up with something big to compete with Michelle – so he jumps on a rope ladder dangling from a helicopter and is taken on the ride of his life above Kuala Lumpur. He crashes through billboards and skims tree tops until he finally jumps on a moving train.

The final stunt is performed again by Michelle. It is amazing in it's own right – but in particular when you realize that she had never ridden a motorcycle before this film. So she first had to learn how to ride a motorcycle and then in the stunt drive it up an incline – jump 20 feet into space – land it on the same moving train – and stop the motorcycle before it flew off the train. It's probably not as easy as it sounds! Again in the outtakes, a few miscues are shown.

This is just a terrific film and a wonderful introduction to people who are unfamiliar with HK action. The stunts, the action, the performances from Jackie and Michelle should win anyone with a beating heart over to HK films.
As a note it should be mentioned that this was Jackie's first movie that was filmed with synch sound. This meaning that the sound was recorded at the same time as the filming was going on. All of his previous films were dubbed at a later date – but not by Jackie! So this is the first time in which the audience actually heard Jackie's voice.
My rating for this film: 9.0

---