My Heart is that Eternal Rose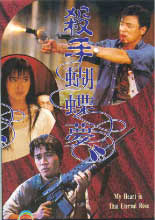 ---
This film just drips with fatalism, romanticism and melodrama. The music, the lighting and cinematography all add to this atmosphere. It is somewhat emotionally manipulative, but the last thirty minutes of the film are gripping and inevitable.
Joey Wong and her ex-triad father run a beach bar and life seems good. But destiny is dealing them another hand. The father's old triad boss calls in a chit and the father, Joey's boyfriend (Kenny Bee) and Ng Man Tat go into China to smuggle the boss's son into HK. Things go very wrong. Kenny Bee goes to the Philippines to hide and Joey has to become the mistress of Godfather Chen to save her father.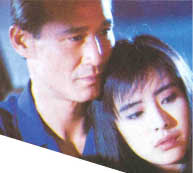 Six years later, Kenny returns. He has spent his time well, as he is now a very proficient hired killer. That skill will come in handy very soon. As fate would have it he runs into Joey. Like an eternal rose, love has not faded. Tony Leung Chiu - Wai is the friendly and honorable bodyguard to Joey. She had asked him earlier if he would ever help her escape from the clutches of Chen, he responds that he doesn't know. He soon has to make that choice.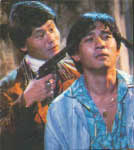 This is a pretty good if somewhat predictable film. There are some very bloody shootouts and an excellent performance from Tony Leung. If he had played Bee's role, I think this film might have been even better. Bee who I loved so much in Shanghai Blues strikes me as a bit stiff here and Tony could have done so much more with that role.
Chris Doyle does the cinematography duties here.
My rating for this film: 8.0

---
Reviewed by YTSL
Two individuals well known as comedians to Hong Kongers (and Hong Kong movie fans), Ng Man Tat and Cheung Tat Ming, are prominently listed as being supporting actors in this 1989 Patrick Tam directed work. I think it says a lot about this production that both their roles are hardly humorous in nature, and the characters they play get killed off before the normal length film even reaches the seventeen minute mark!

Yes, MY HEART IS THAT ETERNAL ROSE is yet another of those dark and gritty melodramas which appeared on the cinematic scene the year that certain events that will never be forgotten by Chinese people anywhere took place in Tiananmen Square. To be sure, this film's fatalistic inclinations cannot be directly linked to that which occurred in Beijing that summer; not least because it came out -- and didn't fare too well at the box office -- earlier in the year. Still, like Tsui Hark's "A Better Tomorrow III" (1989) and Yim Ho's "Red Dust" (1990) -- two works which do contain clear allusions to those weighty occurrences -- along with Raymond Leung's "The First Time is the Last Time" (1989) and Benny Chan's "A Moment of Romance" (1990), it has a very tragic and romantic heart along with violent feel and self-sacrificial emphases that seem in keeping with those times.

On an entirely apolitical note: As with the other impressive efforts I listed in the previous paragraph, MY HEART IS THAT ETERNAL ROSE features very good dramatic performances that lift up the film; so that even while the (re)viewer could predict the movie's overall outcome as well as particular characters' fates, (s)he still couldn't help but be emotionally affected by key events and salient gestures. The two people in the starring roles of Rick and Lap, Kenny Bee (someone who looks too stolid to have ever been -- but actually was -- one of my childhood pop idols!) and Joey Wong (inexplicably attractive to many men, especially when in watery-eyed ghost mode!), do what is required of them. And Michael Chan (who plays the influential man that the main female character becomes the mistress of so that her father's life can get saved) is one of those character actors who never seems to put a foot wrong. Then there's the actor (whose name I do not know, but who might also have impressively played the Sergeant in "The Incorruptible") who thoroughly convinces as the luckless Uncle Cheung.

Still, the person who really stands out in MY HEART IS THAT ETERNAL ROSE is Tony Leung Chiu Wai. Although his part as Joey Wong's character's protector (among other things) is not large, it can be described as pivotal. In any case, it is truly amazing to see the humanity he imparts to a role that, in lesser hands, could have just been that of a well-meaning but easily dismissable and naive idiot. Then there are the heartbreaking scenes during which his character reveals the extent of -- and reasons for -- his devotion to the woman he respectively refers to as Lap Chea (i.e., Older Sister Lap). It thus is entirely satisfying to learn that this sensitive portrayal won the then young man a HKFA Best Supporting Actor award.

The abilities of Hong Kong cinema's action stars have garnered much international attraction and praise. However, the more I have delved into and explored this particular corner of the movie world, the greater has been my appreciation of many of the dramatic peformances of many of its often astonishingly versatile actors and actresses. Especially when they work in an industry infamous for scripts frequently being subject to change up until the last minute of filming (or sometimes not even really existing), it seems that is an aspect of Hong Kong movies that really ought not to be left that unnoticed and unremarked upon.

My rating for this film: 8.

---