Prince Charming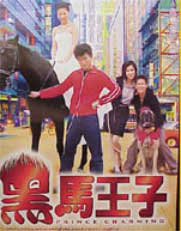 ---
Lets start this on a positive note. This Andy Lau comedy is certainly better than his last one – Fascination Amour. Of course that is a bit like comparing two recently deceased corpses and thinking that one is less decomposed than the other. In neither case do you really want to spend a lot of time with them. Prince Charming does have a few medium laughs along the way, but its paper-thin plot of poor boy meets rich girl has been regurgitated since the silent movie days and it barely limps to the finish line. Wong Jing directs this with little of his former outrageous and stylish flair. Where have you gone Wong Jing? A HK film fan turns his lonely eyes to you.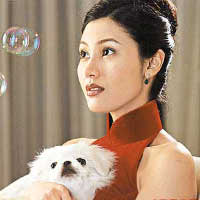 Andy Lau adorned in a Lyle Lovett pompadour is a Mongkok low life slacker – still living with his mom (Deannie Yip who refers to him as her "asshole") – and gets dumped by his girlfriend. She says he is a loser and it is likely the first thing she has gotten right in her life. He hangs out with his equally unambitious friend (Nick Cheung) whose girlfriend (Suzi Kwan) is about to cut him loose as well.
On the other side of the tracks in Shanghai is the beautiful Michelle Reis who is the daughter of an incredibly wealthy Mainland industrialist (played by the wonderful Yu Rong Guong in a non-action role). Her mother deserted her at a young age to go live in HK and now Michelle is determined to find her. When she and her father come to HK, she goes out looking for her and immediately bumps into Lau and decides to enlist him and his mother to help in the search. At the same time, some triad loan sharks are after Nick Cheung and some kidnappers are after Michelle.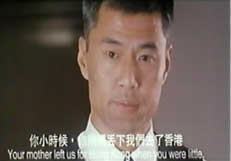 It all plays out very predictably and with little inspiration. There are some funny moments but most of the attempted humor feels forced and lackluster. The film production seems rushed and disjointed and they should have used more time polishing up the script. To some degree this is a by-product of the movie environment in HK these days. Budgets are small and it shows in the writing and the production values.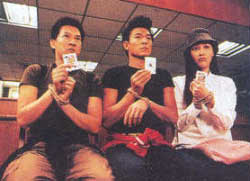 Of course, the most important production value is Michelle Reis and even a small budget can't begin to sully her exquisite looks. She may be the only reason to watch this film – well that and Andy Lau looking as if he has a dead skunk on the top of his head for the entire film.
My rating for this film 6.0
---
Reviewed by YTSL
As I viewed this obviously not high budget and concept movie, the following question really did keep on asserting itself in my mind: What possessed Wong Jing to so underutilize the talents of an actor and actress who previously distinguished themselves in such as Wong Kar Wai productions? Although Michelle Reis has her detractors, she won critical praise for her previous work in "Fallen Angels" and Hou Hsiao Hsien's "Flowers of Shanghai". Even while Andy Lau is primarily a Cantopop king, he was not at all out of place among the cast of Hong Kong's Shanghai-born wunderkind's "As Tears Go By" and "Days of Being Wild".
It seems very appropriate that the act of slumming is a key component of this 1999 Easter offering since this is precisely what I felt its two stars were doing. Perhaps it is just as well for them that in the out-takes which appear in PRINCE CHARMING as the end-credits roll, they seem to be quite happily as well as easily coasting through this "effort". But where does this leave those (of us) who may be fans of the one-time Miss Hong Kong and the perennially good guy yet are not absolutely content with just watching the former being luminously beautiful and the latter acting silly yet cute?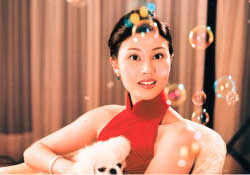 In all fairness, PRINCE CHARMING is not REALLY (entirely) bad. At the very least, this romantic comedy does contain: Certain amusing running jokes throughout it (such as the main character's mother's chosen term of endearment for him); a few creative touches (including the not at all Politically Incorrect utilization of Sign Language); certain cute moments (scary but true: I consider the eye-poking attempts by Reis and Lau's characters to fall in this category!); plus a respectable enough supporting cast (which includes Deannie Yip, Suki Kwan, Nick Cheung, Yu Rong Guong and Spencer Lam). Also, considering that Wong Jing is credited as its scriptwriter as well as director and producer, it actually is amazingly inoffensive. In some ways though, therein lies the rub.
The fact of the matter is that it's never ideal for a movie to possess a flimsy plot (A rich Shanghai girl accompanies her father to Hong Kong, sneaks away to look for her long-lost mother, meets a Mongkok man whose mother claims to have known hers, hangs out with him and his crew, and wouldn't you know it, they...). But it is really disappointing for a Hong Kong film to be this formulaic (of course, opposites attract and he'll do anything for her...). And a true shocker for a Wong Jing product to so lack "edge" (There are no wicked snipes here a la "High Risk" and "Whatever You Want" as well as bad taste but funny jokes and scenes like that which pervade "Boys are Easy"). When this is all coupled with overacting (maybe I am under-valuing her particular comic style but Deannie Yip has always come across as a poor person's Josephine Siao Fong Fong to me) AND underacting (It undoubtedly is not necessarily Michelle Reis' fault that she got relegated once more to being a Flower Vase but unless she was paid pretty well to appear in PRINCE CHARMING, this was a movie offer she ought have refused) galore, things become not only unconvincing and not all that amusing but also seriously lame.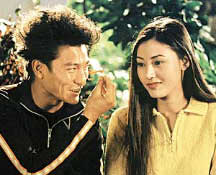 Looking on the bright side: This is a good-natured piece of work which will not unduly tax your brain (Unless you are the kind of person who will persist in trying to analyze and understand why it is that this light offering's principal female characters are named Ice (and feel compelled to point out that it's not Ice Cream) and Salad (and Salad's boyfriend is called Tart)). And I feel consoled by its being so that even at a supposedly depressed period of Hong Kong film-making, PRINCE CHARMING was definitely not the best movie -- or even romantic comedy (IMHO, that would be KING OF COMEDY) -- that came out last year.
My rating for the film: 5.5.

---