Love and Sex Among the Ruins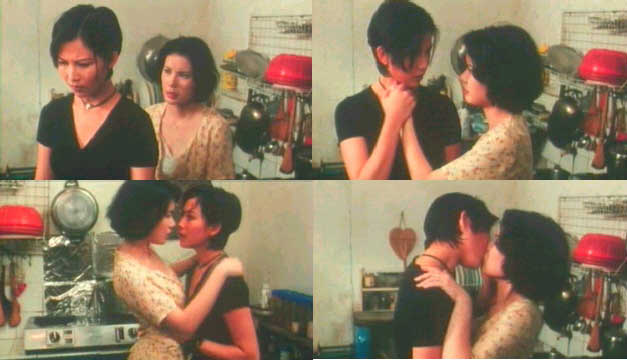 ---
At times it appears that the filmmakers are trying very hard to produce a sophisticated French rondelay, but the effort is sabotaged by an uneven script, actors without the right personas (with one exception) for this type of film and an inability to maintain a consistent mood. Too often they go for a cheap laugh that goes so against the grain of an otherwise sensitive story. There are some good things about this film though that make it somewhat rewarding. A terrific performance from Ada Choi who plays this cool as a cucumber lesbian with a touching vulnerability right beneath the surface, a relaxed unfrenetic pace and just the fact that a film that is quite open and unbiased about issues of sexuality coming out of HK is good to see.

The film begins very nicely with an element of sweetness. Dayo Wong is a cab driver and every night he picks up Liz Kong after her stint is done at an entertainment bar and drives her to the ferry that comes at dawn. He waits with her until the ferry shows up feeling both protective and affection towards her. The next scene though immediately destroys the mood that this scene created.

Dayo is picked up by an amorous passenger and during the tryst she sprays his penis with something that will allow her pleasure for hours and hours! Unfortunately, in this case what goes up does not come down so Dayo has to go to a doctor for a shot to do this. The doctor neglects to tell Dayo though that this will cause impotence – perhaps forever (gee doctor maybe I'll just keep the erection instead!). On its own perhaps this is a funny scene, but it is so absurd that it is hard to take much else in the film very seriously.

Anyway, Dayo quits driving the taxi and moves to a small island off of HK where he gets involved with a group of people. There is Liz, her husband - Cheung Tat-Ming, Paulyn Suen and Ada Choi. The film then relates the revolving relationships – both friendly and sexual – between all these folks. Nearly everyone basically tries to seduce everyone else at some point. All usually to no effect. Especially poor Dayo – all the women try to see if he is really impotent. (Note to myself – remember this little ploy for future usage). Paulyn uses everthing from soup to handcuffs and a few things in between. An interesting if ultimately failed attempt.
My rating for this film: 6.5

---
Reviewed by YTSL
This Cheung Chi Sing directed and scripted work is one of those movies that any summary of its basic plot premise seemingly cannot help but make it appear more farcical or crasser -- or, worse, both -- than it actually is (After all, we are talking about the Category IIB rated offering having a story that centers on an ostensibly luckless taxi driver who became impotent as a result of an ill-fated as well as short-lived sexual tryst with one immensely randy woman!). Perhaps therein lies the primary reason for what this (re)viewer happens to believe is an admittedly modest but really quite charming and ultimately -- pun not entirely intended! -- up-lifting offering having undeservedly slipped under the radar of many overseas Hong Kong film fans (who are not solely action aficionados).

Matters certainly also were not helped by there being few obvious clues about that which I think definitely does defy easy description -- besides it being among those that I've come to look upon as being an "only in Hong Kong..." production -- actually being something special. For one thing, LOVE AND SEX AMONG THE RUINS' theatrical gross of HK$5,210,565 merely resulted in its occupying a respectable but hardly eye-catching 66th position in the local box office list for 1996. For another, the Kwan Pak Suen lensed film that is one of those works that mixes and/or straddles genres -- in this case, at least potentially farcical comedy along with sizzling same-sex as well as often quite touching male-female romantic drama -- is a production that is without crowd-pleasingly big names in its cast (as well as crew). I additionally am inclined to imagine that this de facto sleeper of a movie suffers from not being an archetypal high-brow art-house type offering even while it also does come across as one that's surely generally too stylistically low key and tonally gentle to have been an effort that was conceived as a purely commercial venture.

After viewing the often satisfyingly unpredictable LOVE AND SEX AMONG THE RUINS, it is very much my opinion that this is truly a pity, and not only in terms of the movie -- one which starts off rather abruptly and initially looks like it is going to be a (one) sex joke affair but soon is revealed to be more ambitious than that plus qualitatively improves after its urbanite protagonist, on the advice of a doctor (who is played by a cameo appearance making Vincent Kuk), relocates to one of Hong Kong's quieter islands and makes the acquaintance of some interesting individuals as well as gets to better know a secret love cum regular passenger-turned-friend of his -- not having garnered the (larger and more appreciative) audience that it deserves. Rather, this is because it also means that those who have not (yet) viewed this ensemble piece having effectively denied themselves the opportunity to see more than one acting performance -- and maybe as many as four, or even five -- that I believe is of the kind that are, in and of themselves, worth seeing and appreciating as well as doubtlessly were what majorly contributed to making that whose Chinese title translates into English as "Human Sexuality" be the thoroughly enjoyable and/or compelling viewing fare that it is.

Although the lead actor of LOVE AND SEX AMONG THE RUINS has his detractors (including this site's webmaster!), I reckon that Dayo Wong did a more than decent job of portraying an individual -- named Man Cheung -- who could so easily have been one-dimensionally laughable but turned out to be rather credibly endowed with a sweet and winning nature. Similarly, the sense I get is that this movie benefited quite a bit from its other unexpectedly complex main male character -- Heung Tung, the eccentric self-described "life-enthusiast" husband of a woman he first met when she was thirteen years old (but had only recently managed to leave Mainland China to marry and permanently live with) -- getting played by Cheung Tat Ming (a versatile actor who apparently is best known for being Dayo Wong's regular comic act partner). As such, I have to register my objection to Brian's fault finding assessment of all but one of this actor-driven film's cast.
Moving on to the trio of women whose characters could conveniently be sexually typed as hetero, bi- and homo but whose portrayals of them successfully broke away from the constraints that can come with such single-layered categorizations: I'll start off by suggesting that, especially when considering that her Ron -- the policewoman with a good heart (like virtually everyone who features in this work) -- character is the least vividly drawn of the five who have Venn Diagram type relations with one another, Pauline Suen was not a bad "weakest link" for LOVE AND SEX AMONG THE RUINS to have had. As for Liz Kong: I think it suffices to state that right from the first glimpse that this amiable offering's viewers get of her, it will be perfectly understandable why those who had the chance to get close to her more-vulnerable-than-any-(ex-)club-girl-ought-to-rightfully-be Ah Mon character invariably found her one hundred percent womanly personality to be so very attractive.

Still, it is undeniably so that LOVE AND SEX AMONG THE RUINS' most charismatic plus electrifying performance by far comes courtesy of Ada Choi, whose uninhibited portrayal of Billie -- the lesbian lover of the bisexual Ah Mon plus first-class friend of hers and someone else who adores her -- is one that ought to get people seriously questioning how come she (thus far) is "only" a TV(B) rather than A-list film star. All in all, it should say a lot about her contribution to this delightful effort that pretty much all of the movie's scenes that really stand out for me -- e.g., those involving Billie and Man Cheung that take place one stormy afternoon and continued after the rain had gone, and Billie and Heung Tung's evening of drinking, bantering and illuminating memory-sharing, not to mention Billie and Ah Mon's affection showering scene -- have the famously Christian actress in them.
(Editor's Note - after portraying this role Ada was ridiculously hounded by reporters with questions and rumors as to her real life sexual preferences)
My rating for this film: 8.
---