The Wedding Days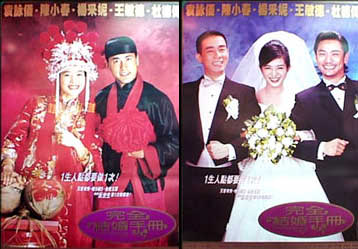 ---
As in most UFO productions, this film is an enjoyable contemporary mix of drama, romance and comedy. In some ways though the film doesn't feel as smooth, glossy or energetic as many of the other UFO films. Though James Yuen has some wonderful writing credits to his name (He is a Woman, She is a Man and A Moment of Romance among many others) this was his first as director and it shows in the inconsistent quality between different scenes.

There are many wonderful things though about this film. The acting performances are excellent all around – not only from the leads – but also from many of the supporting actors. Lets leave Michael Wong out of that statement – not that he is terrible – but he just acts like Michael Wong always does. His dialogue is delivered in a mix of Cantonese and English, which must be very confusing to those around him. No one addresses this oddity until late in the film when Jordan Chan in frustration yells out that he can't understand a word Wong is saying!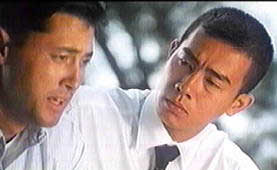 This film is very female oriented with the men sitting on the sidelines for much of the story. The point of view also seems very much slanted towards a woman's perspective. Now since a male – James Yuen - wrote this, I am not sure how legitimate a viewpoint this is. The film tells the story of two women who are very much at a point in their lives when they want to get married. The men they are in relationships with are not nearly as keen.

The film begins with a wedding taking place upon a bus in HK and two old friends – Anita Yuen and Charlie Yeung - meet for the first time in years. Charlie owns a wedding store and is in the middle of an unhappy relationship with a married man. Though we hear the man a few times on the phone making excuses why he can't break it off with his wife, he never is seen - again re-emphasizing how much of a woman's film this is. Anita is involved with Michael who is divorced and she wants to get married in the worst way. Jordan Chan is the wedding photographer in Charlie's shop and provides most of the comic relief. It is quite obvious to everyone but Charlie that he is enamored with her – but she only sees him as a friend.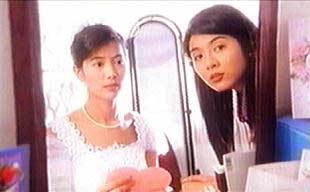 Finally Michael agrees to a simple wedding (after Anita lies to him that her mother has cancer and wants to see her daughter get married!) – but Anita slowly starts pushing the boundaries of a simple wedding to include a church wedding and hundreds of guests. Charlie has to come to grips with whether she really loves the married man or whether it is simple inertia that keeps her going with him.

There are some excellent small roles performed by Eric Tsang as a tailor and Christine Ng as the married man's wife (click here to see pictures of her wedding that just took place).

There are also some very nice scenes throughout – and one magical one of Charlie running through the streets of HK in one of her wedding dresses and Jordan photographing her. I wish we had seen more of that side of Charlie because she goes through much of the film looking very glum and miserable.

There is no new ground plowed in this film and though it doesn't rank with UFO's best, it is still a fairly enjoyable romantic comedy and though the ending isn't quite Sense and Sensibility – it is quite crowd pleasing.

---