Angel Enforcers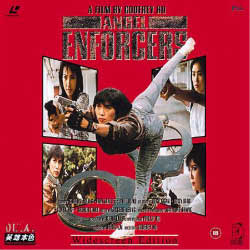 ---
Sharon Yeung is fairly amazing. I quite enjoy watching her on the screen - she has wonderfully strong athletic moves, but she is not as well known as some of the other femme fighters. This is partially due to the fact that her career fell to some degree in that empty period between the end of the kung fu film and the beginning of the "girls with guns" genre. She had some solid roles in both genres - but never made the impact in either that she could have considering her skills. Part of it may be her screen persona as well - she is usually intently serious and doesn't carry the light comedic charm that Moon or Yukari could muster. She is a fierce fighter though and has great athletic ability. Unfortunately, this film does not utilize those skills as well as they could have though she does have a few lovely moments.

The plot is very haphazard and confusing with one large side story – a kidnapping being completely forgotten about. The action is decent, but there is much less of it and it is much less over the top than in many of the other "girls with guns" films. It's one of those low budget types in which during a car shootout, though the car is hit about 50 times no glass is actually shattered. On the other hand, Sharon's ride on top of the racing van is impressive and the fall off even more so.

Basically, the film follows the efforts of four policewomen in trying to break up a gang of thieves. The four women are all related and very close - the heart of the family is Woo Fung - and they all report to Walter Cho. The best part of the film is when Dick Wei and Phillip Ko show up as professional killers trying to silence an undercover cop. They are pretty tough and Wei has a good fight when he takes on three of the cops and a couple other folks as well and pretty much beats the hell out of everyone. His character is fairly interesting as the killer with a strong sense of loyalty. Another interesting aspect of the film is that the head boss is a cross-dressing deadly female (Ha Chi-chun) who seems to prize her riding crop quite a lot.

The last twenty minutes has a few surprises and gets pretty intense, but overall this film was a bit of a letdown. Its does have a number of solid fights and a fun beginning when the the four women all beat up some guys and then whip off their cap to allow their long tresses to blow in the wind!
My rating for this film: 6.0

---