Top Fighter II - Deadly Fighting Dolls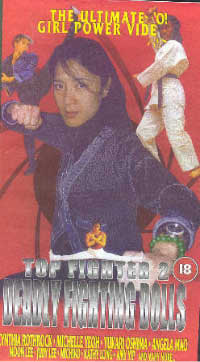 ---
In 1997 Eastern Heroes released this compilation of film clips showing most of the great HK femme fighters in action. I love films like this and can watch them all night. One might think that you would get tired of watching 90-minutes of near non-stop action, but the action scenes that Eastern Heroes has chosen are just stunning and I had not seen many of them previously. Many of these scenes are quite extended and you get a real feeling for what these women were capable of. I do have one big complaint though. For the most part, the films from which the scenes come are not identified and I would love to be able to track these films down.

Here are the women portrayed: Cheng Pei Pei, Hsu Feng (showing an amazing scene from Hu's Touch of Zen), Polly Shang Kwan, Judy Lee (with a 10-minute blow your mind scene from Queen Boxer), Sharon Yeung, Kara Hui Ying-Hung, Yukari Oshima, Elaine Lui, Michelle Yeoh, Cynthia Khan, Sophia Crawford, Michiko Niskawaki, Cynthia Rothrock, Moon Lee and of course Angela Mao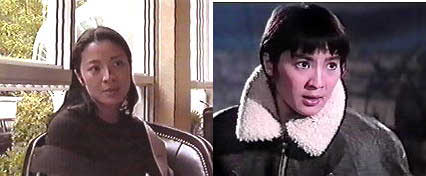 There are also short interviews with many of these women and I was surprised at how many speak English. As soon as I hear Moon, Yukari, Michiko and Kara Hui Ying-Hung speaking English, I immediately think – guest spot on Martial Law !

This being Eastern Heroes there is of course the prerequisite cheesecake shots. They start off with women wrestlers, Amy Yip's cleavage and some nude woman in a kung-fu fight. After that though it is all business with absolutely top-notch fights. Now of course I have to figure out how to find out what these films were and then somehow find them. Damn Eastern Heroes.

Click for a few more Femme Fatales
---