A Book of Heroes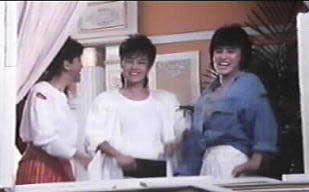 ---
I challenge anyone to find a movie in which more people get knocked through windows, walls or doors. The stuntmen more than earn their pay in this Taiwanese action/comedy as they are used continuously as punching bags by the three femme fatales. This film is a delightful little gem that is full of nonsensical comedy and some very enjoyable acrobatic martial arts action. The three women are all terrific, but the only one that I am familiar with is Yukari Oshima. This film was made soon after her memorable part in Millionaires Express, but before her breakthrough film, Angel. Though she has a much smaller part than the other two women, her fights are astonishingly acrobatic. She reminded me of a female version of Yuen Biao. The other two women are excellent as well – though perhaps they had some doubling assistance.

The film is about some stolen gold that everyone is trying to get their hands on. A cop is trying to prove his worth by tracking it down and he has the very able help of his girlfriend. Another pair in on the chase are two card sharks who come into possession of the map showing where the gold is hidden. In an early scene they are caught cheating, but the woman takes on all comers and cleans out the room without mussing up her makeup – breaking numerous windows, doors etc in the process. It turns out that she also has a pretty good iron shot, but keeps forgetting to shout out "fore"!

Finally the Japanese villain (Shoji Kurata) and his right hand man are also doing everything they can to locate the gold. As insurance, Kurata hires Yukari to help him out, but not before he tests her. He points out five members of another gang and says if she can kill them with her bare hands the job is hers. As Yukari kills one after the other, her salary continues to go up. It's a splendid scene for Yukari.

In the end there is the obligatory scene when all these forces come together for one last fight. Along with all this action, there has been a large dose of totally silly but good-natured humor. This film is in no way to be taken seriously. It is just a fun unpretentious romp and an opportunity to see Yukari at the peak of her physical abilities.

---