My Flying Wife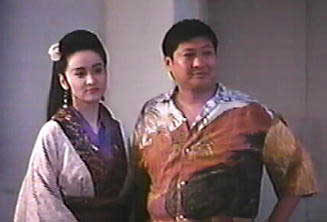 ---
This 1991 fantasy film from Sammo Hung has a retro feel to it and almost acts as a distant cousin to his early 80's film – The Dead and the Deadly. As in that classic film, the story revolves around love, death and reincarnation. Though this film was perhaps considered a bit out of date when it came out and is certainly one of Sammo's least known films, I found it to be quite endearing with some very touching sentimental moments. It does not have a great deal of action though (no doubt contributing to its lesser known status) as it relies more on the interaction between the characters and two sweet love stories to entertain the viewer.
Sammo is the boss of a small group of men who are as he says "full time car mechanics and part time triad members". He is completely loyal to his men and them to him. One of his men Chiu has the ability to see ghosts and when he goes to collect a debt from Fennie Yuen she is on the verge of committing suicide by jumping off a building. Standing below are two ghosts waiting for her impending death. These two ghosts are Yu Li and her son and they have been waiting hundreds of years for a suitable person for the boy to collect the reincarnation pearl from. Huh?
Hold on – this is confusing – let me explain how this death thing works in case you are unaware of it. In Hell there are souls sitting in a waiting room for their turn to come back to earth for reincarnation. A reincarnation official shows up from time to time – Shing Fui-On in this case – and tells them who is about to die on earth and whose turn is next to reincarnate. So when a person dies their soul is escorted away by two colorful guides to the nether world and the ghost has to show up and pop out a reincarnation pearl from the dead person. This pearl allows them to reincarnate. OK – get it?
Anyway Chiu sees the ghosts – saves Fennie from jumping – and gains the wrath of the two ghosts who now want to kill him and take away his reincarnation pearl – though this is of course strictly against the rules of Hell – which as Shing Fui-On explains is a "law abiding place". So Sammo recruits a blind Tao priest (Tommy Wong) to save Chiu but soon finds himself as a target of their anger – especially when it comes to light that in a past life it was Sammo who fathered the boy and deserted Yu Li thus causing her death! Or so she thinks. So she brings in another ghost – Roy Cheung and his gang – to deal with Sammo's gang.

This is all very well done in a somewhat loony and campy manner but with a fair amount of excitement as Sammo literally has to travel to Hell to save his friend – and then has to decide which is more important – life or love.

It was clear by the early 90's that Sammo's run of films that so strongly influenced and helped shape the HK "Golden Years" of the 80's had drawn to a close. Most of his films during this period were low budget in nature and seemed to lack the inspiration of his earlier work. Even so, Sammo was still able to put out films such as this one that may break no new ground, but are still small enjoyable treats in their own right.
My rating for this film: 7.5

---