Mr. Vampire II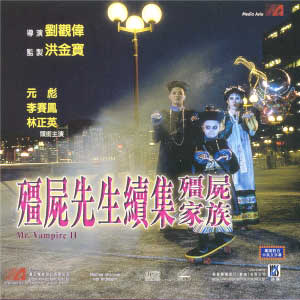 ---
Reviewed by YTSL
The idea and sight of blue-faced, vampire-fanged, Ming dynasty costumed corpses that are so stiff that they have to hop -- rather than run or walk -- may already be weird enough for many people. However, Hong Kong horror movie makers have thought to also introduce viewers to an expert vampire buster who possesses eyebrows so lush that they connect in the middle and become just one big bushy feature (on the face of Lam Ching Ying, THE Taoist Priest [cinematic] incarnate). It makes some kind of sense that such imaginative minds would eventually come up with the idea of mixing together components and characters from "The Gods Must Be Crazy" with vampires and others of this genre's traditional staples to infamously produce "Crazy Safari". And then there's the sections of this 1986 follow-up to the original "Mr. Vampire" that clearly were "inspired" by some Hollywood movies, including "E.T. - The Extra-Terrestrial" (with the strange but cute creature being a (re)animated dead child rather than a marooned alien space traveler...).

Yes, it's true. MR. VAMPIRE 2 has a Mrs. and young Master as well as Mr.; and IMHO, it's the youngest of the vampiric trio who steals the whole show! This is actually not that difficult to do since the headliners, Lam Ching Ying (playing a herbalist who turns out to also be a Taoist sifu) and Yuen Biao (whose role is that of a journalist in love with Lam's daughter (played by Moon Lee) who effectively becomes the vampire-fighting priest's helper), don't appear in this horror-comedy until about the 35th minute (or maybe even later than that). Fans of these actors should also bear in mind that this production really doesn't present anyone -- but particularly the adults -- with many opportunities to fight or dramatic emote. Consequently, like the rest of the cast, who include Wu Ma and the actor who played Uncle Fishball in "Boys are Easy", they generally just have to be content to clown around.

Set in the present day, MR. VAMPIRE 2 starts off with elements borrowed from "Raiders of the Lost Ark" including a treasure-hunting grave-robber (who really ought not to be honored with the title of "archeologist") and his two bumbling assistants, and their encountering of creepy crawlies, a snake and a skeleton in the kind of place whose peace it would be better not to disturb. Story-wise, where it differs is in the three men's also discovering three still fleshy corpses in there and carting them back to the "Professor"'s lab to be cleaned before they get sold to the highest bidder.

Suffice to say that MR. VAMPIRE 2 also markedly contrasts in tone -- and (special effects and overall) budget -- from the Steven Spielberg-George Lucas collaborative effort. This is no where more apparent than in the scenes that take place after the child vampire is accidentally "reactivated". Indeed, what consequently ensues could be scarily described as a cutesy Hong Kong horror-comic version of "E.T.", complete with: The escaped as well as undead kiddy taking refuge in a garden shed; then getting discovered, befriended, and given a name -- here, it's "O.K. Chai/Boy"! -- along with temporary protection by a human child (in this case, a chubby girl, who has a pudgy elder brother and similar shaped gang)...

At a certain point though, notably with the extended "sedative" segment in which hopping corpses attack and humans defend and counter-attack in excruciatingly slow motion, MR. VAMPIRE 2 vaults into the "only in Hong Kong movies" realm in which: Vampires cause a traffic jam and then hop from car roof to car roof; before going off in search of their lost child, whose cries they are able to psychically hear from a distance (Hey, they can do so many other things. Why not this as well?!). Then there is the inclusion of such as expressed concerns about catching AIDs along with ensuring that certain individuals will get to successfully reincarnate.

All of which makes for one certifiably weird movie. Re whether it's appealing: Well, I liked -- but didn't love -- it; not least because it is one of those works which is so outlandishly "one of a kind" (even while definitely part of a specific genre). However, I can see why MR. VAMPIRE 2 would be charmless to many Hong Kong movie fans, notably those who have a low tolerance for Hong Kong movie children and the kind of shenanigans that really can make "the Police Academy films look like high art" (in the words of IS of Joseph Fierro's sadly (temporarily) disabled site)!
My rating for the film: 6

---