The Good, the Bad and the Beauty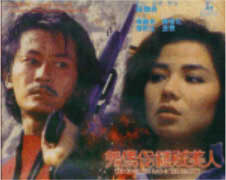 ---
This is a wacky little film that I enjoyed more than I really should have. Watching it is like being on a genre seesaw as it switches constantly back and forth between screwball comedy and violent action. One second you are laughing at some silly bit and the next moment someone's blood is splattered against the walls. Somehow though it barely manages to hang together and be entertaining – due primarily to the charming interaction between Cherie Chung and Kent Cheng – while Frankie Chan (who also directed and produced) rides along as the straight man and performs much of the action.

The very opening scene is an example of this genre seesaw. Kent is walking along with a few bags of groceries when he spots a sweet little girl crying. When he asks her why – she points up to her kitty trapped in a tree and so Kent shimmies up the tree to save the cat. When he looks back down the little girl is scooting off as fast as she can with his groceries – and then an old crone spots him in the tree and starts shouting to the neighbors that he is a peeping tom. Finally she shoots him out of the tree with a slingshot – he falls onto a wagon that immediately starts flying down the hill. Just as Kent is about to crash into a taxi, his cop partner Frankie opens the door and Kent goes flying softly into the cab. Then before a breath can be taken a group of bad guys come running out of a store that they just robbed and both Frankie and Kent have a wild shootout and chase though the streets of HK ending with blood splattered all over an elevator wall. If ever you want to paint your walls red – ask Frankie to shoot a movie in your apartment. There were at least three other scenes that left large stains on the walls!

The main plot revolves around Cherie who as an airline stewardess has smuggled some valuable diamonds into HK – but now wants to keep them herself. The triad boss clearly isn't happy with this and tries to kill her – while Frankie and Kent try their best to protect her. This leads to a number of action scenes and some goofy comedy between Kent – who is understandably infatuated with Cherie – and Cherie who just wants to get rich but is only to happy to lead him on when it suits her.

Cherie seems to have the time of her life with this role as she goes from giddy to crazy to conniving at the drop of a hat or two. It is really a funny performance and if she is a favorite of yours I would recommend this film to you. It is amazing when you think of the different roles she played during her shortish career – the chic cat burglar in Once a Thief, the earthy country girl in Wild Search, the nutty sex maniac in Eight Happiness, the sweet and larcenous musician in Peking Opera Blues and the newly arrived immigrant in the wonderfully romantic An Autumns Tale.

There was one scene that cracked me up of Cherie running through the streets of HK with forty Filipinas in close pursuit. If you have ever been to HK you probably noticed that on Sundays the parks are filled with Filipino maids on their day off. I have no doubt that someone came up to them and asked them if they wanted to be in a movie and they all said yes! And the next moment they are running after Cherie with smiles not quite being able to be contained.
My rating for this film: 7.0

---