Pom Pom and Hot Hot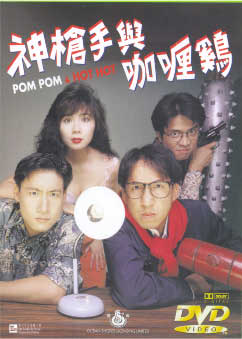 ---
This film has rightfully gained near legendary status for the amazing action filled finale in which Jacky Cheung, Lam Ching-ying and Stephen Tung battle it out with an array of bad guys. The last twenty minutes of the film is a feast of kung fu gunplay, spitting bullets, a fusillade of firepower, splattered bloody bodies, aerodynamic impossibilities and gut checking mano y mano face offs. Even after seeing more HK shoot outs than I can recall, this one had me on the razor's edge of nervous delight. It is simply fabulous. Now what is sometimes overlooked is that for the seventy minutes leading up to this finale, the film is primarily a light, goofy romantic comedy! This is after all a Hong Kong film.

This film is in fact all over the place and takes more detours than a lost cab driver with the meter running. Jacky and Stephen are assigned to catch some gun smugglers by their police supervisor Lam Ching-ying – called Shooter Yin for his astonishing gun prowess. But the two of them seem to spend very little time doing much of anything police related. There are a couple of small action scenes, but the film is taken up primarily with the two of them being hosts to Jacky's visiting cousins from the Mainland – Alfred Cheung and Loletta Lee.
Alfred is a bit of starched shirt who brow beats his poor sister to the point where she has to literally pound her head against the wall. Loletta is needless to say adorable and lovely. There is much made of the cultural differences between the Hongies and the Mainlanders and there is a lengthy Mahjong game in which they play by the HK, Taiwan and Mainland rules and cultural digs are made at all.

While Jacky woos Loletta – leading to one of my favorite upside down hanging from a rope cinematic mid-air kissing scenes, Alfred romances an old love (played by the delightfully trashy Bonnie Fu who was "Virgin" in "Full Contact") who now runs a hostess bar. Some of this is reasonably amusing, but after hearing about the final scene for quite a while I was anxious to get to it.

They find seven dead bodies of a triad group and in a lovely scene Lam Ching-ying demonstrates how one killer was able to do this – and now its their time to face him. This killer (Austin Wai – the father in The Blade) is so good that when he runs out of bullets – as he did after the first six kills – he reloads his gun by spitting bullets into the empty cartridge. In a heart-thumping scene he and Lam Ching-ying face off against each other as Jackie and Stephen take on the rest of the gang. Lam Ching-ying is so good in this film and every time he enters a scene it immediately takes on an energy charge.

Stephen Tung also does the action choreography for this film – some other films that he has been an action director on are A Better Tomorrow, Magnificent Warriors, The Blade, Magic Cop, Downtown Torpedoes and Purple Storm.
My rating for this film: 7.5

---
DVD information:
This is absolutely one of the worst transfers I have come across yet. Sure you don't expect a lot from Ocean Shores but this was abysmal. It is not letterboxed and the sub-titles are regularly cropped off on the side. The picture is badly worn and speckled.
There is no menu – thus no trailers – and the Chinese and English subs are burnt on.
There are both Cantonese and Mandarin tracks available.
---