Fun and Fury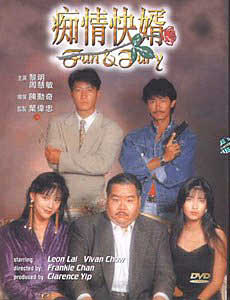 ---
This Frankie Chan helmed film has the look of having been knocked off fairly quickly as it wanders around for the first hour in an aimless goofy daze before it settles down with the action scenes that one expects from a Frankie Chan film. There isn't very much going on here, but it does have a solid cast.

Leon Lai is a Singaporean cop – and he has come to Hong Kong with his girlfriend, Vivian Chow, to meet her father (Kent Cheng) who is a top triad figure. It turns out that back in Singapore Leon caused the death of the brother of White Tiger a vicious HK triad killer (played by Norman Tsui) and Kent Cheng is afraid that White Tiger will take offense with him if he finds out that his daughter is engaged to Leon. So he does everything he can to sabotage the young lover's relationship – even hiring Sharon Kwok (in an engaging and sexy turn) to frame Leon as her lover.

The first hour of the film revolves around this rigmarole – the highlight being a dance scene in which Leon and Vivian and also Frankie (who plays Leon's buddy) and Sharon show some nice dance steps in a disco. Finally, in the last thirty minutes the action kicks in when White Tiger and his gwielo minions kidnap Vivian and hold her hostage.

It is of course up to Leon and Frankie to get her back and this leads to some enjoyable if not topnotch ruckuses between our heroes and Norman Tsui, Kim Maree Penn and two other gwielos. At the very most this is a mild diversion – and it does not contain the energy or intensity of some other Frankie Chan productions such as Burning Ambition or Outlaw Brothers. I think that is Vivian and Leon singing a duet during the end credits.
My rating for this film: 5.5
---
DVD Information:
Distributed by Universe
The transfer is excellent - clean, good colors.
Letterboxed
Cantonese and Mandarin language tracks
Subtitles: Chinese , English, Bahasa (Malaysia)
8 Chapters
It has it's own trailer plus - Beloved Son of God, City Kids and The Last Blood.
The sub-titles are easy to read.
Star Files - Leon Lai and Vivian Chow.

---