Double Tap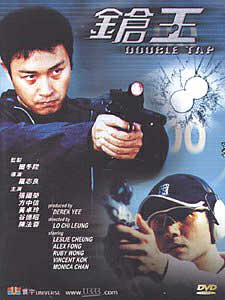 ---
Reviewed by YTSL
There is something to be said for simplicity. This especially so in a contemporary Hong Kong movie world whose action films seem too full of megalomaniacs scheming to throw the world into chaos, stoic super agents, big explosions, lots of material damage, slick but improbable-looking technogimmickery and -sounding technobabble (I think here of such as "Downtown Torpedoes", "Hot War", "Tokyo Raiders" and "Purple Storm": The kind of productions that often aspire and look more like Hollywood clones (only with worse CGI effects...) than actioneers made in the pre-Handover years).
There's also something to be said for star power. And I'll be honest here and own up that I wouldn't have been all that interested in DOUBLE TAP -- a film which takes it name from a particularly high precision shooting skill (which involves the rapid twice hitting/"tapping" of a target in about the same place) -- if it didn't star charismatic Leslie Cheung and hunky Alex Fong, and also have the always competent Ruby Wong in it. Alternatively put: There's plenty of eye candy for da grrls in this picture show along with a sufficient amount of pistol-packed segments for those who like seeing lead spitting out of gun barrels and blood shed by individuals who are pretty convincing at looking like they really are playing for keeps.

DOUBLE TAP does not quite mark a return to "the good old days" when all out action was king in Hong Kong (as opposed to now, where seemingly everything else but that is jostling for that movie crown). If truth be told, this Derek Yee production does not present the viewer with any especially impressive spectacles. It will also be pointed out that quite a few of the gun battles and duels in this medium budget offering take place on shooting ranges and in gun clubs (Still, this does not mean that all of them only involve dummy targets).

However, I think it definitely is in the film's favor that it does have people rather than gadgets and master plans or ultra-violent set pieces as its focus. More specifically, DOUBLE TAP's story -- which starts in 1996, then fastforwards to 1999 -- centers on: A perfectionist gunsmith cum Practical Shooting expert named Rick Pang (played by a surprisingly unboyish-looking Leslie Cheung); an incident which triggers off a certain disturbing impulse on his part and sends him on a particular path of no return; a rival sharpshooter on the side of the law (Alex Fong's Inspector Miu is not without his own inner demons either); and the decisively different abilities to influence their men possessed by two women (Ruby Wong is Rick's gal, Colleen, while Monica Chan has the small but intriguing Dr./Mrs. Miu role).

Although the characters they essay are not among the most well-developed or even three-dimensional around, the cast -- who include Joe Cheung (who also got co-credit for conceiving the movie's story and served as the show's shooting consultant), Vincent Kuk and Henry Fong Ping -- do a professional job with what was given them. While it may seem like I am damning DOUBLE TAP with faint praise, it really did make for an enjoyable experience for me to watch a movie whose chief merit may well lie in my getting the sense that everyone involved in the work at least adeptly executed whatever was asked of them, and sometimes actually made more of their opportunities than others with less ability or enthusiasm could have done.
My rating for the film: 6.5

---
DVD Information:
Distributed by Universe
The transfer is solid - clean, good colors.
Letterboxed
This DVD has Cantonese and Mandarin language tracks and English and Chinese subtitles - so I read - but hell if I can find that option on the menu - but fortunately it automatically went to English subs when I played it.
8 Chapters done on a cool shooting target menu.
It has it's own trailer plus - Tokyo Raiders and Twelve Nights.
The sub-titles are easy to read.
Star Files - Lesley Cheung, Alex Fong, Ruby Wong, Monica Chan, Vincent Kok.

---