2000 AD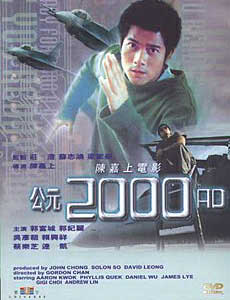 ---
It's Christmas time so I will be as charitable as I can to this Gordon Chan directed film. I am thankful for one third of a good film and thankful that this film had a number of good supporting actors that can almost take your mind off of how puffed up and annoying the lead actor is. It also has some excellent location shots in both Hong Kong and Singapore and some solid action scenes courtesy of choreography director Yuen Tak. If I were to be more Scrooge like, I might have to point out that the film isn't particularly compelling, it's plot never really made much sense to me and that it completely runs out of steam and becomes totally hackneyed in the final third of the film.

The puffed up and annoying lead actor is of course Aaron Kwok who preens and prances through this film like a Radio City Hall Rockette on vapors. He is all tics and mannerisms and false charm without a modicum of sincerity. His main acting crutch here are Band-Aids which he uses liberally to give him a semblance of toughness. His character is a video game playing techo-geek who stumbles onto a conspiracy that is way over his head. Before this happens though, much of the first third of the film sets the story up – at a much too leisurely pace – and the first action scene doesn't take place until well into the film.

Finally, the film kicks into life and becomes very good for a while. His brother, Ray Lui, is accused by the CIA (Andrew Lin) of stealing a top secret and destructive computer virus from a U.S. corporation. Lin brings in a special HK police unit headed by Francis Ng to investigate and they take in both brothers for questioning. Later while being transferred, Lui is assassinated by Ken Lo in a terrific scene. That and the immediate aftermath (of Ken Lo escaping by running on top of the canopy of the famous escalator in Hong Kong Central) is one of the better thought out action scenes in quite a while. Aaron is determined to find out the truth and discover who killed his brother. After one more excellent shoot out, Aaron, his girlfriend (Gigi Choi – with a slight resemblance to Kelly Chan I thought), his brother's mysterious fiancée Salina (Phyllis Quek) and his loopy friend (Daniel Wu) all troop off to Singapore to follow up on clues. There they team up with a Singaporean security man (James Lye) to go after the bad guys – but as soon as the film moves to Singapore it seems to lose it's spark and starts becoming a very run-of –the-mill action film.

The film is full of some of some fairly unknown young actors – Choi, Lye and Quek – and they acquit themselves reasonably well, Daniel Wu in particular was interesting I thought – but I really enjoyed the performances from the veterans who bring a nice bit of gravity to the film. Francis Ng, in his supporting and all too small role, is excellent – his last line of dialogue – "I am only a civil servant" will stick in your head for a while, Ray Lui still manages to look so elegant after all these years and it was terrific seeing Ken Lo having such a good – if almost non-speaking – role in a high profile film.

Though the film has lots of weaknesses – and doesn't deliver what seemed promising for a while – it still has some pleasures within, as it is sleek, well produced and entertaining up to a point. Your entertainment value may vary greatly on how much you do or don't appreciate Mr. Aaron Kwok.
My rating for this film: 6.0

---
DVD Information:
Distributed by Universe
The transfer is first rate - crisp with terrific clean, good colors and there are lots of extras for a HK film.
Letterboxed
Cantonese and Mandarin language tracks.
English & Chinese are the subtitle options.
6 Chapters.
It has it's own trailer plus ones for Tempting Heart, Metade Fumaca, Purple Storm and Gen-X Cops.
Star Files - Aaron Kwok, Phyllis Quek, Daniel Wu, James Lye, Gigi Choi, Ray Lui, Francis Ng and Andrew Lin.
A gallery of photos.
The Making of Special - 20 minutes in length - but if you have adverse reactions to Aaron be careful before you proceed or you may come down with the hives. This piece is basically a fluffy valentine to Aaron as we watch him shave, brush his teeth and always be the center of attention. By watching this you would barely know that anyone else was in this film. It does not have English sub-titles.
The sub-titles are easy to read.

---