Ninth Happiness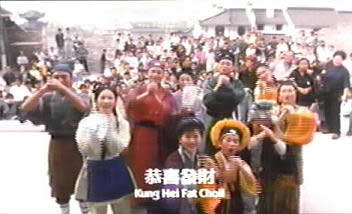 ---
For some reason that I can't recall this film was brought up fairly recently in a discussion on the Asian Film Mobius Board and a few people warned me against watching it – something to the effect that it was beyond dreadful. But what intrigued me was the fact that it was a musical and I simply love musicals – from Busby Berkeley to Fred Astaire to One Enchanted Evening You will See a Stranger Across a Crowded Room. And I have always been amazed that with the large cross-pollination of talent going back and forth between the pop music world and the film world that there are no film musicals It would seem a natural.
I am not all that knowledgeable about the Canto-pop music scene, but I do know that some of the actors here such as Leslie Cheung, Wu Chien-lien, Kenny Bee and Amanda Lee have had very successful singing careers and that Gigi Lai has put out some music as well. So at least the music was likely to be fairly good if nothing else.
So I entered this film with low expectations, but damn as soon as Raymond Wong and Michael Chow break into a rough little ditty I started perking up, and then Wu Chien-lien and Gigi Lai sing and dance a duet and I start to smile and then Leslie Cheung and Wu Chien-lien sing gaily together in the forest and I know its too late. As corny as this film may be, I am completely charmed by it.

The plot is as simplistic as can be – it is basically just a springboard for the numerous songs and for the actors to have some fun (as clearly they were as seen in outtakes at the end). The structure of the film feels highly influenced by Chinese Opera – as does the style and delivery of the songs. The music though has strong pop elements and even has western tunes that I recognized such as Jingle Bells and Tea for Two. There is just such a good-natured feel to this Clifton Ko New Year movie. It is in many ways an old fashioned film that almost could have been made in an earlier age – except for the large amount of sexual innuendo.

Three brothers – Raymond Wong, Michael Chow and Leslie Cheung – are being assigned as the Emperor's representatives to the small town of Choi Hung. The town is almost like the magical town of Brigadoon – untouched by corruption and everyone knows and cares for their neighbors. This is about to change. The first thing Raymond and Michael ask the town's people is "where are the casinos, the brothels and the drug dens" and when told that there are none – why would anyone need those – they see any lucrative bribes and profits fade away. But they decide to do their best to corrupt the town.

In the village live three sisters – Wu Chien-lien, Gigi Lai and Amanda Lee – all three beautiful and single. Gigi is in love with a simple shoe repair man – Kenny Bee – Wu Chien-lien meets and falls in love with Leslie – who wants nothing to do with his two greedy brothers – and Amanda has been told that she will fall in love with a man with a beard – which Raymond just happens to have. Complications arise as expected. Cheung Tat-Ming is in it as well as a lovelorn wine merchant who constantly has to pour cold water over himself.

One unintentionally funny bit is when Wu Chien-lien first encounters Leslie in the forest and thinks he is a sprite of some kind and keeps asking him "so you are a fairy. Oh a singing fairy I see."

Anyway, I would not venture to suggest that others might find this to their liking – the plot and humor are very broad – their really is no opportunity to act – but I loved the music, the colorful costumes and found it to be simply fun and charming in an innocent way.

Though not completely innocent – as I mentioned there is some sexual humor and I read in the book City on Fire that Raymond's name in the film – Ma Lun-tai – translates as "penis as big as a horses" and Chow's name – Ma Lun-Kui – translates as "erect penis"!
My rating for this film: 7.5

---