Aces Go Places V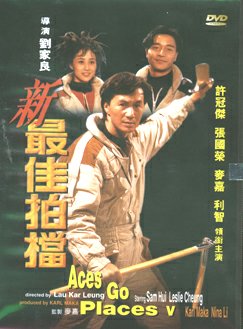 ---
The final sequel in this long running series was made in 1989 – seven years after the original. Overall it often seems to be the least favorite of the films for many people – and though it does lack the sharpness and sense of freshness of the earlier films – it still maintains much of what made the earlier films successful. What it is missing most of course is Inspector Nancy Ho – Sylvia Chang – who has immigrated to Canada with Baldy Junior and who is waiting for her Albert to join them at some point.

Though Sylvia was rarely the main focus of these films, it really was her character that kept it glued together – that gave it an emotional center – and without her both Sam Hui and Karl Maka seem a little bit adrift and a little less personable. The film tries to fill her void with a fabulous roster of talent that all have excellent turns and give the film some pizzazz. Other than Hui and Maka, there are also performances from Leslie Cheung, Nina Li, Ellen Chan, Melvin Wong and Conan Lee – and enjoyable cameos from Danny Lee (a funny turn), Roy Cheung, Fennie Yuen, Walter Cho and Maria Cordero. It all adds up to a nice parade of talent going by.

Even though the series has a formula that it followed to some extent, it's interesting in how all the different directors of the series brought their own prejudices to their film and made them all somewhat different in focus from one another. The first two – directed by Eric Tsang – had a much more comic feel, Tsui Hark directed the third and he clearly enjoyed creating the multitude of special effects, Ringo Lam made his "action/comedy" as intense as he could get away with and now the fifth again has a somewhat different feel to it.

The legendary kung-fu director Lar Kar-leung helms this one and he introduces a great deal of martial arts into the film. Clearly most of the cast other than Sam Hui and Conan are not really trained for this sort of thing – but much of it is reasonably well done and rather fun to watch. There are a number of hand to hand fighting scenes and some sword fighting thrown in as well. The final fifteen minutes of the film is nearly all chaotic action utilizing guns, swords, hand to hand and anything else that came to mind!

In the opening scene Baldy and King Kong kidnap a young Thai woman and return her to her husband only to find that she was sold to this man and had eloped to be with her lover. As soon as they hear this, they of course change their minds but seriously differ on whether to return the payment or not. This argument destroys their friendship and they go off in separate directions for a few years. They are brought back together again when a brother and sister act (Leslie and Nina) steal the "Chinese Excalibur" from another crook - Melvin Wong – who along with the "Excalibur" has also stolen all of the Terracotta Warriors from the Mainland. Not only did they steal it (and escape by having a canon shoot them over a barbed wire fence) – but they did it while wearing masks that looked like Baldy and King Kong.

Sam who is now running a shady investment company (Forever Rich Inc.!) along with his loyal secretary (Ellen Chan) - and Baldy who is hiding from debtors at his niece's (Fenny Yuen) house soon have the HK police, the Mainland police (Conan Lee) and the crooks after them. They once again need to join forces just like the old days to overcome all the obstacles. There is a sense of nostalgia in the film – both the actors and their characters have gotten older – and they make fun of that a bit. Even though on a few occasions it is clear that doubles are being used, both Maka and Hui still do some tough stunt work here and show they have not lost too many steps. They track down Leslie and Nina – but the Mainland cops capture, kidnap and bring back all four of them to the Mainland and put them into a prison camp.
Though the scenes in the camp are played out for humor, there doesn't seem to be much doubt that it is barbed wire humor as references to "human rights" and "buying you own bullets for your execution" are clear digs at the Mainland system. Danny Lee has a very humorous cameo as a prisoner about to be executed for "whore mongering" and gives the crew advice on what bullet to buy when it comes to their turn. Roy Cheung is the commandant of the camp.

Needless to say they decide to co-operate with the Mainland authorities and help them recover the rest of the treasure from the bad guys. This leads to the final end piece, which is really very good and loads of fun. The battle with the foursome – and joined by Ellen Chan – against a warehouse full of bad guys is cleverly done with many of the bad guys disguised as Terracotta Warriors. Nina Li has a few great moments – and looks gorgeous throughout the film. I wonder if she had Jet helping her out with her kung-fu routines!

I have never really been a huge fan of this series, but watching all five of them within a fairly short time frame had the cumulative effect of making me appreciate them much more so. The characters played by Maka, Hui and Chang became very endearing over the five films and I felt a sense of sadness that I have no more of them to watch – that I had to say goodbye to them. As good as some of the stunts and action were at times and as goofy as the comedy was, it is really the interaction of this threesome that makes these films work and what I will remember most.
My rating for this film: 7.0

---
DVD Information:
Distributor - Universe
The transfers for all the films in this series are universally excellent with crisp image and great color - but this one did show a bit more wear than the other four - and at least my copy had a tiny bit of artifacting near the end .
Letterbox - almost extremely so!
Trailer
8 Chapters
Subs - English, Chinese, Thai, Vietnamese, Japanese, Korean, Bahasa Malaysian and Indonesian
Star files - Sam Hui, Karl Maka, Sylvia Chang, Leslie Cheung and Nina Li.
Easy to read subs on black border beneath picture.

---