And I Hate You So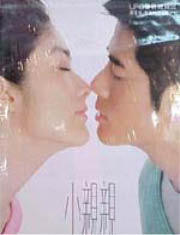 ---
Reviewed by YTSL
The title of this United Filmmakers Organization (UFO) production aptly describes this (re)viewer's feelings towards at least one, if not both, of the movie's two stars. This being said, I cannot deny that I was not unappreciative of the last offering I watched in which Aaron Kwok and Kelly Chan appear together (along with Takeshi Kaneshiro): 1998's "Anna Magdalena". Going into the cinema, it was of some comfort to me too that this year 2000 work possessed the same director (Hai Chung-man is someone who "graduated" from being a costume designer and art director), scriptwriter (Ivy Ho also is the author of the screenplay of "Comrades, Almost a Love Story") and star cinematographer (Peter Pau additionally lensed "The Bride with White Hair" and "Crouching Tiger, Hidden Dragon") as that ultimately charming as well as generally visually pleasing film.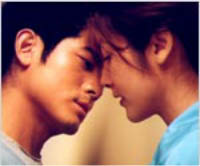 AND I HATE YOU SO is indeed a beautifully shot movie (which really shows a Hong Kong that looks pretty good; particularly the section(s) of the city where Kelly Chan's herself not unphotogenic newspaper columnist character dwells, and Teresa Mo's antique shop owner has her business). It also features quite a bit of pleasingly - predominantly old Western (e.g., songs sung by Edith Piaff and Nat King Cole) - atmospheric music (which got easily and seamlessly incorporated into the film by way of the character played by Aaron Kwok being the host of a radio show called "Vinyl Record Courier").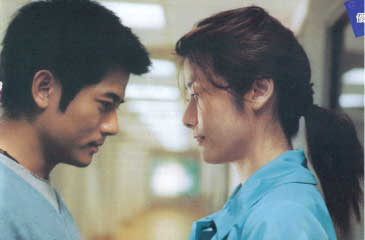 This romantic comedy also has an amusing and intriguing start: With strong-willed and - opinioned Luna Ng - whose column's "Luna Talks" title can apparently also be interpreted in Chinese as "Menstrual Cycle" - waking up to commence a bitch of a day (week?) by finding out that her idiosyncratically arrayed, book-laden apartment's electricity supply had been cut on account of her apparently delayed payment of a bill, then proceeding to break a café's china. Things get worse though for the character essayed by Kelly Chan upon her finding a record that she had gifted a boyfriend for sale in an antique (junk?) shop, trying unsuccessfully to repossess it, discovering that the true personal story she relayed to the man (the appropriately not very nice Cheung Yung is played by Aaron Kwok) who bought it has been publicly aired by him for what may have been millions to hear, and consequently declaring war on that insensitive individual.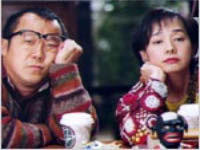 Admittedly, much of AND I HATE YOU SO - including a subplot which pairs up a zit-faced Teresa Mo and man-child acting Eric Tsang whose main reason to be in the picture might well be to emphasize that older and uglier folk than the film's two Cantopop idol leads can fall in love (too) -- is rather fluffy and childish in tone. Nevertheless, it can be rather entertaining; not/at least when the two main protagonists are at loggerheads (and committed to multiply revenge themselves against the other). Quite a few prime barbs and zingers - which implicate men and women in general -- also get hurled and heard via Luna Ng's writings, which are expressively read aloud and often accompanied by appropriate visuals, and Cheung Yung's (Aaron Kwok) "on air" proclamations.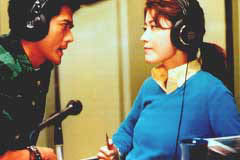 However the movie takes a turn for the worse upon the softening of its main characters and mood. As such, even while there are amusing moments past AND I HATE YOU SO's half way -- maybe even three quarter point -- mark, I found the choice of conclusion way too dissatisfyingly "soft" and predictable. Then there's the matter of that turn of events effectively callously giving short shrift to the supporting characters portrayed by Jessica Hester Hsuan, Mark Lui and a cameo-making Julian Cheung. Especially if the viewer feels that (s)he does know people like them (not an impossibility since, unlike the film's two stars, they don't come across as Divas; and neither do they come across as cartoony figures the way that the characters played by Mo and Tsang - both of whom are better known as comedians than serious actors -- do), the latter development(s) will appear rather unfair.

My rating for the film: 6.5.
---