Okinawa Rendez-Vous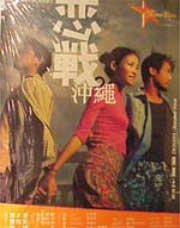 ---
Reviewed by YTSL
Six years ago now, Faye Wong made her first big screen appearance (in Wong Kar Wai's "Chungking Express"). Such was the impact of the then girl-woman whom Quentin Tarantino called a nymphet that, in lieu of their not getting to see her in other movies, quite a few Hong Kong film fans I know ended up checking out and becoming major appreciators of this megastar's music. One marriage, divorce and daughter as well as many albums and concerts later, the Beijing-born singer-actress was finally successfully persuaded by producer, director and screenwriter Gordon Chan to make her return in an ensemble piece which also would star her close friend, Leslie Cheung.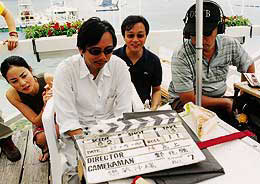 OKINAWA RENDEZ-VOUS is the fledgling 100 Years of Film company's second offering. Like its first production (the popular "Needing You" which has become Hong Kong's top grossing local film), it is primarily a romantic comedy. Unlike "Needing You", "And I Hate You So" and other fluffy, "feel good" concoctions that seem to have replaced horror as the HKSAR movie genre of the moment though, its two multi-talented star headliners do not get all of the best lines and a disproportionate amount of screen time. Although such news will doubtlessly disappoint rabid fans of Ms. Wong and Mr. Cheung, this (re)viewer's feeling is that this state of affairs actually helped the production as a whole since: For one thing, it allowed for the existence of multiple intersecting mini-stories rather than a single, too straightforward - and consequently thoroughly predictable - plot-line; and for another, there thus came to be amusing roles for such agreeable talents as Tony Leung Kar Fai, Gigi Lai, Vincent Kuk, Stephanie Che, Masayo Kato and the actress whose Japanese character divulged that she had learnt Cantonese by way of watching Hong Kong movies!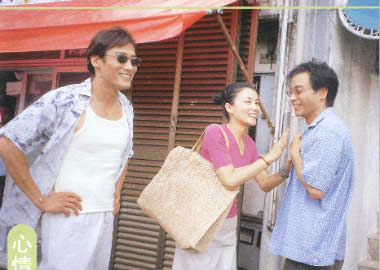 IMHO, it is Tony Leung Kar Fai who steals the show as Dat, a vacationing low level police filing clerk who aspires to catch such big time criminals as Jimmy Tong (Leslie Cheung plays his blackmailing character as more of a boyish lady killer than someone to be feared and/or disliked) and his partner (Vincent Kuk sometimes gives off an air of menace but proves to be as teddy bearish as he looks). While not everyone might agree, my own sense is that Gigi Lai's caring Sandy - who had gone to holiday in Okinawa with Dat and a tougher female friend named Cookie (portrayed by Stephanie Che) -- was the movie's most successful stealer of hearts. In contrast, Faye Wong's Jenny character - who upsets, in different ways, the plans of a soulful-looking Yakuza head (played by Masayo Kato) who seems to have a thing for Hong Kong women, Jimmy, Dat and Sandy - does not have enough opportunity in OKINAWA RENDEZ-VOUS to do more than stay enigmatic, look good and invoke memories of "Chungking Express" by way of there being a few scenes in which she finds herself once more behind the counter of a food-and-drink place and others where she cleans things.

Though Gordon Chan told a TIME magazine interviewer that OKINAWA RENDEZ-VOUS only took a couple of months to conceive and film, and required improvisational work from its cast members because its script was being written as the movie was being made, it must be emphasized that this is NOT even close - in mood, style and content - to being a Wong Kar Wai work. This is not least because all of the production's main characters happily end up with someone else in the end (N.B. I don't consider this to be a major spoiler since I have not divulged who started off with whom as well as who ends up with whom). Then there's the general emphasis on light notes and comic (re)solutions as well as situations (even - maybe particularly - with regards to (potentially) criminal acts); something which may also have contributed - along with the film's unhurried pacing -- to the offering's feeling like it's without tension.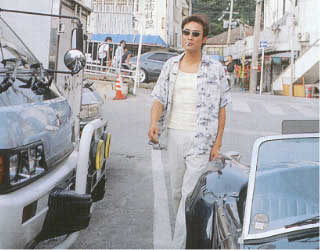 In sum then: OKINAWA RENDEZ-VOUS comes across as a pleasant enough movie expressly designed to not be too taxing on anyone's brain yet also not appear all that patronizing towards its viewers. Though it doesn't contain many memorable moments which will linger way past the day in which they got viewed, this playful work does possess some nice touches (of which my favorites relate in one way or other to the Yakuza boss whose romantic yearnings and impulses taxes to no end his minions' patience, tolerance and sense of (self-)respect) which ought to make you smile, giggle and maybe even guffaw upon their presentation for your clear and innocent amusement.
My rating for the film: 7.5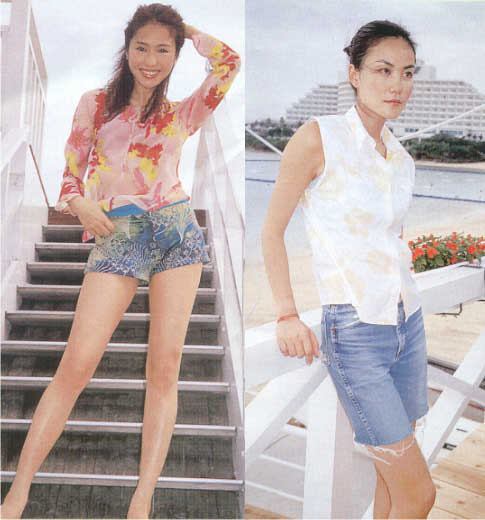 ---