It's a Mad, Mad, Mad World I - III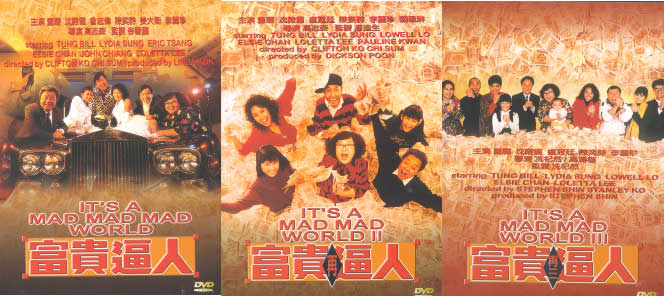 ---
From 1987 to 1989, this series of family comedies was brought to the screen with a fair amount of popular success in HK. All three films had the same five actors portraying a middle class family - the father (Bill Tung), the mother (Lydia Shum) and their three daughters Elsie Chan, Loletta Lee and Pauline Kwan. HK audiences found these films appealing because they humorously spoke to a number of issues that troubled them at the time. The small indignities of daily life in HK, the fears of the Mainland take-over and a wish to emigrate before it was too late, how to keep your head above the economic waters, the desire to get rich quick and finally the importance of family.
The film seems to say that in the end it is family that truly matters. Money and success come and go but your family is always there. As Bill Tung says at one low point "My three daughters are the real treasures in my life". The comedy tends to be low key - more situation and character driven than typical HK slapstick or word play humor - and though there is some universality to it - much of it is clearly directed at the local HK audience.
The performers are very appealing and never become tiresome over the course of this series. Bill Tung is perfect as a father trying to keep what little control he can of his wife and three daughters, Lydia Shum as his large mahjongg playing wife with dreams of getting rich is amusing, Elsie Chan as the oldest daughter on the verge of womanhood is sweet with just the right amount of sex appeal, Loletta Lee is adorably full of pouts and smiles as the middle daughter and Pauline Kwan is surprisingly charming as the youngest in a film industry that is notorious for it's annoying child actors.
These themes of family, economic turmoil, get rich, get poor, money can't buy you happiness and fear of the turnover run through all the films - but here is a short rundown on each of the three films.
Part I - 1987
Bill is a news announcer on TV (clearly they are paid much less in HK than in the U.S.!) and his family lives in a Public Housing building where the quarters are tight, the walls are thin and items fall dangerously from the building onto the streets below.

The daughters are in those teenage headache inducing years - Elsie is being courted by a very hip fast talking Eric Tsang and Loletta is into J-pop and wants to travel to Japan to study their culture. Bill reminds her that the Japanese invaded their country and she has nothing to learn from them. I should also mention that a strong touch of xenophobia runs through these films as well - whether Japanese, Canadian or from the Mainland.

Lydia's day finally comes and she wins HK $19mm in the Mark VI Lottery. They all dream of different ways to spend it Ė but at the same time don't want anyone to know they have won for fear they will try and borrow money. Bill's brother (David Chiang - credited here as John) comes to visit and advises them to invest the money in his bank. They do and the bank goes under and there goes the money. At the same time, three fellows who donít believe all the money is gone kidnap Pauline.

My rating for this film: 6.0
---
Part II - 1988
Bill has a new job (after insulting management, he quit his last one on air after winning the lottery) working for Yip Wing Cho and Wong San in a newspaper. The two of them conclude erroneously that Bill knows that they are embezzling money from the firm and send him and the family to Vancouver, Canada to work there. So again, the factor of a dislike of foreigners is brought into the story as most Canadians are portrayed as silly idiots.

Loletta goes off to university and Elsie picks up a new boyfriend - Lowell Lo (one of HK film's better composers). The family adjusts to life in Canada - the cold, the fact that no one speaks Chinese - Lydia finds some Mahjongg partners and plays the Canadian lottery - but eventually Billís two employers realize that Bill knows nothing about their shady dealings and fire him on the spot and kick him out of the house.

So it is back to HK - with no job and no prospects and living in an apartment that is a level lower than Public Housing. It's like they are starting all over again - but then Lydia learns that she has a winning ticket in the lottery and it is a mad rush back to Canada to claim the prize before it expires. Yip Wing Cho and Wong San learn of this and try and steal the ticket from them.

My rating for this film: 5.5
---
Part III - 1989
Clifton Ko directed the first two films, but he passed this duty off to two directors for this third instalment and it shows. The film is much more jumbled than the previous two and feels very much out of ideas. They also introduce too many new characters in an attempt to put some spark in the story, but this only causes it to lose much of its focus and chemistry. It also did much more poorly at the box office bringing the series to a halt for three years.

The family is in the money once again - but you know it is just a matter of time before they lose it - and they do in perhaps the lamest manner imaginable. Elsie is still being courted by Lowell Lo, but Eric Tsang reappears as a love rival and Loletta picks up a boyfriend (which infuriates her protective father) who's father is played by Ng Man-Tat.

There are other elements thrown into the mix - Lydia thinks Bill is having an affair, she gets the gambling bug - but as expected all ends up happily for this little family.

My rating for this film: 4.5
In 1992 the cast got together for one more go with this series - It's a Mad Mad Mad World Too - but I have yet to see that one.

---
DVD Info
Universe
The transfers are uniformly excellent for the three films - very clean with good color.
Letterboxed
Languages - Cantonese and Mandarin
Subs - Chinese, English and Bahahsa (Malaysia)
Chapters 8
The subs are easy to read
Part I - trailer + Parts II & III
Part II - trailer + Parts I & III and Double Fattiness
Part III - trailer + Parts I & II and Double Fattiness

---