92 Legendary La Rose Noire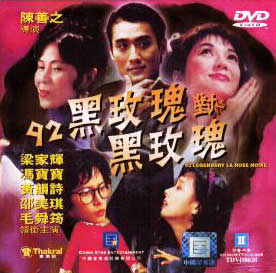 ---
Reviewed by YTSL
This 1992 film won its leading man (Tony Leung Kar Fai) a HKFA Best Actor award, garnered three others of its cast Best Supporting Actress nominations (Petrina Fung Bo-Bo ended up prevailing over Teresa Mo and Wong Wan Si), and also was in the running for Best Picture, Best Director, Best Screenplay, Best Costume & Make Up Design plus Best Original Film Score accolades. Perhaps even more amazingly, it also actually got positively described by the notoriously critical Paul Fonoroff as "the best parody yet produced on classic Cantonese cinema and one of the cleverest movies released this summer" (See p. 241 of his "At the Hong Kong Movies").

Still, all this could not really guarantee that this (re)viewer would be able to appreciate this lauded offering; the reason being that 92 LEGENDARY LA ROSE NOIRE is geared towards people who are fans of -- or, unlike yours truly, at least know quite a bit about -- 1960s Cantonese cinema. To illustrate: Not only is the movie "full of inside jokes and little touches reminiscent of those '60s classics" but its story specifically "uses plot elements from the 1966 "Spy with My Face" -- a film whose Chinese title is echoed by the newer offering's. There also is the matter of Tony Leung Kar Fai's police detective character having a Chinese name -- which does not get exactly translated in the English subtitles -- of one of the top stars of the 1960s and giving "the role a subtly comic twist, as if Lui Kee were born and raised in "Twin Peaks"" (Cf. Fonoroff, 1998:240-241).

Indeed, I found the first third of 92 LEGENDARY LA ROSE NOIRE -- which introduces us to a struggling and frustrated female author named Butterfly Wong (played by Maggie Siu), a man clearly enamored by her (Tony Leung Kar Fai's character) and her quick-talking "bitchy housewife" friend, Chen (who is played by Teresa Mo) -- to provide less than enthralling viewing. It did not help matters that the manner in which Officer Lui (who is given the Western name of Keith in the English subtitles) tries to get Butterfly Wong's attention came across as laughable rather than laughter-inducing. Ditto re how the two women came to witness a trio of murders, and tried to avoid being more involved in the matter by falsely implicating the Black Rose -- who they thought only existed in an old TV series directed by the himself legendary Chor Yuen -- in the affair.

The movie perks up immensely though upon the sudden appearance onto the scene of two eccentric -- and outraged -- disciples of the Black Rose (These characters, in more ways than one, are wonderfully essayed by Petrina Fung and Wong Wan Si). The prematurely senile, often baby-doll looking Piu Hung (Petrina Fung) and her required-to-kungfu-exercise-upon-the-ringing-of-a-little-bell "See Chea" (Wong Wan Si) are heroic fighting femmes but also strange women who lead largely hermetically-sealed as well as off-kilter lives. All kinds of visually and verbally humorous actions and activities ensue after they successfully hunt down Butterfly Wong, confuse her with Wong Fei Hung, kidnap her and make her their maid as well as prisoner in their seemingly escape-proof and multiple booby-trapped home. Things get even more farcical and funnier when the thoroughly unprepared Officer Lui also meets their acquaintance, has his identity confused with someone (else) from Piu Hung and "See Chea"'s past, gets taken captive by the two women, and tries to somehow make things better by pretending that he wants to marry the one of them that he truly -- and for good reasons too! -- fears.

Just when you wonder how the makers of 92 LA LEGENDARY ROSE NOIRE are going to bring together the portions of the story that occurred outside of Piu Hung and "See Chea"s house -- and alternate reality -- with that with which occurs within it, they actually do at least make some of those strands meet, connect and get somewhat satisfactorily resolved. The way the film ends though leaves room for a sequel (which did come about - Rose Rose I Love You - but was far less acclaimed). This could be considered fitting for a production that features legendary figures who have faithful followers (and successors), even if not the ability to be truly immortal.
My rating for the film: 7.5

---