Four Loves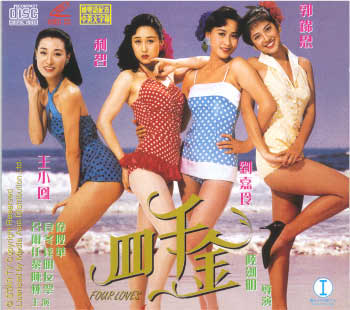 ---
Reviewed by YTSL
What a cast this good-natured romantic comedy has! Among those individuals in it that I can identify are: Nina Li Chi, Carina Lau, Pauline Wong, Crystal Kwok, Jeanette Lin, Woo Fung, Ray Lui, Simon Yam, Derek Yee, Leon Lai and Charlie Cho! Apart from Ms. Lin (the actress who was the star of the 1957 Asia Film Festival Best Picture award-winning film that this 1989 work is a remake of [See Paul Fonoroff's "At the Hong Kong Movies", 1998:15]), we have here the future directors of the immensely popular "C'est la Vie, Mon Cheri" and the well respected "The Mistress", someone who has gone on to win four HKFA Best Actress nominations, someone who is consequently got established as one of the four Cantopop Sky Kings, at least one popular star actor, and the woman whose current main role is that of Mrs. Jet Li.

When FOUR LOVES was made though, many of its younger personalities were still a few short years away from major fame. Correspondingly, some of their performances in this comedic show may come across as being less than top notch. Also, the film -- which centers on the romantic pairings sought and made by four young women (the daughter of the family is played by Carina Lau, her cousins are portrayed by Pauline Wong and Crystal Kwok, and Nina Li Chi plays someone who came to the younger cousin's rescue in one instance and then got majorly aided in return by her) who become sisters of a sort after the occurrence of a tragedy here and a piece of good fortune there -- could generally strike one as not very technically polished as well as culturally sophisticated.

However, FOUR LOVES' four main actresses more than compensate for this by putting the amount of effort, enthusiasm and heart that they do into their parts. Carina Lau -- as the fiery, feisty and athletic Hsiao Chun -- and Nina Li Chi -- as Pei Ling, the nightclub girl with the big breasts and other feminine attributes which makes her a veritable magnet of men, including those who supposedly are the boyfriends of another of the females -- definitely have the flashiest (and funniest) parts. However, Pauline Wong is also good as the quiet woman nicknamed the "Lady of Ice" by some not very nice fellows at a party where she meets a suitor (played by a young as well as already suave-looking Simon Yam). Interestingly, although Crystal Kwok's character starts off as a pig-tailed schoolgirl, hers is the one that most quickly finds the love of her life (who comes in the form of Leon Lai no less!).

As an ensemble, these four women complement one another. They also get fine support from Jeannette Lin (as the matriarch of the family), Woo Fung (as the affable father), Ray Liu (as Hsiao Chun's suitor, Robert -- check out his fashion disaster outfits as well as his fencing duel all over the house with Carina Lau!), Derek Yee (as the mannerly widower and father of two young daughters, Mr. Ching) and those others of the cast with smaller roles in the movie. My personal choice of highlight sequence of FOUR LOVES would be that which involved more than one or two of the actresses and actors: Specifically, the dance performances which took place on Pauline Wong's character's birthday. I can easily see though that for some viewers, it would alternatively be that in which Nina Li Chi appears and poses in a red swimsuit that optimally shows off her physical form!

Those looking for major sizzle might do better to look elsewhere than FOUR LOVES though. Rather, there generally is an innocent and old-fashioned feel to this film, that can make it seem like it really did come from further away in time than the 11 years ago now as I write this review (in November 2000). Unfortunately, it also is probably the case that the days are gone in which Hong Kong movie makers could do such as assemble this kind of quality cast for a single non high-budget -- as well as not high concept -- movie like this one. As such, productions like these are ones to treasure, especially for those HK moviephiles who have come to look upon some of the now familiar faces as almost being like family.

My rating for the film: 7.5
---