Tom, Dick and Hairy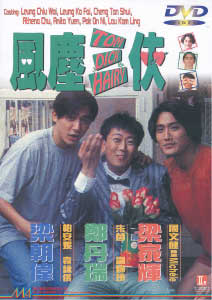 ---
Reviewed by YTSL
Few would dispute that Tony Leung Chiu Wai and Tony Leung Kar Fai are among the most well-respected and honored of Hong Kong actors. Both Little and Big Tony -- as they are affectionately known by some fans -- also have their share of female admirers (with the former actually figuring in the American 'People' magazine's Sexiest Men list and the latter having won lots of French women's hearts with his performance in "The Lover"). It thus seems safe to expect it to be a treat to watch a romantic comedy centering on a trio of bachelors that stars this dynamite duo, and Lawrence Cheng (Someone who definitely cannot match his co-stars in the looks department but is no slouch in the talent department either; what with his having producing, directing and scriptwriting as well as acting credits to his name).

This is precisely what is served up by the then still fledgling United Filmmakers Organization in the form of TOM, DICK & HAIRY; a 1993 movie that makes up for what stylistic polish and plot organization it lacks relative to later UFO productions like "City of Glass" and "And I Hate You So" with the kind of heart and sense of fun that it would have served them well to have (had). The zaniness quotient of this offering surely also should be apparent with the revelation that the above-mentioned actors don't only play the title roles but also -- at certain points in the work -- those characters' alternately rebellious, dissatisfied, complaining and not performing as hoped for...penises (Yes, you really did read that last part of my sentence right and no, I am NOT kidding)!

Tony Leung Chiu Wai portrays Tom, a man unhappily betrothed -- for much of this visual but also verbal gag filled film -- to a not particularly nice woman named Joyce (who comes in the formidable appearing form of Jan Lau). Tony Leung Kar Fai plays the playboy landlord, flatmate and friend of both Tom and the also unattached -- but for a different reason -- Hairy (Lawrence Cheng acts as the nerdy, somewhat effeminate appearing and actually not that hairy guy who also goes by the name of Giorgio). Although the rather aptly labeled Dick initially appears to be the one in the position of being able to regularly and successfully play the field but also have a good woman around to willing provide him with a "midnight snack" when he wants it/her (Anita Yuen, in only her second movie, makes her sad Fong character less pathetic than she might have otherwise been), and Hairy looks to be the member of the triumvirate who makes the most effort to find a regular partner of his own, it actually is the hitherto one-woman man, Tom, who hits pay dirt in the love stakes with his encountering a loveable nightclub girl named Cat (who is warmly portrayed by a luminous Ann Bridgewater).

About midway into this generally light offering, Athena Chu puts in an appearance as Pearl, the grown-up younger sister of Tom who -- to her brother's dismay -- is attracted as well as attractive to the man who has a poster of Patrick Ewing on one of the walls of his bedroom and has as his role model the promiscuous (ex-)basketball player he nicknamed "Lord of Phallus". Playing other characters of some note in the film are: Michael Chow as an uptight looking man whose name is rendered in the English subtitles as Michelle (rather than the surely more correct Michel); Michael Wong Man Tak as a fellow who talks to flowers like other men would with women; and Vivian Chow, in a cameo appearance both as herself and a lookalike named Francis (Similarly, I have to wonder whether it should actually be Frances?). Suffice to say in this review of TOM, DICK & HAIRY that the paths of these individuals do cross -- with eventful repercussions and interesting results -- with that of the movie's three primary characters.

TOM, DICK & HAIRY is somewhat uneven in tone, doesn't always seamlessly hang together and can sometimes almost seem too playful for its own good. It also has some prime parts that may well work better by themselves than as portions of this Peter Chan and Lee Chi Ngai co-direction's disjointed whole (E.g., the episode at the beach involving Tom, Cat and some middle-aged swimmers, and the church scene which contains an in-joke for those who know Carina Lau's Chinese name along with her real life connection to Little Tony). Still, I do very much appreciate the air of jolly possibility -- as characterized by Dick's hearty Ja-jambo "call to arms" cry and the cast's performance of a song and dance set to the 1960s musical number with that name! -- that wafts through much of this ensemble piece. Additionally, while the Chinese New Year offering's conclusion might not be to the satisfaction of everyone, this (re)viewer did like it that quite a few of the movie's plot twists did not end in obviously predictable ways.

My rating for the film: 7.5

---
DVD Information:
Distributed by Mei- Ah
The transfer is not bad - clean picture - but it is NOT Letterboxed and the subs are often cut off on the side.
NOT Letterboxed
Cantonese and Mandarin language tracks
The subtitles are burnt on Chinese and English - and often difficult to read
There is a trailer.

---