Streets of Fury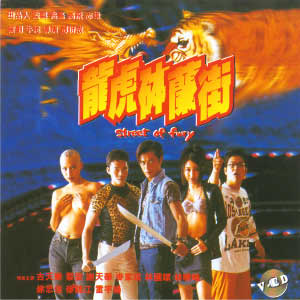 ---
Falling somewhere between the Young and Dangerous and Once Upon a Time in the Triad Society in terms of style and story, this addition to the "Boyz in the Triad" genre has some interesting moments but over all it is hampered by a lackluster script and some wildly over the top performances. Though the story focuses on a group of young men who are driven by circumstances to join a triad, the film doesn't glamorize the triads at all a la Y&D (in fact the film opens with Tse trying to sleep by covering his face with a picture of Ekin in his Y&D attire) – but similar to the two Once Upon a Time films, it skewers them on their own idiocy. The shooting style of the film is also similar to Once Upon a Time – rapid edits, jumpy hand held camera movement and lots of distorting close ups – but it simply doesn't have the depth or the weight of those two films – or the bravura performance of a Francis Ng.
Louis Koo and Michael Tse, who live in Mongkok with their uncle (Wong Yat-fei) and aunt, have a run in with a gang headed by Simon Lui. Lui captures one of their friends (Jerry Lamb) and while rescuing him they stab Lui in the buttocks with a fork. Lui revenges himself by then kidnapping and raping Tse's girlfriend, Gigi Lai. To free her and revenge themselves, they join up with a triad gang run by Tsui Kam-kong strangely attired in dreadlocks and acting like he is always looking for his next bong hit. They free Gigi – but Tse shows her no sympathy and she breaks off their relationship and starts going with another triad boss (Brother Beast played by Ben Lam).

Another story develops in which a fast talking debt ridden massage girl, Teresa Mak, works her way into the affections of Louis Koo. She is in debt it turns out to Simon Lui's boss – and he captures her – shaves off her head and forces her to become a prostitute. Clearly, this is all leading to a big gang fight and that's what we get.

The Louis Koo/Teresa Mak story plays out all right (though why Mak would allow them to shave her head for this film is a mystery to me!) – but the rest of the film feels much too like a caricature of triad life. This is especially true of the performances of a number of the actors. One expects to have some exaggerated histrionics in a triad film – but here it feels like much of the cast was forced to shoot up on caffeine and not allowed to sleep. Tse is nearly always yelling and rolling his eyes, Lui is a complete psycho as is Ben Lam as is Lui's boss as is Tsui Kam-kong. It's just way too much to take in a ninety-minute film – you just want them all to shut up. But I've always wanted to know who the bald headed woman in the picture was and now I know!
The film is directed by Billy Tang who had a small run of triad films in 1996 with this one, Sexy and Dangerous and Street Angels - but he clearly had lost his edge from his films of a few years ealier - Run and Kill, Brother of Darkness and Red to Kill.

My rating for this film: 5.5
---