Best of the Best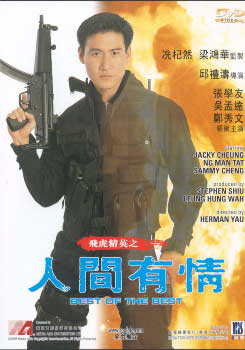 ---
This 1992 Herman Yau directed effort plays out like Romeo and Juliet on the bloody streets of HK and Macao. For the most part it is pretty standard fare as it mixes competent but uninspired action scenes among the predictable melodrama - but some fine performances gives it some flair and makes it more involving than it should have been.

Ng Man-Tat and Jacky Cheung have a father and son relationship whose gaping rift goes back to a childhood incident when Ng accidentally killed Jacky's older brother. At the time Ng was a cop with a strong dislike for his supervisor Paul Chun Pui. Now twenty years later Jacky is a member of the elite S.D.U., Ng is a peacemaker in a hostess bar and Chun Pui has switched sides and is now one of the top criminals in HK. The mamasan of Ng Man-Tatís bar is Carrie Ng and her friendship with Ng is nicely drawn out and one of the stronger parts of the film.

A group of hostages are taken in a shopping mall and Jacky and his fellow S.D.U. members rescue them - with Jacky saving the life of the lovely Sammi Cheng (in her film debut). Needless to say, when two Canto-pop stars collide - love blooms. Though I can't say Sammi gives the role any more depth than is called for, her charming personality is very much in evidence. It turns out Ė all too coincidentally - that she is the daughter of Chun Pui and both parents warn their child to stay away from the other - Chun Pui a little more forcefully than Ng Man-Tat. In fact, he threatens to cut off Jacky's hand if he sees his daughter again. But kids will be kids and this leads to the inevitable conflict.

It's really the acting from Ng Man-Tat that is interesting here. Though far from restrained, he does a fine job of portraying a father tortured by the death of one son and the distance between him and another. Though in a smaller role than I would have liked, Carrie is in fine form as well and looks terrific.

My rating for this film: 6.0
---
DVD Information:
Distributed by Mega Star/Media Asia
The transfer is excellent.
Letterboxed
Cantonese and Mandarin language tracks
Subtitles: Chinese , English, Nil
9 Chapters
It includes it's own trailer plus Carry On Pickpocket, Return of the Lucky Stars and Fatal Vacation.

---