Young and Dangerous 4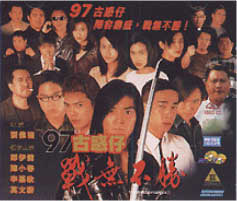 ---
Reviewed by YTSL
The story of Ho Nam, Chicken and company continue to provide more chills, thrills and food for thought in this 1997 offering from director-cinematographer Andrew Lau and producer-scriptwriter Manfred Wong. In this fourth "official" Triad Boyz installment (Prior to the production of this "Y&D" episode, there had already been produced a spin-off entitled "Sexy and Dangerous" -- in which Loletta Lee and Karen Mok portrayed female equivalents of the male Hung Hing society members played by Ekin Cheng and Jordan Chan -- and two off-shoots starring Francis Ng entitled "Once Upon a Time in Triad Society"), the topical ground covered -- including rivalries between different "rascals", ill-fated couplings, an incursion into Hung Hing territory and affairs by a malevolent individual (Roy Cheung rather confusingly plays a different character in this film from that which he portrayed in "Young and Dangerous 3"), plus an excursion to a foreign land (in this case, Thailand) -- has become largely familiar.

What is different about YOUNG AND DANGEROUS 4 though is its having by far the most pessimistic outlook thus far. Perhaps it is coincidental that it is the only one of this popular and influential series that was came out in the year of Hong Kong's Handover by the British to the Chinese. What surely is not accidental is that the character who utters the most cynical sentiments and delivers the most explicit anti-Triad message is that of Ho Nam; supposedly the most successful as well as "righteous" and heroic of the group who started off this series of films fairly innocently playing hooky and soccer in a neighborhood recreational facility. It also seems pertinent as well as just plain intriguing that Ho Nam and his generation are shown to be under challenge from a younger but far more vicious and way less honorable one; whose classroom confrontations and outbursts against their lot, the existing system and their teachers (whose ranks include characters played by Karen Mok and Michelle Reis) reminded this (re)viewer of those in Ringo Lam's anti-colonialistic, heavily censored "School on Fire".

In comparison to the three previous segments, YOUNG AND DANGEROUS 4 feels somewhat subdued, less intense, less edgy, and actually tired. While it retains a sense of drama and does contain the requisite bursts of violence, its ability to shock is mitigated by the more deadly episodes not suddenly coming off the kind of heartwarmingly tender or amusingly quirky sections which the other "Y&D" movies had in spades but which this offering generally lacks (despite the efforts of Jordan Chan's Chicken, Sandra Ng's Sister Thirteen and Anthony Wong's Tai Fei). A further factor might be not only that of key individuals growing older and wearier but the overall cast age -- as well as number -- increasing with the introduction of older section heads (even as it has gotten depleted from episode to episode with the deaths of younger, rawer, more idealistic -- if not naive -- characters).

For those who have yet to enter the Triad Boyz world proper, I would caution against using the most pathos filled episode as your introduction to the series and genre that it has spawned. There also might not be too much here for those who were primarily attracted to the "Y&D" movies because of their consciously fashioned sense of style and exciting cinematography (It should not be forgotten that Andrew Lau has been a Wong Kar Wai collaborator. It probably is no mere coincidence that along with Michelle Reis and Karen Mok, the actor who played Takeshi Kaneshiro's father in "Fallen Angels" makes an appearance in YOUNG AND DANGEROUS 4. It also surely means something that when Maggie Cheung was asked in London in 1996 to comment about the "Y&D" films, her remarks consisted of the following: "Yes, they were the "noise" this year. The director was the cameraman who did "As Tears Go By", so to me it's still Wong Kar Wai who dominates" (In Miles Wood's "Cine East", 1998:42)).

Alternatively, those who favor a mature and considered approach to all kinds of matters might actually be pleased -- even if not entertained -- by this fourth film in a not at all unintelligent series that continues to develop and still be capable of springing surprises, evoking warmth and eliciting (sad) fellow feelings for criminal character who actually increasingly seem not that different from many "real" ones we may know. If you do fall into this category of (potential) viewer, I would recommend that you view all the three previous installments not only for themselves but also so that you will better appreciate the movie whose Chinese title of "97 Wise Guys: No War Cannot Be Won" gives little inkling of its prevailing sense that warring acts never come without costs.
My rating for the film: 7.5
---