Long Arm of the Law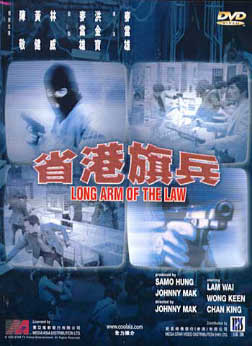 ---
This 1984 film directed by Johnny Mak is often cited as an influential forerunner of the Heroic Bloodshed films that were to become hugely popular only a few years later in the work of John Woo. Though this film certainly has elements of the Heroic Bloodshed genre – male bonding, loyalty and honor – it feels much more in the tradition of the gritty film noirs of the 1940s – in particular the work of Jules Dassin, Anthony Mann and Robert Siodmak. It has a cinematic style that is pared down to the essentials, fast paced and imbued with an unromanticized edge that has "dead end" written all over it. This film would have felt very much at home in glorious black and white.
The film becomes increasingly involving and tense as it progresses and as the characters become distinct individuals the viewer is faced with an intriguing moral issue. Mak makes these characters very human and likable – and yet at the same time they are remorseless killers. Unlike a Chow Yun Fat in The Killer who only kills people deserving of it, these guys kill anyone in their way – cops, civilians and crooks. Yet there is still a part of you that can't help but be sympathetic for their plight and root for them to escape an ending that seems inevitable.

In the Mainland Lam Wei (in a terrific tough guy performance) organizes a group of five men from his old army unit to go into HK and rob a jewelry store. Almost right from the start things begin going badly for the group as one is killed by border guards and then when they go to the jewelry store they find out that someone has attempted to rob it right before them. They look suitably suspicious though and the cops come over to question them, which leads to a car chase and shoot out through the streets of HK.

After escaping, Wei decides to hit the store again in three days, but in the meantime the group relaxes in hostess bars and then to earn some extra cash take a hit job from Shum Wai. In a great scene they shoot the target high above an ice rink and the man falls over the railing and crashes far below and then starts skidding along the ice like a puck knocking down rows of happy skaters! It turns out the man is a cop and now the entire HK police force gears up to catch the cop killers.

Finally, after a number of twists and turns the gang is trapped within the Walled City of Kowloon. This last fifteen minutes of the film is an amazing display of cinematic magic from Mak. The camera brilliantly tracks the group trying to find an escape through the maze of narrow alleyways, dead ends and old tenement buildings and the camera kinetically follows their increasingly panicked movements as every avenue appears sealed off by the cops. The various shootouts are well staged – claustrophobic, unforgiving and bloody – and slowly the gang is pushed into a tiny corner to make their last stand.

Though this film offers no star power – the ensemble cast (apparently some of them were amateurs) is excellent and the pacing and tension of the film will completely rope you in. This is simply a terrifically well made film. As a side note it was produced by Sammo Hung and written by Philip Chan (Chow Yun Fat's superior in Hard Boiled and director of another great thriller – Night Caller).
My rating for this film: 8.5

---
DVD Information:
Distributor - Mega Star
Considering the age of this film the transfer is pretty good. At times - especially early in the film it shows some of its age - but it definitely is not a big deal.
Letterbox
Trailer plus previews for Long Arm of the Law II, Black Cat and A Better Tomorrow
Subs - English, Chinese, Thai, Spanish, Vietnamese and None
Subs are quite easy to read - in the opening scene some information on Lam Wei's character scrolls by that is not translated unfortunately.
Star files on Lam Wei and Johhny Mak.

---