Sealed with a Kiss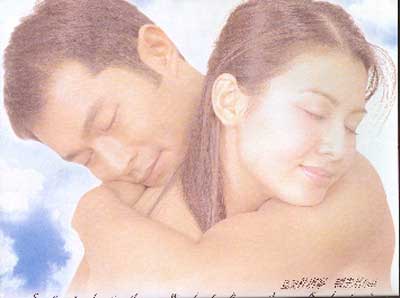 ---
This Milkyway film takes on the wistful hue of a small town "end of summer" movie as it tracks the relationships of three people living on a small island off of Hong Kong. It even plays one of the great "end of summer" songs - "I Don't Want to Say Goodbye for the Summer" - a few times. Directed by Derek Chiu, the film very ably captures the feel and pace of life in a setting that is worlds away from Hong Kong. In this idyllic, sleepy place a story reminiscent to the American film Roxanne plays out for much of the film – but just when you think you know exactly where the story is going - reality intrudes and the film goes off in unexpected directions. For the most part I enjoyed the mood of this film – it is slow paced, quirky and wandering – but this reflects life on the island. It is perhaps a bit too languorous at times and in the end the conclusion feels much too out of kilter with what preceded it, but overall it is a rewarding experience.
My main reason for renting this film was to get some quality time with Yoyo – Yoyo Mung that is. She has appeared in a few small roles in some of the Milkyway productions – A Hero Never Dies, Running Out of Time and Expect the Unexpected – and has somehow managed to parlay these small roles into generating a great deal of affection among many HK film fans. So this was an opportunity to see lots of Yoyo and I can say it was a complete pleasure. Her character here doesn't particularly stretch her acting abilities, but Yoyo makes her very real and personable and someone that the audience cares about.
Yoyo is a relationship counselor in HK, but is seemingly unable to maintain one of her own. After one disastrous falling out, she goes to Ping Chau Island to mend her wounds and get some peace and quiet. She finds a small inexpensive inn with a room looking out over the sea. Louis Koo and his tomboy friend, Angel (Sue Au), are running the inn. The two of them are an unusual pair – Koo is mute and childlike, while Angel with her head shaven seems older than her years – but their friendship runs deep. The two of them are considered minor troublemakers around town, but Yoyo brings an emotional center to their lives and a sense of humanity to their inner souls.

Just one look at Yoyo and Koo is bewitched, bothered and bewildered. She begins to treasure him as a friend, but their difficulty in communicating seems to be a barrier that can't be overcome. Eventually, she comes to him and tells him that she has fallen in love – but not with him. Instead a painfully shy fireman has captured her fancy and though Koo is heartbroken he does his best to get the two of them together. Very Roxanne like – even to the point of Yoyo falling in love with a fireman and Koo writing love letters for him to send to Yoyo. The film seems completely set up for the expected payoff but sometimes life works out differently than an audience expects.

One might almost call this film a bittersweet non-romance – full of possibilities unfulfilled and full of ironies. Though Koo is physically mute, everyone in the film is emotionally mute – unable to speak of their feelings for one another – and Koo in fact has to "speak" for the fireman. Another irony is that the sense of goodness that Koo takes from Yoyo comes back to haunt him.

Parts of the film are very touching - such as Koo fantasizing about a slow dance with Yoyo or suddenly gaining the ability to speak when he asks her to stay. One irritant for me in this film was Koo's initial take on his character. He plays him very simple and nearly childlike for a large part of the film (almost as if being mute and being simple are linked somehow?) and so later when he writes this eloquent love letter my reaction was – where did that come from?

It's a different kind of film than one will generally find in either HK or from Milkyway. It doesn't quite have the punch that was needed to fully succeed but I think these small independent type films that have filtered out of HK over the past few years is a good sign that there are some very good innovative directors in HK.
My rating for this film: 7.0

---