The First Time is the Last Time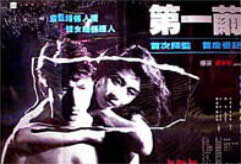 ---
Reviewed by YTSL
Take it from someone who has seen her share of prison dramas (and who counts "Cool Hand Luke" and "The Shawshank Redemption" among her favorite non-Hong Kong movies): This forbidding work is a particularly raw, grim and devastating example of this genre as well as in general. It also is eventful to the extreme. In all seriousness, this is a film in which the following happen within its first half hour: Two dirty fights (with heads utilized as weapons as well as targets); dramatized memories of a man mercilessly battering a woman; another in which the same woman and another man indulge in love-making after escaping -- though not entirely unscathed -- a slash attack; a lonely drug-taking flashback; and one other distressing flashback in which a woman is forced to drink urine by a group of men. All this plus a clearly presented introduction to prison life for a first-time convict, there to serve "just" six months who (nevertheless) gets placed among hard core lifers, multiple offenders and others.
THE FIRST TIME IS THE LAST TIME obviously has certain conventional prison movie leitmotifs (e.g., warders who are generally meaner and morally corrupt than certain of the inmates). However, the film's bitter tales -- which nonetheless have sweet moments, thus accentuating the sense of tragedy when bad things occur -- are given definite twists by their being told by, and mainly involving, female characters; quite a few of whom truly manage to transcend what might have been tired stereotypes due in large part to the high caliber acting on view (The truly versatile Carrie Ng received a Hong Kong Film Award Best Actress nomination for her no-holds-barred portrayal of the film's protagonist; and the motherly Meg Lam got a Best Supporting Actress nomination; something which IMHO the very young-looking Season Ma deserved as well).

Yu Fan's script also is due some credit for taking considerable pains and care to develop and then explore the personalities of the three main women and their relationships with one another. This exegesis helped ensure that this (re)viewer found herself inordinately caring for the fates of the anti-heroines respectively brought to life by Ng, Ma and Lam: An emotionally as well as physically scarred -- yet still very much feeling -- figure named Winnie who we first encounter in full "Crazy Bitch" mode; her cell-mate, the shallow yet still very mature thinking and very pregnant 5354 (at one juncture in this 1989 film, the point is strongly made that convicts are numbers rather than people in prison); and a deceptively naive-looking individual known in her "temporary home" as 7144.
Even if some of THE FIRST TIME IS THE LAST TIME's secondary characters are less multi-dimensional, they still are at least neither without color nor cause to be in the story (I think this particularly of: The scary inmate known as "He Man"; the lip-curling senior warder; the spoilt convicted rich girl; her at-wits-end father (played by the ubiquitous Kenneth Tsang); and also the beloved boyfriend for whom 7144 went to prison and is supposed to do another favor). I additionally think that the main characters -- and the film as a whole -- are given greater complexity and depth by some attention being paid to the primary women's differing relationships with their boyfriends (notably the one sensitively portrayed by Andy Lau) and a father (who doesn't say much but whose interactions with his daughter convey so much about him and her).

In light of this involving production's focusing on more than one individual, having a multi-stranded plot and utilizing numerous flashbacks, it is just as well that the editing was so well done as to earn Wong Chi Hung a HKFA nomination. The fact of this being a far from exploitation effort is further emphasized by director Raymond Leung's opting to have seriously harsh lighting and deglamorizing cameras trained on women clad in unbecoming (guard and prisoner) uniforms and made -- when make up was employed -- to look worse than they probably do in real life. Still, it's less for technical reasons and more because it contains a lot of "heart" that makes THE FIRST TIME IS THE LAST TIME a powerfully moving work worth viewing (albeit not for those who are easily disturbed by brutal imagery and/or solely seeking pure entertainment).

N.B. Spoiler alert: The last ten minutes or so of the video copy I viewed inexplicably became unsubtitled. However, I don't think that it actually detracted that much from my appreciation of the work or contributed to the unpredictability of its shock ending.
My rating for the film: 9.

---