Dragon Town Story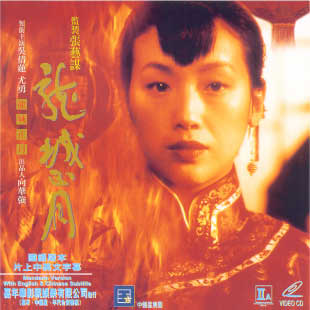 ---
Reviewed by YTSL
Some days, this Hong Kong movie fan is moved to wonder what would many "art house" film purists think if they learnt that their precious Hou Hsiao-Hsien (in Shu Kei's "Soul"), Gong Li (in Stephen Chow comedies as well as such as "The Great Conqueror's Concubine") and Zhang Yimou have made appearances in the cinematic world that many people don't realize encompasses more than "chopsocky", Jackie Chan and "heroic bloodshed". On those same days, I also am inclined to suppose that if such as this 1997 Zhang Yimou executive produced -- but also Charles Heung produced -- work would have gotten better publicity and recognition if it were an exclusively Mainland Chinese effort (and especially so if it ran afoul of the Communist government censors).
Make no mistake: DRAGON TOWN STORY is a fine film which has the kind of stark feel, mannered sense and steady pacing that I -- perhaps wrongly and too stereotypically, but there you have it -- tend to associate more with Mainland Chinese than Hong Kong offerings. This is probably not too surprising when it is realized that the bulk of its cast and crew -- maybe except for star Wu Chien Lien, the afore-mentioned Mr. Heung, and associate producer Tiffany Chen -- hail from the country of which the former British crown colony is now a Special Administrative Region. This in addition to this beautifully filmed (by Zhao Kei) -- and evocatively musically scored (by Zhao Jiping) -- work probably having been shot entirely on location in a rather architecturally and naturally scenic part of China.

To be sure though, this Yang Feng Liang directed period piece does show a wedding day massacre taking place in the third minute -- while the credits are still being announced -- and one of the gunmen fires two guns simultaneously in a way that may remind one of John Woo's heroes. Still, the work is much more of a suspenseful drama than a hot-blooded actioneer. Succinctly put, the rest of DRAGON TOWN STORY is about the one survivor of the Jiang family -- the woman whose happy day her relatives and friends were out to witness and celebrate -- scheming, sacrificing and seeking the right time to exact her revenge on the (mass) murderer and his family (the determined but often frustrated Jiang Lan Juan is alternately sympathetically and chillingly portrayed by Wu Chien Lien).

Six minutes from the start of DRAGON TOWN STORY, we move nine years in time to witness a meeting taking place involving a woman who identifies herself to the contract killer she is trying to hire as Zhao Chun Yu. She (whose form is recognizably that of Wu Chien Lien) tells him that she wants a man named Xiong Jin Biao -- and his loved ones -- dead on account of his having murdered her husband and son. The killer (The famously anti-female Li Qing Yang is well played by You Yong) at first declines the job: Not least because the woman states that she has no money to offer him, only herself; but also because the named target is the most powerful resident of nearby Dragon Town as well as commander of the local militia (at a time, when warlords ruled China and such details really mattered). After Zhao tells Li that she is prepared to go do the bloody work herself though, he does at least aid the stubborn-but-vulnerable-looking woman by sending her into Dragon Town in the guise of the wife of a trader from Peach Blossom Village (a settlement some ten miles away which we soon learn is Li's actual home village...).

To go further in detailing the plot of DRAGON TOWN STORY would be to risk spoiling this gripping film for (potential) viewers. Suffice to say that it is a complex tale of many intrigues, twists and turns; one in which -- as it probably already is apparent -- few people as well as things are as they might be supposed to be (by others in the story as well as those of us who have a wider view of the proceedings). Something else that ought not to go unmentioned is that throughout, the utter believability of every possibility -- plus the different and changing emotions felt and expressed by the main characters -- is helped considerably by the cast being uniformly fine (Along with the two leads, Huang Zhong Gow is especially masterful in his portrayal of Xiong Jin Biao but Gao Xin's Young Master Xiong and Yan Miou's Madam Xiong made significant contributions too to my appreciation of this quality work).
My rating for the film: 8.5

---
Reviewed by Brian
This slow but tensely paced film had me nearly mesmerized for much of its telling. There is no way to guess how the film will end, but needless to say not as one might necessarily expect. As the film progresses it becomes as much an exploration of redemption and love as it does an exploration of revenge and hate – and it begins to take on a sense of humanity that is surprisingly moving. It's a terrific film that certainly deserves much more press than it has received – but its hybrid origins and its artistic sensibilities have played against it.

What I really want to write about though is Wu Chien-lien. Her performance here is absolutely perfect – not a false note, not a moment of false emotion – it felt so true to the character and to the time period. Her acting is in such control – incredibly restrained but with rivers of emotions visible often only in her eyes. Her silence and absolute stillness say more than most actresses can with a torrent of dialogue. The few occasions in which she does become emotional are by contrast extremely powerful - like bolts of lightening striking flesh. And God, how both the camera and the director love her face. Rarely does a minute go by in which there is not a startling close-up of Wu Chien-lien – somehow more beautiful than the ones that proceeded it. For fans of Wu Chien-lien, this is a must see film.

Unfortunately at the time of this writing, this film is not available on DVD - which is clearly the way to see this - the VCD is fairly murky at times. Just remember to use the Mandarin track for this one.
My rating for this film: 8.0

---